Modi versus Mungerilal: loud talk on nationalism amid job loss murmurs
Unlike the 2014 Lok Sabha polls, talk of development is nowhere to be heard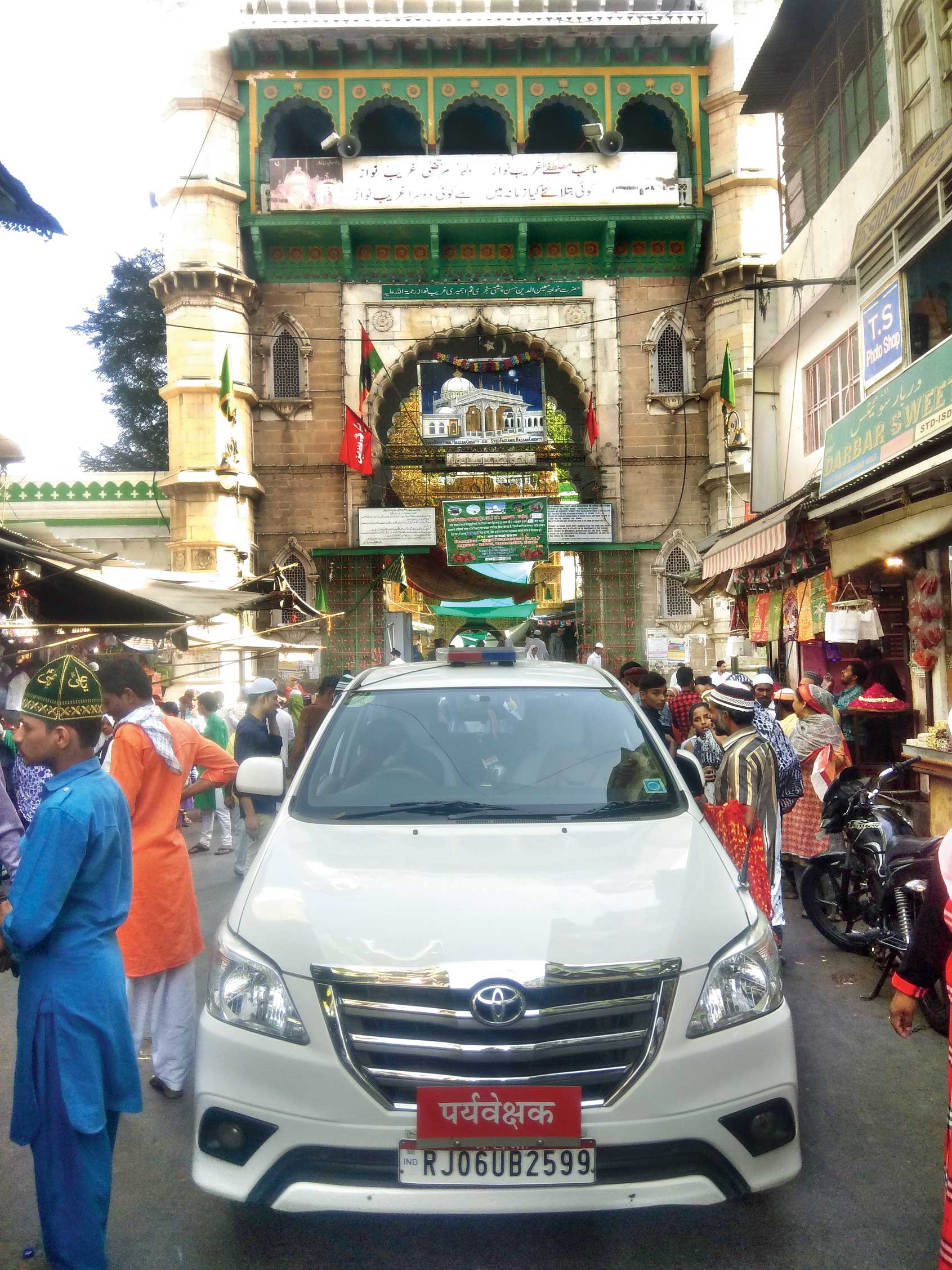 ---
|
Ajmer
|
Published 29.04.19, 01:23 AM
---
In parched Rajasthan, the discourse is not on water but on Balakot. Unlike the 2014 Lok Sabha polls, talk of vikas (development) is nowhere to be heard. Instead, the air strikes on terror camps in Pakistan and rashtravad (nationalism) have become the dominant electioneering theme of the BJP's campaign in Ajmer and other parts of Rajasthan.
Modi lao/desh bachao — blared BJP slogans from an auto-rickshaw outfitted with loudspeakers in the crowded lane leading to the Ajmer dargah of 12th century Sufi saint Khwaja Moinuddin Chishti. The slogans also kept harping on the Balakot strikes and the "killing of so many terrorists in Pakistan".
"Modi hai to mumkin hai (it's possible if Modi is there)," shouted a BJP supporter on the loudspeaker.
In the middle of the lane, an SUV belonging to the election observer was parked, creating problems for devotees waiting in queue to get to the imposing gate of the shrine. The two cops guarding the car looked clueless, waiting for the observer who had gone inside the shrine to offer prayer.
"It's also election tourism here…. Everyone, including politicians, their supporters and election observers, are coming to the dargah to seek blessings," said one of the cops.
Brajesh Pandey, a teacher in a higher secondary school in Ajmer, recalled the promises of Prime Minister Narendra Modi made in 2014. Sitting at his friend Md Iliyas's shop selling watches, he accused the BJP of "deceiving people" in the name of development.
"Modiji has now completely forgotten vikas which was the centrepiece of his campaign in 2014. In this election, he is only seeking votes in the name of Balakot and rashtravad," he said. "People want jobs, farmers are in distress, the economy is in bad shape…. I do not understand how making a hue and cry about Pakistan, Balakot and nationalism will get jobs for our children."
Pandey, who is on the verge of retirement, said Muslims and Hindus have been living in amity in Ajmer for years. "The local economy in Ajmer is completely dependent on religious tourism — the dargah. But the BJP is creating new problems by pitting Hindus and Muslims against each other," he said.
Unemployment is at a 45-year high, Pandey pointed out, and farm incomes are the lowest they have been in nearly two decades.
An estimated 15 lakh voters of Ajmer Lok Sabha constituency are witnessing a fight between the Congress's Riju Jhunjhunwala and the BJP's Bhagirath Chaudhury. Jhunjhunwala, an industrialist and owner of Mayur Suitings, is one of the richest candidates with assets pegged at Rs 80 crore. Chaudhury, an old BJP hand, is not poor either, with assets amounting to Rs 7.44 crore.
Ajmer has traditionally been the Lok Sabha constituency of Rajasthan's deputy chief minister Sachin Pilot, who has personally campaigned for Jhunjhunwala, specially to sway Gujjar votes in his favour.
The BJP's perception is that votes of the two most influential communities — Rajputs and Jats — are with the party.
Observers said the Rajput votes have always been with the BJP but now a large number of young Brahmins have also come into the fold.
The Congress can count on the support of Muslims, Gujjars and Dalits. The BJP has pinned its hopes on caste arithmetic, Modi's charisma and his brand of nationalism.
Ajmer was declared a smart city in 2016. The smart city mission under the urban and housing ministry is closely monitored by the Prime Minister's Office. Many people were vocal about the Modi government's failure to even provide basic needs — such as drinking water — even three years after declaring Ajmer a smart city.
Rakesh Sharma, a state government employee, highlighted the futility of the elections and the sweeping promises that are never fulfilled. "We get drinking water supply once in three days. Lakes have become garbage dumps and they talk of making Ajmer a smart city. Who are they fooling?" he said.
Most water reservoirs, dams and hand pumps, he said, have either dried up or are rapidly losing water. "Water shortage worsens with the increase in temperature each day," Sharma said.
This scarcity has forced people to depend on private water suppliers. They charge Rs 300 for 3,000-4,000 litres every week.
In 2014, the BJP had swept the state, winning all 25 seats. But in December last year, the Congress dethroned the BJP in the state election, winning 100 of the 200 Assembly seats.
"It seems Modi will win and form the next government considering he has built a narrative that India is safe under him. People who suffered a lot due to demonetisation are now seemingly happy with Modi's brand of nationalism. Let them suffer more…. People of this country are to be blamed and not Modi," Sharma said, a hint of disappointment in his voice.
Ram Kumar, an auto driver, said he would vote for the BJP to give another chance to Modi.
"Modi could not deliver on his promises as he needs more time. But it's a very close fight between the two candidates in Ajmer," he said.
Deepak Yadav, who sells paan and cigarettes near the dargah, said Modi turned poor people into Mungerilal by selling false dreams. Referring to the popular TV show of the late-eighties and early-nineties — Mungerilal Ke Haseen Sapne — he said people like him spent the last five years daydreaming about Modi's promise of Rs 15 lakh to escape from the present world.
"Notebandi made things worse for us. Now there are no jobs and my son is sitting idle at home after completing his post-graduation," he said.
Muslims were also vocal about their choice in the elections. "Modi has not fulfilled any of the promises he made. Rather, he has spread hate in the country," said Jamil Ahmed, retired principal of a higher secondary school.
Quoting poet Mirza Ghalib, he said the promise of achchhe din (good days) was nothing but hollow.
"Tere vaade par jiye hum to ye jaan jhoot jana/ Ke khushi se mar na jaate agar aitbaar hota (I lived by on your promise, be aware my love! that this statement is false/ I would have died of happiness had I believed in it (on your promises)," he quoted the poet.
Ajmer votes today