Modi spills Balakot secret: I thought there are clouds, we can escape radar. OK, go ahead. Chal pade
Prime Minister reinvents radar science on National Technology Day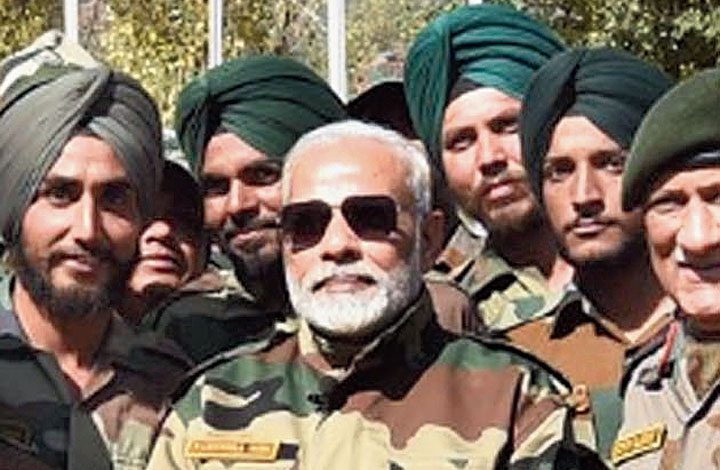 Prime Minister Narendra Modi celebrating Diwali with army and BSF jawans in the Gurez Valley, Jammu and Kashmir, in 2017
(Picture: @narendramodi)
---
New Delhi
|
Published 11.05.19, 09:22 PM
|
---
Prime Minister Narendra Modi has disclosed he assumed that cloud cover and rain would prevent Pakistani radars from detecting Indian fighter planes and gave the decisive go-ahead for the Balakot air strikes when experts were confused about launching the operation in bad weather.
The revelation during an interview, the telecast of which coincided with the National Technology Day that commemorates the second Pokhran nuclear tests of 1998, triggered ridicule on social media. Several users pointed out that radars can spot objects through clouds and linked the Prime Minister's statement to his record of making unscientific claims.
Modi did say "I am not a person who knows this science". But that raises a far more important question: can operational military decisions with enormous geopolitical implications be taken on the basis of such assumptions?
A TV channel, News Nation, telecast the interview on Saturday, a day before the sixth and penultimate phase of polling takes place.
This is what the channel showed Modi as saying: "Around 9-9.30pm, I reviewed (the preparations for the air strikes). Then again I reviewed at 12. The problem before us was that the weather had suddenly become bad. It had rained a lot, you might remember.
"(With a laugh) I am surprised that all these big pundits who abuse me, they have not noted this. Around 12… for a moment, we thought what we should do in this weather. There are clouds, 'will we be able to go or not'? So, by and large, the experts' opinion was: 'What if we change the date?'
"To my mind, there were two issues: one secrecy…. The other… I am not a person who knows this science, but I thought that there are clouds, it's raining, so there is a benefit that we can escape the radar. I have a raw vision, the cloud can benefit us too.
"Everyone was confused about what to do. Then, ultimately, I said, 'it's OK, there are clouds, go ahead. Chal pade (they started)…."
Screenshots on social media suggested the official Twitter account of the BJP uploaded the related bite to promote the interview. "The weather was not good on the day of Airstrikes. There was a thought that crept in the minds of the experts that day of strike should be changed. However, I suggested that clouds could actually help our planes escape the radars: PM," @BJP4India tweeted under #DeshKeDilMeiModi.
Curiously, the tweet could not be seen on the handle after some time. The Telegraph tried to phone as well as message Amit Malviya, who supervises the IT cell of the BJP, to ask whether the tweet had been deleted, but there was no response till midnight.
CPM leader Sitaram Yechury described Modi's words as "truly shameful". "Most importantly, they insult our Air Force as being ignorant and unprofessional. The fact that he is talking about all this is itself anti-national; no patriot would do this. National security is not something to be trifled with. Such an irresponsible statement from Modi is highly damaging. Somebody like this can't remain India's PM," Yechury tweeted on Saturday night.
Congress spokesperson Salman Soz said on Twitter: "It seems no one clarified for the PM how radars work. If that is the case, then it is a very serious national security issue. No laughing matter."
Technical documents on radar technology cite its capacity to penetrate cloud cover as its advantage. A document on a Canadian government website on microwave remote sensing, for instance, says: "A major advantage of radar is the capability of the radiation to penetrate through cloud cover and most weather conditions."
Encyclopaedia Britannica has this to say: "Radar, electromagnetic sensor used for detecting, locating, tracking and recognizing objects of various kinds at considerable distances, operates by transmitting electromagnetic energy toward objects, commonly referred to as targets, and observing the echoes returned from them…. What distinguishes radar from optical and infrared sensing devices is its ability to detect faraway objects under adverse weather conditions and to determine their range, or distance, with precision."
A pilot with a private airline, who did not want to be named, told The Telegraph: "Even if there is cloud cover, the flying object can be detected by the radar."
The following are some of the tweets that the Prime Minister's version evoked:
And today is Technology Day, right? We got new technology too! (Modi had greeted the nation on the National Technology Day.)
Thank God Modiji didn't tell the Air Force to "Fly in reve-rse gear. Pakistan samjhega ke aa nahin rahe. Ja rahe hain."
He thinks a radar is a camera. So, many photographers have told him that you don't get a clear picture when there is a cloud cover.
Modiji kehtey hain to theek hi hoga; Modiji ko har tarah ke camera ki jaankaari hai.
Monsoon is coming. Conduct air strikes every half an hour.
Modi Hai to Mumkin Hai. (If it's Modi, it's possible.)
Hey @BJP4India why did you delete this tweet?