Modi releases what he calls Congress's Dictionary of Love
PM exhorted supporters to spread his pain-filled story across the country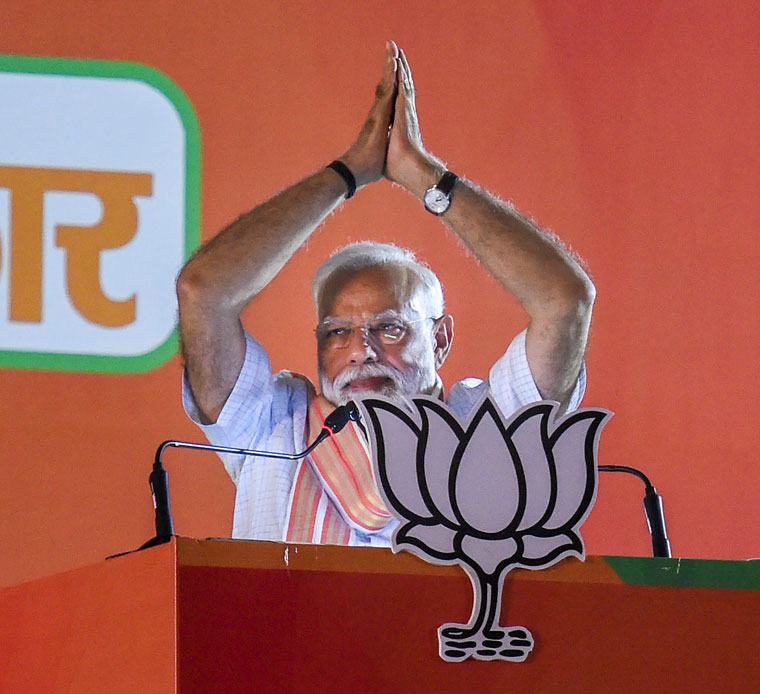 ---
---
Rahul Gandhi's declaration of love has brought out the Samuel Johnson in Prime Minister Narendra Modi.
In the process, the country also witnessed an unfamiliar face of Modi, beseeching his supporters to spread his "dard-bhari dastan (pain-filled story)" across the country as he was not sure whether the media would do so.
That a Prime Minister who commands unparalleled exposure and loyalty among large sections of the media has to make such an appeal is evidence enough of how the backlash over his attack on Rajiv Gandhi has affected Modi.
Like Dr Johnson, the lexicographer who compiled A Dictionary of the English Language in 1755, the Prime Minister has put together what he calls the Dictionary of Love — a compilation of invectives and insults hurled at Modi over the years. The content has allegedly been contributed by Congress leaders.
So far, at least 35 entries of "gaaliyan (abusive words)" are packed into the Dictionary of Love, which suggests that the Prime Minister who hardly sleeps finds time to actually list the barbs that fly at him. The work of scholarship has been thoughtfully divided into two chapters, covering the shower of "prem" before and after Modi became Prime Minister.
Modi referred to the Dictionary of Love at an election rally in Haryana's Kurukshetra, which the Prime Minister described as "the land of truth".
"From the soil of Kurukshetra, I want to tell the countrymen myself what their Dictionary of Love is, what the words are in the Dictionary of Love, how they shower love on Modi," the Prime Minister said.
Then he spent around 15 minutes on the theme, painstakingly listing at least 35 expressions with which Congress leaders had allegedly insulted him and the Prime Minister's chair.
It was an uncharacteristic response from a campaigner who takes pride in setting the agenda and steering the narrative. No quarter given, none taken — that was the undeclared motto of Modi.
But in Kurukshetra, he was playing King Lear, more sinn'd against than sinning. The merciless demagogue who gave no quarter while calling Rajiv "Bhrashtachari No. 1" less than four days ago was sharing his personal pain at being insulted and lamenting the state of the national discourse.
More surprisingly, Modi was willy-nilly following the agenda set by Rahul through his uncommon response when his slain father was maligned by the Prime Minister.
Rahul had not merely refused to pay Modi back in the same coin. By speaking of love and hugs — mawkish stuff against the muscular image in which the Prime Minister had cast himself — the Congress president relentlessly drew attention to the hate-versus-compassion theme that has made this election the most important since Independence.
Modi appears to have found himself on unfamiliar terrain, unsure of how to respond when the other cheek is turned.
"Bach nahin sakte mere pyar se Narendra Modiji (No way can Narendra Modiji escape my love)," Rahul had told ABP News and ABP Ananda on Tuesday.
Less than 24 hours later, Modi chanted "prem (love)" more than a dozen times, repeatedly telling his audience that Rahul's was a "mask of love".
The bloodless backlash appears to have rattled Modi like never before. He appealed to the audience to share the footage of the "Dictionary of Love" message among their relatives across the country although he cautioned against it being shown to children.
The following are excerpts from Modi's "Dictionary of Love" speech:
Again and again, wearing a mask of "prem", they keep abusing me. In their Dictionary of Love, see the kind of love that overflows for this son of a poor mother, for this chaiwala; how there is a race to convey their love….
Friends, one Congress leader called me a worm from the gutter, another came to call me Gangu Teli, one of their leaders called me a mad dog, another came forward and gave me the title of Bhasmasur. The Congress has one more leader, who was the country's foreign minister, he called me a monkey. Another of their ministers called me a virus. One gave me the status of Dawood Ibrahim, another leader called me Hitler; yet another called me an ill-mannered unworthy son. Not just this, I was called a monkey infected with rabies. I was called a rat, lahupurush, merchant of lies.
Friends, Congress leaders have called me Ravan, snake, scorpion, a dirty man, even one who sows poison. The one before whom Congress leaders bow called me the merchant of death. This is how they express love. This is their Dictionary of Love. This is a sample of the shower of love on me. And, brothers and sisters, listen. The country is listening, let it listen. Brothers and sisters, their wish, their thinking is that Modi be cut into pieces. The Congress has always promoted people who have openly said they want to cut Modi into pieces, encouraged them by giving them tickets….
The words I am now going to recount to you, that too only a few, sample, all of these were spoken after this chaiwala became PM. They claim they respect the PM's post, that is why they have given me such gifts and such a shower of love….
This is Chapter No. 2: Love after I became PM:
What was said? I was called most stupid PM, a dealer in the blood of jawans; words like Gaddafi, Mussolini, Hitler keep coming for me from their Dictionary of Love. Brothers and sisters, their tall leaders called me mentally sick, a vile man. It has even been said that who my father was is not known, who my grandfather was is not known. Friends, remember, all these gifts are still being given to me…. Incompetent, nashedi, a despot more cruel than Aurangzeb, illiterate, village bumpkin, betrayer, unworthy son, Tughlaq, Natwarlal…. All this, this shower of love, see the shower of love by Naamdar and his friends…. They abused my mother. They asked who my father was. And remember, all this was said after I became PM….
I just pray to the countrymen, don't let your children lay their hands on this Congress Dictionary of Love. I am worried not about myself, but about your children, their values and their future.
Brothers and sisters, will you do one thing for me? Will you? Today, for the first time in my public life, I have been CM for a very long time, I have been working as PM for five years, I have never told this pain-filled story. Today I came home, my heart opened up, to my heart's content I said a lot of things.
I don't know if the media will dare in the next 10 days to talk about this story of the shower of love that I have shared in detail. Because this family has been very munificent to them. If they do, I thank them in advance. But will you, on social media, on the mobile phone, reach this story to every corner of the country. Brothers and sisters, this one-sided torture on me, it is necessary to tell the truth to the country.
Brothers and sisters, do you have true love for Modi, not the false shower of love, not the shower of love to hide abuse? My small video, will you reach it to every home, wherever you have relatives?