PM cared for CAA, not poor: Congress
Swift course correction by party a day after critique omitted CAA-NRC and Artcle 370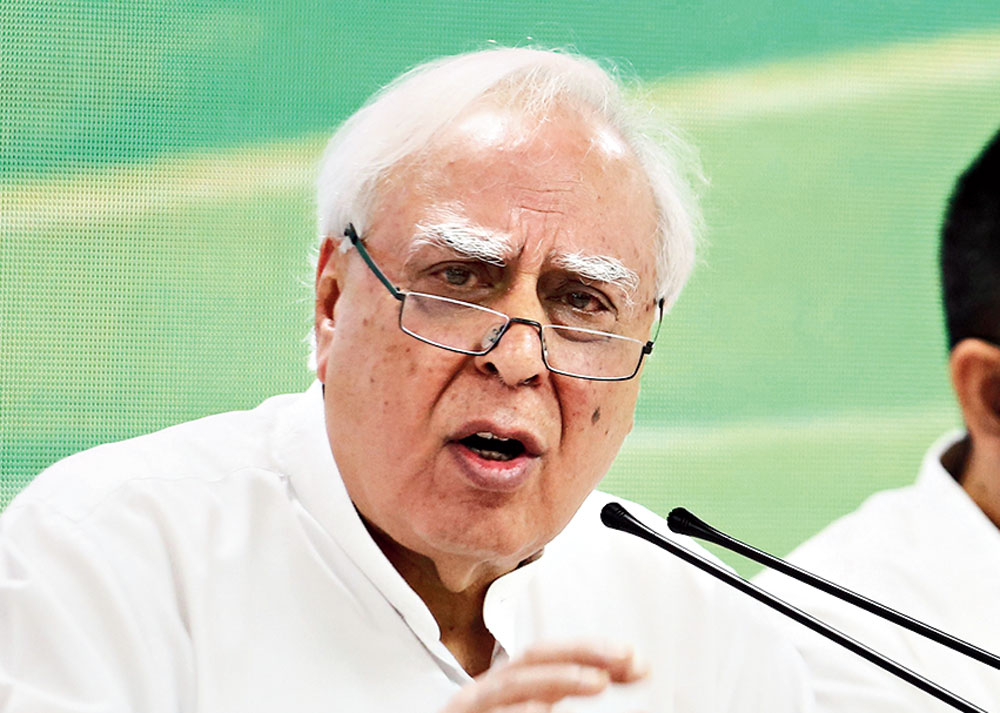 ---
---
The Congress on Sunday said the country would have been in a much better shape despite the devastating impact of pandemic had the Narendra Modi government concentrated on real concerns like economy, jobs and healthcare instead of issues like Article 370, the CAA-NRC and instant triple talaq soon after winning the second term.
Party spokesperson Kapil Sibal said no government's agenda can be disconnected with the people's concerns and the job of the administration is to look at the face of the poor, feel their distress and intervene to solve the problems.
He said it was the pandemic that changed the agenda, shifting the focus on March 24 from the divisive issues thrust on the nation by the Modi government. "India post-March 24 (the date when the lockdown was announced) looks entirely different from pre-March 24," Sibal said, stressing the irrelevance of focus areas of the Centre before Covid-19 struck.
This sounded like a swift course correction by the Congress as the extensive critique presented on Saturday on the completion of Modi's first year in office in the second term inexplicably excluded the two defining features — the Citizenship Amendment Act (CAA) and the removal of Article 370 in Jammu and Kashmir.
Although party sources claimed that there was no design and these two vital issues were omitted because of oversight as the entire focus was on the corona-induced crisis, it is difficult to digest the excuse as all important and sundry issues that have dogged the Modi government since 2014 were enlisted.
Sibal, however, repeatedly harped on these topics, building his argument on the logic that the country would have been better prepared today to face the ill-effects of the pandemic had the government not wasted time on divisive politics.
There were clear signs of economic distress as the economy failed to recover after the debilitating blow of demonetisation but the government chose to run on the engine of contentious political agenda after winning the second term.
Sibal said: "Did the agenda of Ram temple, triple talaq, CAA-NRC and Article 370 wipe out poverty in the country? Are these political issues anyway linked to the problem of livelihood and starvation? The government was happy with its project of communalism. We have not forgotten what happened with students of Jamia and JNU, how the draconian UAPA, which was supposed to be used against terrorists, were slapped on activists and students. It was only after the pandemic struck when the agenda of attack on social harmony got disturbed. People came out with a unity of purpose, helping the distressed without thinking of caste and religion."
Sibal added: "We saw the aggressive intent of home minister Amit Shah before the pandemic. He suddenly disappeared; now appears helpless. The pandemic derailed his bullet train."
The Congress leader asked: "The Prime Minister wrote a letter yesterday to 'my fellow Indians'. What is his definition of fellow Indians? Does that definition suit the pre-March 24 agenda of his government, when they were obsessed with CAA-NRC and Article 370? Where was the agenda for the poor? This government was in fact in permanent social distancing with the poor."
Apart from this sharp and incisive focus on these issues, Sibal referred to the government's arrogance, recalling how it behaved in the apex court on the question of migrant workers. "They say journalists are vultures and high courts, which looked into the mismanagement of healthcare systems and migrant issue, are running parallel governments. The very next day the bench dealing with the issue in Gujarat High Court is changed."
"I wonder if this was meant to browbeat the courts. In the past, a Delhi High Court judge was told there will be consequences if he gave judgments against the government. We know that expression was used. The judge was transferred. These are unfortunate events. We hope both the courts and the people will take note of it. This kind of attacks are not conducive to democracy, unless the courts are alive to what is happening…."
Expressing outrage at the government's misrepresentation of facts about the humanitarian crisis, Sibal said: "The Prime Minister is an admirer of digital communication. We can go to any quarantine centre, any shelter home, any hospital and connect the people with the Prime Minister. He can talk to them and understand what they are faced with. Then he will realise the government's agenda cannot be disconnected with the people's agenda."