Kashmir needs you. Speak up, writes Mehbooba Mufti's daughter
Those who are criticising Congress and DMK, tell me, if the nation is in the mood to lynch, will you be up for that too, asks Iltija Javed, Mehbooba's daughter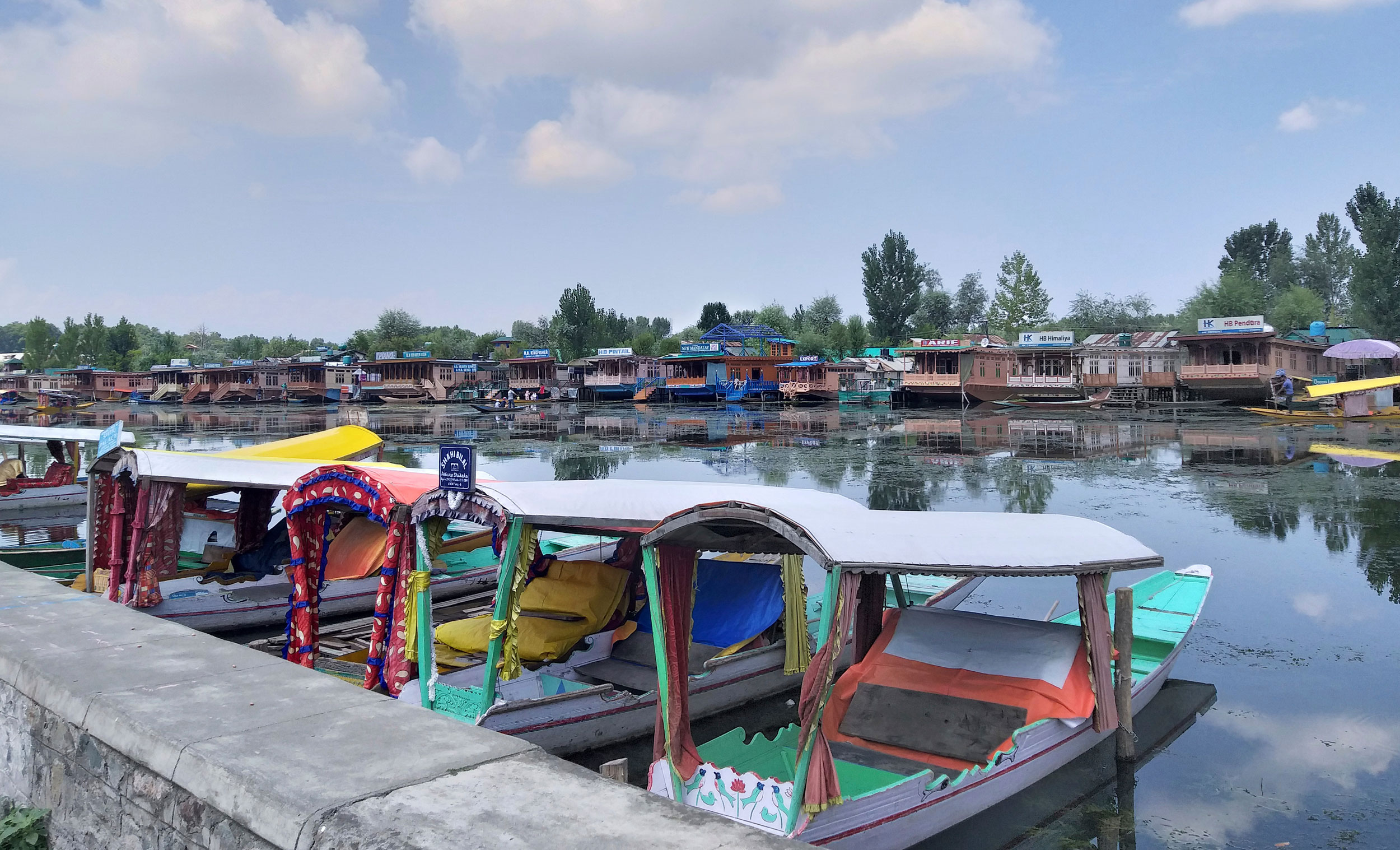 Shikaras (traditional gondolas) parked on the Dal Lake in Srinagar on August 8, 2019.
(AP)
---
Published 08.08.19, 08:59 PM
|
---
It would be wrong to simplify the Centre's catastrophic decision to abrogate Article 370. For a party that makes no attempt to hide its disdain for Muslims, one can see there is a method to this madness. Jammu and Kashmir (J&K) is the only Muslim-majority state in India and the BJP wants to change the demography of the state. A lot like China's Sinicisation of Tibet. Take over, colonise and terrorise the locals, and gradually allow outsiders to settle, thereby ensuring an ethnic cleansing.
One also needs to understand that the BJP has mastered the art of deflecting attention from critical matters. Just a week ago, the media was inundated with news about the automobile sector reporting huge losses, industrialists like (Rahul) Bajaj lashing out at the financial policies of the government and the suicide of Cafe Coffee Day founder V.G. Siddhartha — it is now known he was being harassed by I-T officials.
But look at the narrative now. The Indian people are gullible enough to forget how the economy is in free fall, thanks to bad policies and decisions taken by the BJP. But the toxic muscular nationalism churned out by the BJP is enough to make them forget their economic woes. They would rather focus on different ways of teaching Kashmiris a lesson. It is all the more shocking that most Indian people support this move. I hold the BJP responsible for demonising Kashmiris and injecting Indians with hatred by peddling lies.
I think the political leadership in J&K saw ominous signs that suggested all wasn't well.
The government pulled the wool over the eyes of Kashmiris and lied brazenly about how 25,000 troops had been posted because of a potential threat to Amarnath yatris. Look at how they went on to betray the trust of Kashmiris.
To add insult to injury, they cut down communications. If you are so confident of Kashmiris' support, then allow them to articulate how they feel. It is incredulous how this is being justified in the guise of development.
Kashmir's development stats are much better than that of the BJP-ruled states. But like I said, there is a method here. Peddle lies, disseminate through WhatsApp university groups and media portals owned by them.
I want to clarify and state a few facts. They hold two families responsible for bleeding Kashmir dry and not allowing it to prosper. Blatant lies about how the state has alternated between the Muftis and the Abdullahs. But the fact is that Mufti sahab and Mehboobaji both were chief ministers for not even five years — between the two of them.
Mufti sahab was chief minister between 2002 and 2005, which was known as the golden era of recent Kashmiri political history, and then from 2015 to 2016. Mehboobaji assumed the reins and was chief minister from 2016 to 2018. So who is this family they imagine has alternated terms with National Conference (NC) here?
I feel deeply hurt that Mufti sahab took the biggest political gamble of his life by aligning with them. If power was the sole motive, the PDP would have opted for the support of the NC and the Congress. He took a huge leap of faith and what did they do? On his deathbed too he kept asking my mother about relief cheques for Kashmir's flood victims.
I am sure my mother won't appreciate me revealing such personal details but the world ought to know. Mufti sahab was an Indian by conviction. He thought Modiji, with such an overwhelming mandate, would tread the steps taken by Vajpayeeji. Empathise with Kashmiris and feel their pain. I am glad he is not alive to see the day they stripped Kashmiris of what was rightfully ours in broad daylight.
We are looking at an indefinite curfew and I am not expecting leaders like Omar sahab and Mehboobaji to be sent back home anytime soon. But how long will you suspend normal life for? Doesn't add up especially since they claim it will empower Kashmiris. Let Kashmiris express how they feel about this.
Kashmir is like a pressure cooker right now. We ourselves don't know what is happening where. But once the pressure valves burst, it will be complete chaos. Imagine the anger Kashmiris feel and how they are not being allowed to express their pain.
Also, how does orchestrating visits here by senior officers from Delhi help? I was always curious about conditions in North Korea. Now I know what living in North Korea or Palestine must feel like.
Who will retrieve the situation? Not the same people who pushed Kashmir to the brink knowing the ramifications of such a decision. J&K has witnessed a surge in militancy in the past decade. You have pushed Kashmiris away. Those that believed in the idea of azadi will feel vindicated. It is tragic that the very same mainstream leaders who stuck their neck out and believed in India have been treated like criminals.
The worst part is that you are celebrating it. India witnessed its first partition in 1947, when the country was divided into India and Pakistan. It is a cruel irony that the people who talk of integration have done so illegally by cleaving the state of J&K into pieces. You have divided us. Also, it has set a very dangerous precedent. A government with a brute majority can on a whim break up any state along religious lines. How is Balkanisation good for a country that prides itself on diversity?
I have no news of my mother. I don't even know where she has been detained. If I ask the security personnel anything, they express a sense of helplessness and say matters are being decided by two gentlemen in Delhi.
On one hand Delhi says these political leaders don't enjoy popular support. So let them go then. Why are they being kept in a jail?
I heard how the BJP leaders denied solitary confinement and said both Omar sahab and Mehboobaji are in seven-star luxury government accommodation. How do you have the audacity to make such callous statements?
Over 500 political workers have been detained and I am certain their families don't know about their whereabouts either. How can you just detain these people indefinitely and not allow them access to a lawyer either?
I have been hearing rumours about how unwell Farooq sahab is. How can you keep his son away from him after knowing this? Will they give two hoots about whether they are being kept in a five- or seven-star place? We are in a lot of pain. All of Kashmir.
I am worried about my family's safety. My grandmother is wracked with worry about her daughter and is anxious to see her. The establishment wants to punish us and satisfy the conscience of a nation that is baying for the blood of Kashmiris.
Is this the India I believed in? Is this the India that celebrated diversity? I am thankful to leaders like Rahulji from the Congress, Kaniji from the DMK and Derek O'Brien from the Trinamul who have spoken up for Kashmir in such a difficult time.
I feel bad that some of Rahulji's own educated party members have expressed their support for the abrogation. How are you supporting something illegal? How does the governor, who was one of the signatories on the order, represent the J&K state Assembly?
Those who are criticising the Congress and the DMK for not going with the popular mood of the country, tell me, if the nation is in the mood to lynch, will you be up for that too?
People in the country need to see they are being manipulated and made to hate Muslims. Please don't walk into that trap. Open your hearts and minds and think about this rationally.
If the US broke up California or any other state through an illegal order and imposed a massive shutdown, would you support it? Kashmir needs you. Speak up.
The way Indian people are celebrating this reaffirms Kashmiris' suspicions that India always wanted Kashmir, not its people.
The writer is the daughter of former Jammu and Kashmir chief minister and PDP leader Mehbooba Mufti