Meghalaya governor: Can quit but will back farmers
Satya Pal Malik said he wanted the issue to be resolved in the interest of the BJP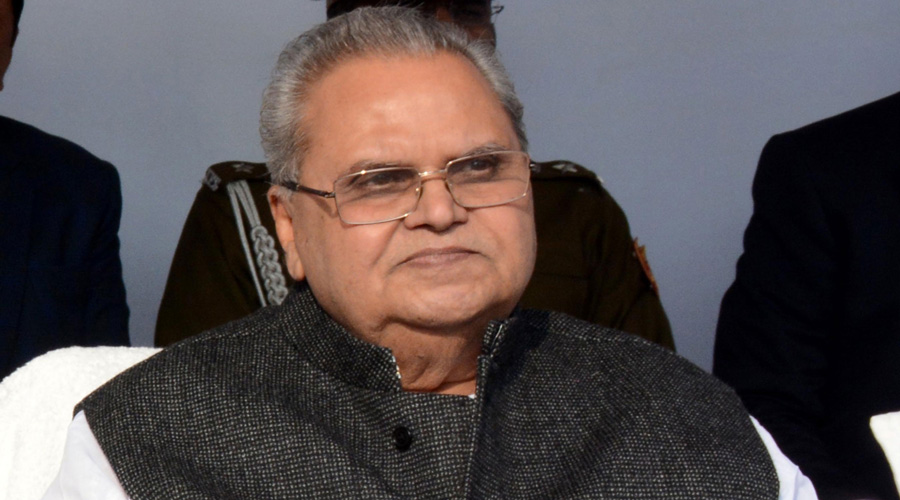 Meghalaya governor Satya Pal Malik.
File picture
---
New Delhi
|
Published 19.03.21, 01:30 AM
|
---
Meghalaya governor Satya Pal Malik asserted on Thursday that he was ready to step down but would not stop speaking in favour of the agitating farmers.
He said he was talking "unofficially" to the farmers and the government to press for an early solution to the stalemate over the contentious agriculture laws, adding that there was a growing understanding in the two sides that a resolution needed to be found at the earliest.
"If the government thinks and tells me that I am harming, then I will not take even a minute to step down," Malik told NDTV, exhibiting defiance over his repeated comments slamming the central government over the farmers' protest.
Malik, whose earlier stints had been in Jammu and Kashmir and Goa, had been asked if he was scared that he could face action for speaking against the government as a governor. "I will speak even if I'm not a governor," Malik said.
Malik, who hails from western Uttar Pradesh and had been handpicked by the Narendra Modi dispensation for gubernatorial assignments, had recently pitched for a law on minimum support price and warned the Centre of consequences if it tried to act tough with the protesting farmers.
He said during Thursday's interview that the death of protesting farmers at Delhi's borders had pained him and he couldn't stop himself from speaking.
"Even when a dog dies it is condoled but 250 farmers have died on (Delhi's) borders, yet no one has expressed condolences," Malik said.
He said he wanted the farmers' issue to be resolved in the interest of the BJP. He even warned of electoral consequences for the party, flagging raging anger among the peasants. "If this movement continues like this, then in the long term the BJP will lose out in western Uttar Pradesh, Rajasthan and Haryana," he said.
"My statements won't harm the party, rather the opposite as the farmers will feel that someone is speaking up for them," Malik said, adding that those who did not want the issue to be resolved were harming the government.
He said there was considerable anger among the farmers, and BJP MLAs were scared to leave their villages. He claimed that since he himself hailed from a farmer family, he was aware of the ground situation.
Malik, however, said he was optimistic the deadlock would be resolved soon, claiming that both the farmers' union leaders and the government were ready to adopt a reasonable approach.
"The union leaders don't want to stretch the protest and the government too wants to resolve the issue. So I am hopeful," Malik said. "I am talking unofficially to both sides, pressing for an early solution. There is a growing understanding within the farmer community that a solution needs to be found at the earliest, as well as the government," Malik said.