Mallikarjun Kharge urges Gujarat to 'save democracy'
'BJP's defeat in this state would change the political climate of the entire country'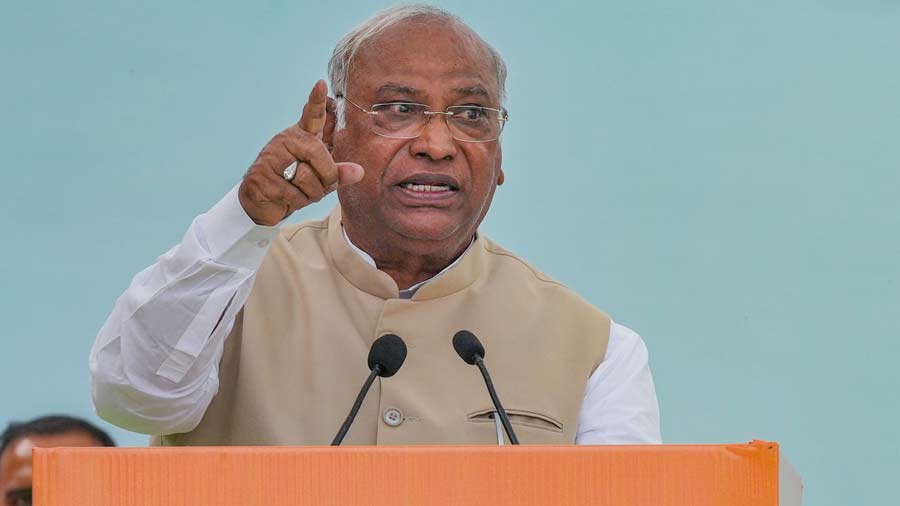 Mallikarjun Kharge
File picture
---
New Delhi
|
Published 29.11.22, 04:39 AM
|
---
Congress president Mallikarjun Kharge on Monday said only the people of Gujarat could save the constitutional rule in India because the BJP's defeat in this state would change the political climate of the entire country.
Addressing a public rally in Mehsana, Kharge said: "Political parties win or lose in elections. But Narendra Modi is now trying to bring in a system where elections will become irrelevant. Only the people of Gujarat can save the constitutional rule in India. Only you have the power to save democracy in India. This is an important election. Throw out the government that has failed to solve your problems in 27 years."
Arguing that nation-building was a collective effort, Kharge said: "Now Modi says the Congress has done nothing in 70 years. He says, 'I have made Gujarat'. We hear only 'main-main-main (I-I-I)'. As if all other chief ministers of Gujarat did nothing. He won't even take the name of other BJP leaders.
"The truth is, Modi's regime introduced unemployment and high prices. There are five lakh vacancies in Gujarat. Lakhs of people died in Covid. What's the solution? Change the chief minister."
Senior BJP leader Jay Narayan Vyas, who joined the Congress on Monday in the presence of Kharge, said: "A bad product needs good packaging. All the major projects of Gujarat, from irrigation to roads and milk revolution, started before Modi became the chief minister. I quit the BJP because the Modi-Amit Shah duopoly is not good for Gujarat. I decided to join the Congress to work in the national interest."
Vyas left the BJP after a 35- year stint.  
Arguing that the BJP was frightened this time, Kharge  said: "Prime Minister,  home minister, four chief ministers and several ministers were wandering in the lanes of Gujarat to mislead the people. All they are doing is abusing the Congress. The Congress made supreme sacrifices for the country.
"Indira Gandhi aur Rajiv Gandhi ne apne pran diye desh ke liye. Hai koi BJP mein pran dene waale? Sab pran lene waale hain, dene waala koi nahin (Indira and Rajiv sacrificed their lives for the country. Is there anybody who sacrificed his life in the BJP? They can take lives, not give lives)."