Mahatma Gandhi's statue vandalised in East Champaran
The police arrested a local youth and alleged drug addict, Raj Kumar Mishra, who they said had been seen destroying it and had confessed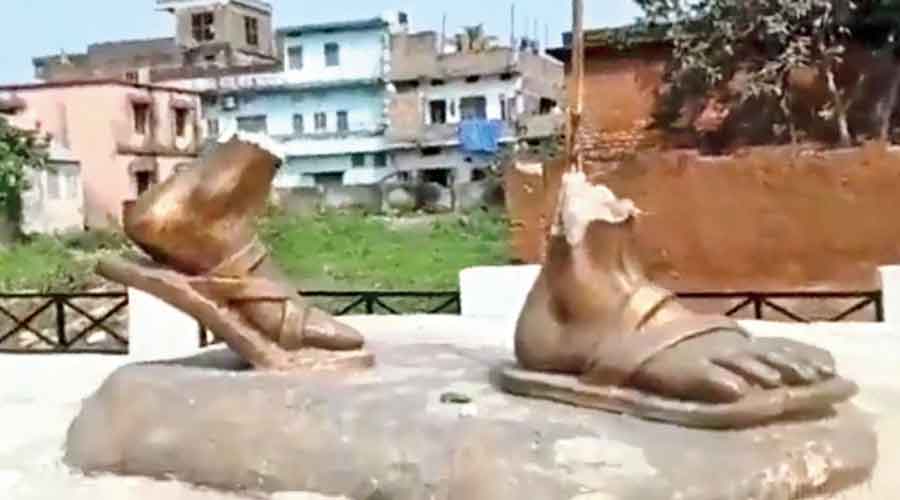 The remains of the statue on the pedestal.
The Telegraph
---
Patna
|
Published 15.02.22, 03:28 AM
|
---
A statue of Mahatma Gandhi was broken off from the ankles on Sunday night and dumped on the ground at a park at Motihari in East Champaran, the place from where he had launched his first Satyagraha in 1917.
The police denied the involvement of any Rightwing organisation and arrested a local youth and alleged drug addict, Raj Kumar Mishra, who they said had been seen destroying the statue and had confessed.
Some video clips from the site of vandalism, apparently filmed on Monday morning and circulated on social media, purportedly feature chants of "Jai Shri Ram" coming from nearby.
Some local journalists too said they heard "Jai Shri Ram" chants when they visited the site on Monday morning.
However, in response to questions, East Champaran superintendent of police Kumar Ashish said the police had received "no such inputs so far".
He said the videos may have been tampered with to include the chants.
The officer alleged that Mishra — who he said sniffed "whitener or correction fluid to get a high" — lived in a nearby slum.
"He broke the statue under the influence of intoxicants. One or two people claim to have seen him do so," Ashish told this newspaper.
A local official said the statue was probably made of "cement" while adding he was not sure. An iron rod protruded out of one of the severed ankles that were still attached to the pedestal. Anyone who did it alone would presumably have had to come armed with a heavy and possibly sharp instrument.
The statue stood at the Charkha Park in Motihari, around 155km north of Patna. The Power Grid Corporation of India had installed the statue in September 2020 as part of its corporate social responsibility. East Champaran district magistrate Shirsat Kapil Ashok said the statue would be reinstalled.
He said Power Grid had till date not handed over the statue or the park to the municipal corporation or the district administration.
"The height of the boundary wall around the park was very low and it seems its construction was not properly monitored. We shall ask Power Grid Corporation officials about it," Ashok said.