Lukewarm support upsets Priyanka Gandhi Vadra
Her specific complaints appeared to revolve around the Rafale campaign and the 'Chowkidar chor hai' slogan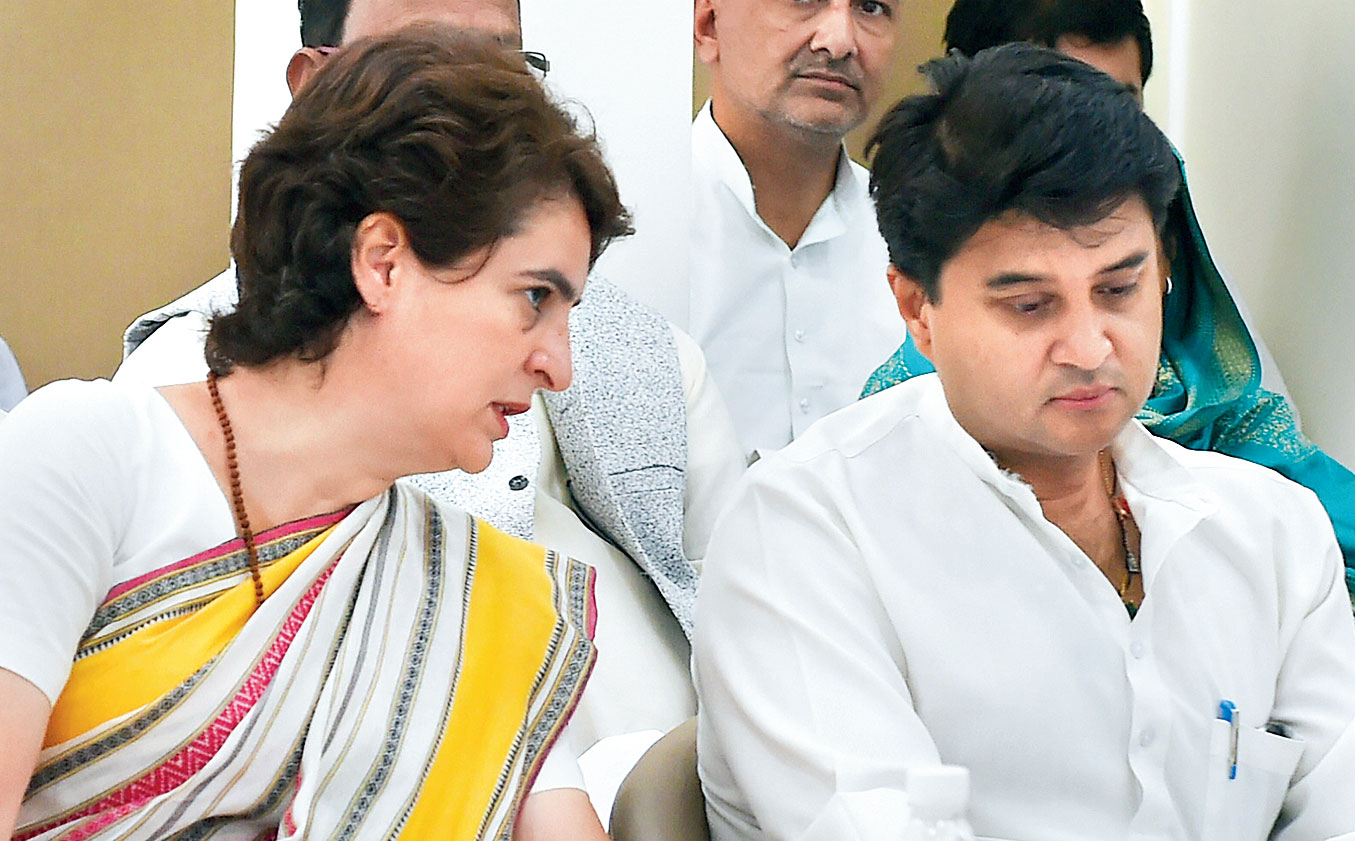 ---
New Delhi
|
Published 26.05.19, 10:18 PM
|
---
Priyanka Gandhi Vadra felt that Congress leaders did not throw their full weight behind Rahul Gandhi's campaign against Narendra Modi and aired her anguish at the CWC meeting on Saturday, sources said on Sunday.
When some leaders tried to persuade Rahul to withdraw his offer to resign as Congress president, Priyanka wondered aloud where they were when her brother was fighting all by himself, a source said.
Priyanka's specific complaints appeared to revolve around the Rafale campaign and the "Chowkidar chor hai" slogan. She felt that adequate support was not given to Rahul in hammering home the message. Rahul also echoed her, the sources said.
"Priyanka Gandhi also stressed that the party president alone cannot be held responsible for what happened. She said all of us sitting in this room are responsible. 'Can I say I am not responsible for the poor result in Uttar Pradesh? No I can't. But I will go back to UP and work harder'. She asked Rahul not to press for his resignation but the matter was definitely not resolved," a Congress leader said.
Another source said he could not recall her exact words but there was no denying that she was angry.
Asked about Rahul's frustration with the chief ministers of Congress-ruled states, one leader said: "The matter came up in a different context. Jyotiraditya Scindia said
state leaders should be empowered. At that point, Rahul said — don't I know this? I have invested a lot in state leaders. But the chief ministers of Rajasthan and Madhya Pradesh were fighting for tickets for their sons."
When Scindia called for strengthening state units, Rahul apparently glanced at P. Chidambaram and said: "Mr Chidambaram threatened to resign if his son was denied a ticket."
A source said Rahul added that Kamal Nath (the Madhya Pradesh chief minister was not present at the CWC meeting) also pushed for his son's candidature.
The Congress president said Rajasthan chief minister Ashok Gehlot spent seven days campaigning for his son in Jodhpur and neglected the rest of the state, a source said.
The dominant view in the party is that restructuring should be aimed at strengthening the party, not punishing the guilty as there is a realisation that the election was fought under exceptional circumstances.
"We know communal tactics were brazenly deployed and the nation's attention was diverted by using the Balakot air strikes. There is also a serious doubt in the minds of many leaders about the Election Commission's role and manipulation of EVMs. In such a scenario, what is the point of triggering an internal turmoil in the party by acting against our own leaders?"
Although many leaders wanted to raise questions about the Election Commission and EVMs at the CWC meeting, Scindia and R.P.N. Singh silenced them saying there was no point in disputing people's mandate.
"People have voted for them (the BJP)," one of the leader was quoted as saying. R.P.N. Singh is in charge of Jharkhand and many leaders from the state feel the result did not reflect ground reality.
Scindia comes from Madhya Pradesh and lost his own election in a big surprise but he too believes there was no evidence to suggest EVM tampering. Some leaders from his own state, however, have an entirely different perspective.
One CWC member said: "We have suspicions but won't speak without evidence. We have received complaints from many places but our leaders are not in favour of making charges without solid ground."