Ravi Kishan plays Yogi Adityanath's part
The actor has adopted saffron attire, which is an identity of UP's chief minister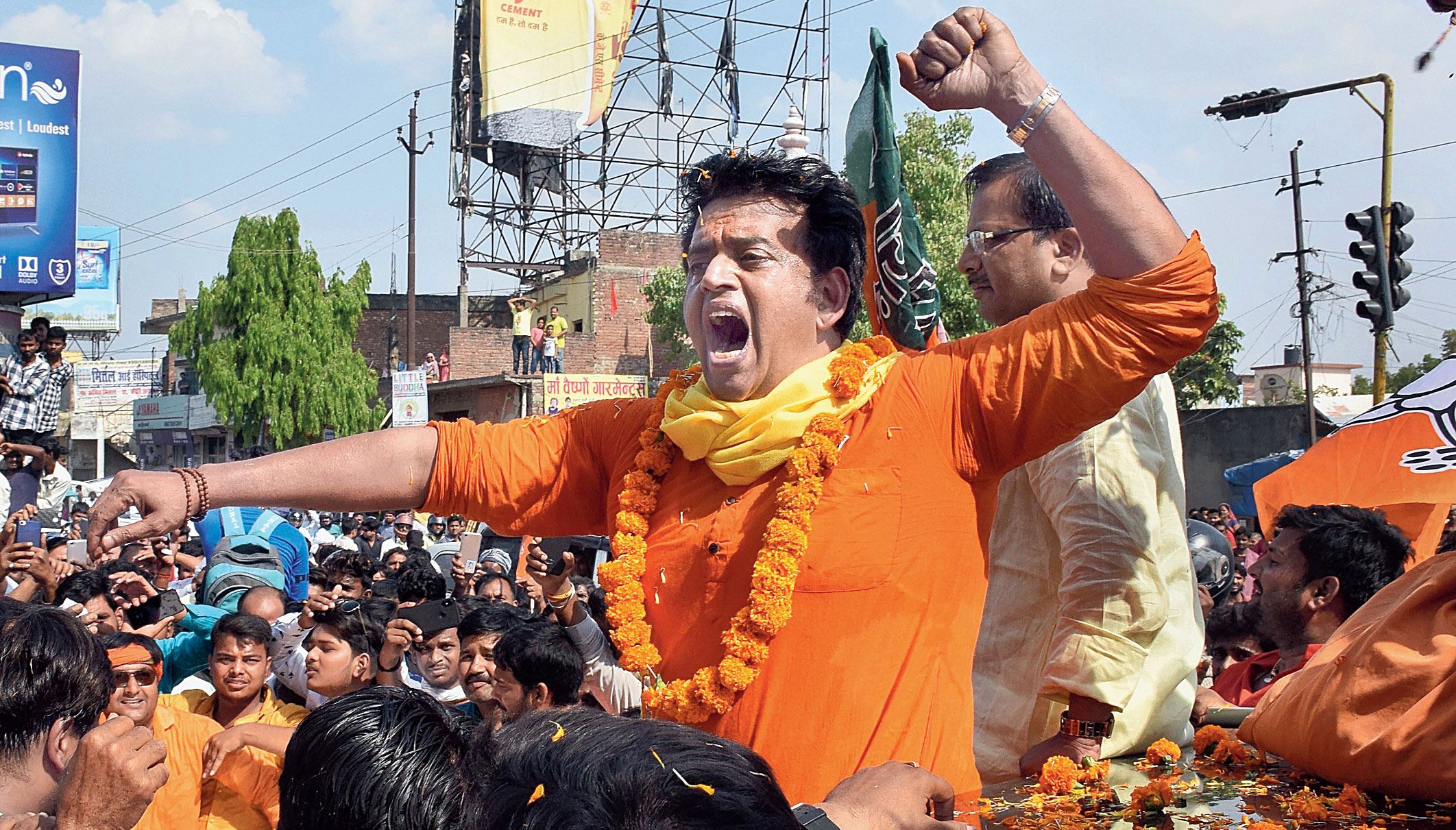 ---
---
Ravindra Shyamnarayan Shukla, better known as Ravi Kishan, is proof that the BJP didn't have a strong candidate for Gorakhpur.
Sources in different political parties said the Bhojpuri actor had been struggling for the last five years to get some important position in any political party. The Congress had rejected him because of his "non-serious image as an actor". He had also met Akhilesh Yadav many times when the Samajwadi Party president was chief minister between 2012 and 2017 and requested some land on the outskirts of Varanasi and funds to build a government-owned film city. Akhilesh's sitting on the plea frustrated Kishan.
"It is true that we didn't have a formidable candidate in Gorakhpur and nominated Ravi Kishan, an outsider, in the hope that even a joker-like character will win in a Narendra Modi wave — if it is there at all," a local BJP leader said under cover of anonymity. "(Uttar Pradesh chief minister) Adityanath has also promised that he wouldn't commit the mistake of the 2018 bypoll and that he would campaign every day for Ravi Kishan and he has been doing so honestly. But we are not able to understand why the CM recommended the name of someone whose victory is uncertain."
The Gorakhpur Lok Sabha seat was considered a stronghold of the BJP because of the influence of the Gorakhnath Math, which Adityanath heads as its mahant. However, in the bypoll held last year, the BJP had lost to the SP candidate. There were rumours at that time that Adityanath had ensured the BJP nominee Upendra Dutt Shukla's defeat because he was a Brahmin and had been foisted on Gorakhpur against the wish of the math.
Ravi Kishan is smart enough to understand his vulnerability. The actor has adopted saffron attire, which is an identity of the CM.
"Maybe Ravi Kishan is trying to imitate Adityanath, but he is unable to differentiate between acting and politics," said Ajay Kumar, a local political observer. "He appears artificial in his interaction with the people and in his speeches. This is the reason that despite many development works in the district, Adityanath has started saying the candidate is not important, Narendra Modi is important in this election."
Asked whether Adityanath would be punished if the BJP lost Gorakhpur this time, Ajay said: "Although we have seen Adityanath campaigning night and day, there is also a rumour doing the rounds that Adityanath will become stronger if Modi is weakened in UP. Adityanath's father Anand Singh Bisht has already said his son will be PM in 2024."
While an All India Institute of Medical Sciences is under construction in Gorakhpur, an out patient department was started in a hurry to gain some votes. The closed Piparaich sugar mill was also reopened after Adityanath became chief minister in 2017. Kishan has been talking about these things but he has failed to bring it into the political discourse.
When Ram Bhuwal Nishad, the SP candidate, said in his public meetings that Ravi Kishan was an outsider, the actor rushed to Mamkhor, 70km from Gorakhpur town, touched the ground with his head before entering the village and claimed that his ancestors had migrated from there to Jaunpur, 160km south of Gorakhpur, a century ago.
"I am back to my roots and the people will vote for me because I am an insider," he has been telling people.
Ashok Chowdhary, another local political observer, said the dominance of the math is vanishing.
"Its mahant Digvijay Nath was elected MP from here in 1967. His disciple Mahant Awaidyanath was elected in 1970, 1989, 1991 and 1996. His nephew and disciple Adityanath was five-time MP between 1998 and 2014. We used to say in the past that even a clown from the streets in Gorakhpur would become MP here if blessed by the math. But this theory was shattered in the 2018 bypoll and since then we have started saying that the math is losing its sheen," he said.
Gorakhpur votes today