Lok Sabha witnesses disruptions on second day of winter session
Telangana Rashtra Samiti members staged uproarious protests in the Well of the House and forced adjournments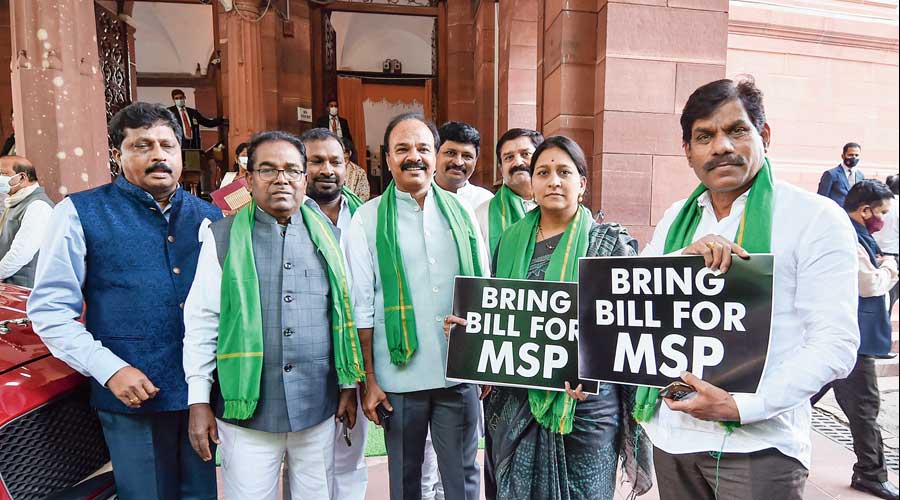 Telangana Rashtra Samithi MPs stage a protest outside Parliament on Tuesday to demand a bill guaranteeing MSP to farmers.
(PTI)
---
New Delhi
|
Published 01.12.21, 02:55 AM
|
---
The Lok Sabha witnessed disruptions on the second day of the winter session too, with issues relating to farmers dominating the Opposition protests on Tuesday, a day after the government repealed the three farm laws without any discussion.
Though the Congress and its friendly Opposition parties walked out of the House protesting against the government's attitude of running away from discussing farmers' issues, it was the Telangana Rashtra Samithi members who staged uproarious protests in the Well of the House and forced adjournments. 
The TRS had so far been seen as a friendly Opposition to the government, like Odisha's BJD. The BJP's aggressive efforts to build a base in TRS-ruled Telangana seemed to have driven the regional party to open a front against the central government.
Several TRS MPs waved placards and shouted slogans demanding justice for farmers. Their principal charge against the government was that the Centre was not procuring paddy from Telangana farmers. The TRS has nine MPs in the Lok Sabha.
"Sir, the government claims that paddy procurement is being done. But in Telangana, farmers are sitting with their crops and no procurement is being done," TRS House leader Nama Nageshwar Rao said, as Speaker Om Birla urged the protesting MPs to go back to their seats during the post-lunch session. 
"We will withdraw only if the government gives an assurance to look into the issue and talk to us," Rao said. As no one from the government came up, despite the presence of parliamentary affairs minister Pralhad Joshi, the protests continued and the Speaker adjourned the House for the day. 
The Speaker told the Opposition about the need to allow the House to run properly, stressing that people had elected them to raise their issues and not disrupt proceedings.
Congress House leader Adhir Chowdhury got some time to speak at 3pm to say why the Opposition was still protesting. "Sir, we also want the House to run.… We don't come here for picnic," Adhir said amid uproar from the Treasury benches. 
"We wanted a discussion on the repeal of the farm laws, to raise the MSP (minimum support price) issue. But the government didn't allow. It is not our fault...," Adhir said. 
The ruling BJP is eyeing to use the disruptions of the House proceedings to paint the Opposition and even the farmers' protest as being politically motivated, saying they were not withdrawing despite the repeal of the laws.