Let go of mosques, avert bloodshed: Mehbooba
The chief of People's Democratic Party expressed her views at a party gathering in Srinagar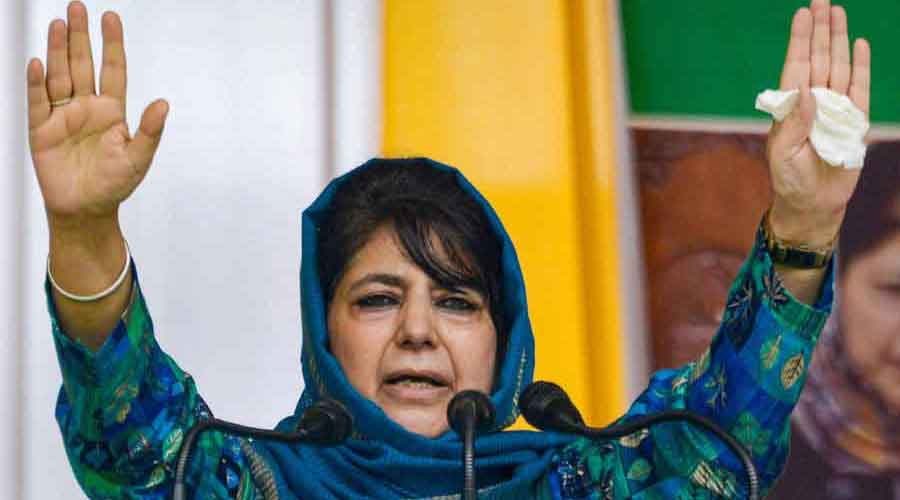 Mehbooba Mufti.
File photo
---
Srinagar
|
Published 12.05.22, 01:24 AM
|
---
Former Jammu and Kashmir chief minister Mehbooba Mufti on Wednesday asked Muslims to better give up their mosques than risk Right-wing Hindu groups shedding their blood and blowing up their houses, warning countrymen that India was staring at a bigger crisis than Sri Lanka.
Mehbooba, who heads the People's Democratic Party, told a party gathering in Srinagar: "I ask my Muslim brothers not to stick to their mosques but choose imaan (faith) instead. Let them take away mosques but don't allow them to cause bloodshed. That is what they want. They will provoke you, raise slogans in front of your mosques so that you will be provoked, and this will cause them to blow up your houses."
"I urge all Muslim brothers that if for maintaining peace they want to take over our mosques, tell them to take them all at once. Yesterday, they destroyed Babri Masjid, next day it is Varanasi, then the Taj Mahal and then some other," she said.
"If by taking away our mosques or the Taj Mahal, Red Fort or the Qutab Minar, they can solve the issues of unemployment, inflation or poverty, then I will ask all Muslims to let them take everything if they want," Mehbooba said, adding that Muslims do not need any building for worship but can pray anywhere.
Mehbooba urged Indians to look at what was happening in Sri Lanka.
"Ask why is it happening there. It is because they played the religion card, made people fight each other. You had one man ruling there for seven-eight years, from one family. Just the same way the BJP has been ruling for the past eight years. Hindus and Muslims are made to fight each other…," she said.
"If they (BJP) won't stop, then the situation will become worse than Sri Lanka's."