Mogara Phulala: A harmonica player's tribute to Lataji
'To understand her ouvre, one has to go through her body of work in Marathi and Bengali, especially with the three greats, Salil Chowdhury, Madan Mohan and Hridaynath Mangeshkar'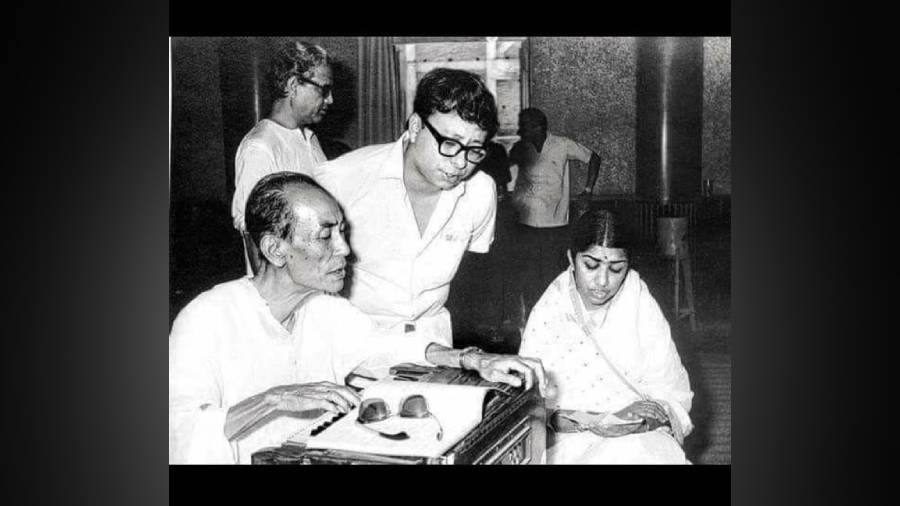 Lata Mangeshkar with SD & RD Burman.
Lata Mangeshkar twitter handle.
---
Calcutta
|
Published 06.02.22, 10:50 AM
|
---
I don't know why, but for the last few months I have been thinking about recording my mouth organ version of Lata Mangeshkar's famous Marathi song Mogara Phulala.
My father introduced me to this song of Lataji in my childhood, the Bengali version, Nao go Ma Phulo Nao. A master composition by the great Hridaynath Mangeshkar, Mogara Phulala is in raag Gorakh Kalyan. When I look back, that was possibly the beginning of my musical journey of learning Lataji. Many years later in 1986, my guruji (my mausa too) and master musician, the Late Milon Gupta, introduced me to the Marathi original, Mogara Phulala. Till date, I have been in awe of this song, and another favourite of mine, Neej Majha Nandlala, a Shrinivas Kale composition, in which every antara has a different tune. These two moments played a huge role in defining my musical sensibilities.
To understand Lataji, one has to go through her body of work in Marathi and Bengali, especially with the three greats, Salil Chowdhury, Madan Mohan and Hridaynath Mangeshkar. Without that it's impossible to understand the vast and rich legacy that Lataji leaves behind.
When one writes about Lataji, invariably O Sajna Barkha (Salil Chowdhury) or Lag Ja Gaale (Madan Mohan) or Ajeeb Dastan (Shankar Jaikishen) come to mind. They are landmark songs in Indian music. But for me, what comes to mind is a "cabaret song", a cult number and possibly the first major experiment of R.D. Burman with Lataji, titled Sharabi Mera Naam, from the 1967 movie 'Chandan Ka Palna'. If you haven't heard it, then you don't know what you are missing. I wonder why she didn't continue to sing such songs any more.
We talk a lot about Lataji's duets with Kishore Kumar, Mukesh and Md Rafi. But if there was someone who actually fitted that mastery, it was Manna De. And they gave us, amongst many other, two of the greatest romantic songs of all time, Pyaar Hua Ikraar Hua (Shankar Jaikishen) and Ke Prothom Kachhe Eshechhi in Bengali (Sudhin Dasgupta). And this is not to forget their master class in duet, Kanha Bole Na (Salil Chowdhury) from the film, 'Sangat'.
Lataji's association with the Burman family created magic. R.D. Burman's first recorded song, a classic in musical standards, Ghar Aaja Ghir Aye Badra from 'Chhote Nawab' was sung by ''Didi''. There is an interesting story behind this song. This was the time when, due to a misunderstanding, Lataji was not singing for S.D. Burman for almost three years. RD asked her if she would sing his first song, to which she not only said yes, but came over to the Burman house the next day for rehearsals. After the rehearsal, she told RD how beautiful the  composition was. Then, she asked him, ''apne pitaji se milaoge nahin (don't I get to meet your father)?''. Immediately, Burman Junior called his father, who was listening to their rehearsal hiding in his room. S.D. Burman came out and the first question he asked was how many dates could Lataji give him. And so the next SD and Lata song was recorded, Mora Gora Ang Lai Le from 'Bandini'. From then on, there was no looking back for this duo, their combination leading to gems like Piya Tose Naina Laage Re. Much later RD and Lataji came up with Ab Ke Na Sawan Baarse from 'Kinara', one of my all-time favourites, based on S.D. Burman's Bengali classic, Knadibo Na.
Hemanta Mukherjee brought Lataji to Bengal some time in 1953 when they recorded a Tagore song, Madhu Gondhe Bhora. Yes, that's how early she stepped into the territory of unknown languages _ and learnt the nuances of Bangla in no time. Much later she composed two songs for Kishore Kumar – Ami Nei and Taare Ami Chokhe Dekhini, while Kishore Kumar, in turn, composed two songs for her _ Priyotama Mone Rekho and Bhalobashar Aagun Jele _ in the Bengali non-film song category.
I end with two songs that have left a deep and lasting impression on me – Salil Chowdhury's Jhilik Jhilik Jhinuk (Bengali) and S.D. Burman's Piya Bina ('Abhiman'). I consider myself immensely lucky and grateful that I have been born in an era when Lataji sang. I owe a large bit of my musical sensibilities to her.
I have often thought of playing some of her songs. But the thought, foreboding really, of not being able to match up anywhere near the original has dissuaded me. Any instrumental version of her songs is a higher challenge because of her ''gayaki''. Only master musicians have done justice to them.
Thank you, Lataji, for helping us acquire musical sensibilities. You will never know what you have given to millions of people like us. Rest in Peace.
One day, I will play Mogara Phulala.
Arijit Mukherji is a Calcuttan, who finds himself in Gurgaon and Chennai often, purely for professional reasons. His albums are available on YouTube and all the top audio streaming services.