FIR registered against Ashis and 13 supporters
Lakhimpur Kheri violence: Fingers point at Union minister's son
One of the eyewitnesses said an aide had saved his life by throwing him off the road as the SUVs sped past in a 'zigzag manner'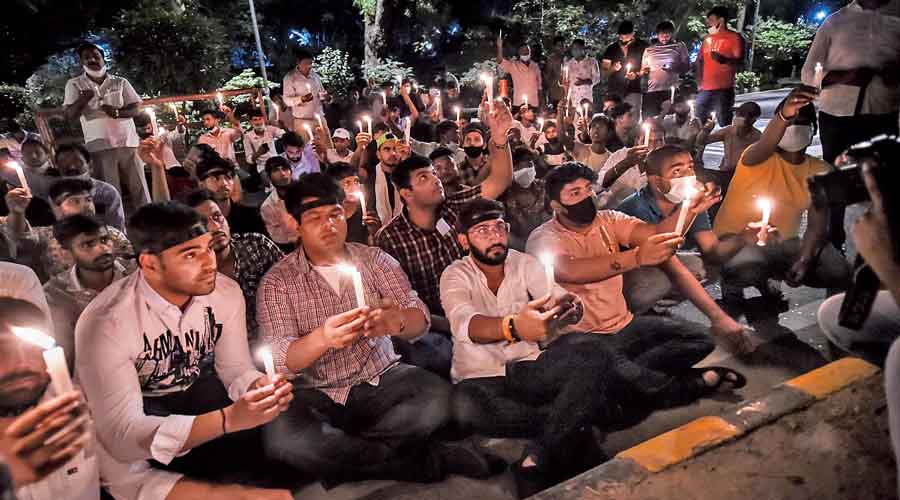 NSUI members protest against the Lakhimpur Kheri incident in New Delhi on Monday.
PTI photo
---
Lucknow
|
Published 05.10.21, 02:18 AM
|
---
Several people who said they were eyewitnesses to Sunday's bloodshed in Lakhimpur Kheri painted a gory picture of a convoy of SUVs, which they linked to a Union minister, mowing down four farmers.
One of them, local farmer leader Guramneet Singh Mangat, said an aide had saved his life by throwing him off the road as the SUVs sped past in a "zigzag manner".
On Monday night, a video emerged that showed a group of men, many of them carrying black flags and some of them wearing the green scarves of protesting farmers, walking down a road that cuts through green fields. The sound of sirens wailing can be heard as an SUV speeds up from behind, ploughs through the men and races away, raising a cloud of dust.
A couple of young men jump out of its way just in time. An elderly man in a yellow turban and white shirt is seen turning his head but it is too late -– he gets flung on to the bonnet of the speeding vehicle. A man who has fallen on the side is seen trying to get up but he falls again as another vehicle speeds down the road, following the first.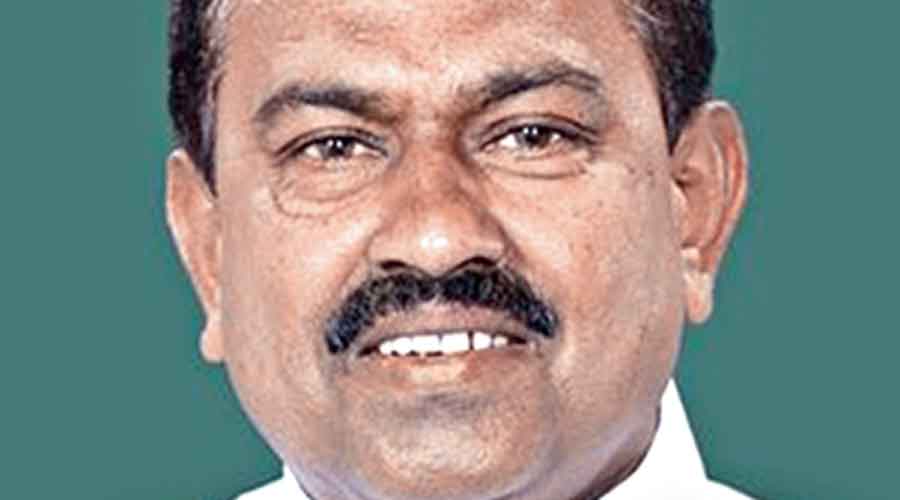 On social media, the video was shared as a "live" account of the mowing down of the farmers in Lakhimpur Kheri. However, this could not be independently confirmed.
Most of witnesses alleged that Union minister Ajay Misra Teni's son Ashis "Monu" Misra was at the wheel of one of the SUVs that crushed farmers under its wheels. Teni and Ashis have denied this, saying Ashis was 4km away at the time.
One — a police constable who wouldn't give his name — told reporters some farmers had stopped Ashis's car after the alleged atrocity and pulled him out, following which he shot a farmer dead.
But local farmer Kulwant Singh and a journalist said Ashis's car had sped away after allegedly crushing people. Mangat said he had heard that Ashis had fired a shot but knew nothing more about it.
Aman Deep Singh Sandhu, a local Bharatiya Kisan Union leader, said he saw Ashis step out of his car and fire while someone else too fired from one of the cars.
Asked about this, Teni told a news conference in Lakhimpur Kheri on Monday: "My son has a licensed revolver in his name but he was not at the spot."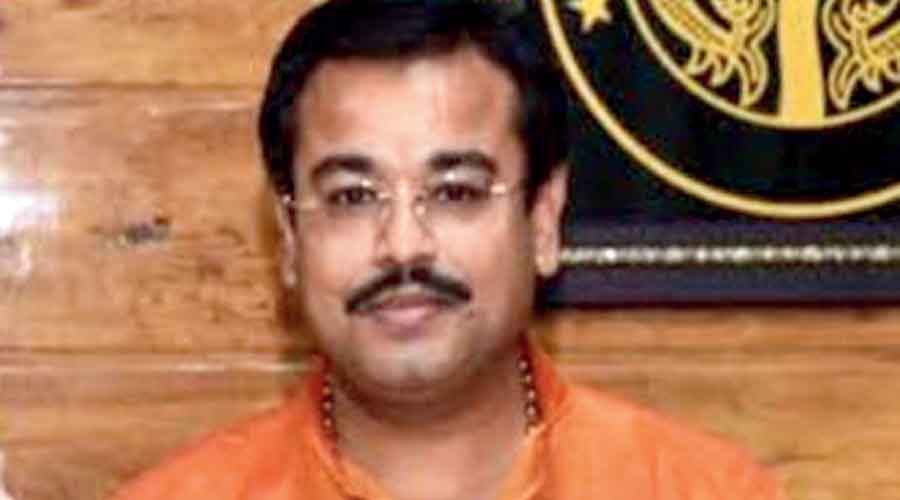 Additional director-general of police (law and order) Prashant Kumar told reporters in Tikunia, the place where the violence occurred, that an FIR for murder and criminal conspiracy had been filed on the basis of the farmers' complaints.
He didn't name the suspects but Bharatiya Kisan Union leader Rakesh Tikait, who was at Kumar's side, said: "The police have registered an FIR against the minister's son and 13 supporters. Monu is absconding. A case of conspiracy against the minister will also be registered after the inquiry."
Kumar did not contradict Tikait but said it would take "eight days to fix the responsibility" and any arrests would be made only after an inquiry. He said seven local people had been detained but didn't reveal who.
The officer added that the government had agreed to have a judicial inquiry under a retired Allahabad High Court judge and give Rs 45 lakh and a job to the family of each of the five slain farmers, and Rs 10 lakh to each of the injured.
Four more people had died on Sunday after four farmers were mowed down, the police had said. Umbrella farmer body Samyukta Kisan Morcha had said a shot fired from the convoy Ashis was leading had killed a fifth farmer.
Teni had alleged that a stone thrown by the farmers had killed his driver, causing an accident that cost lives, and claimed three BJP workers had also been killed.
Lakhimpur Kheri superintendent of police Vijay Dhull on Monday identified the five dead farmers as Daljeet Singh, Luv Preet Singh, Gurvindar Singh, Jagjit Singh and Nachchattar Singh. Tikait said Jagjit was shot dead and rest crushed under wheels. Eight farmers are injured.
Dhull said the other deceased were Hari Om – the driver of one of the SUVs – and Shyam Sundar and Shubham Singh, whose details he didn't give.
The eyewitness accounts largely agreed on the broad picture but differed on some details.
Sandhu, the BKU leader, told The Telegraph: "I was standing on a tractor trolley near the helipad, about 20 metres from the road. I'm not sure how many vehicles were there but I remember three — a Thar, a Fortuner and a Scorpio.
"All of them were travelling at high speed. While the Thar started crushing the farmers on the road, the other two followed it. We ran towards them but saw Monu Misra step out and fire. Someone else too was firing from the Thar.
"A bus was coming from the opposite side, so the first two vehicles jumped off the road. The Scorpio driver managed to drive away. I don't know how Monu escaped but we caught two criminals — one from Allahabad and the other from Lucknow — and handed them over to the police. Perhaps they were Teni's sharpshooters."
Narrow escape
Mangat told reporters in Tikunia on Sunday night the farmers had learnt that deputy chief minister Keshav Prasad Maurya would be attending a wrestling programme in Teni's village, Banvirpur, in Tikunia and decided to "show him black flags peacefully".
"So the farmers arrived near the (makeshift) helipad and sat there. Then we learnt he was coming by road, so people stood on both sides of the road along a 3km stretch," he said.
"Many of their (Teni's) guests and other people passed down the same road. We showed them black flags but no one was pelted with stones. We then came to know that Mauryaji had arrived (at the village) using another route. We then announced that all the farmers should return home.
"I was talking to someone when Vishnu, my aide, suddenly pushed me and I fell on the side of the road. I asked what happened, who are these crazy people driving so fast? They were driving their vehicles in a zigzag manner. Then they fired a bullet. Someone said the man who fired was Monu Misra."
"Many farmers are critical. They intentionally ran over us. Even the officers saved themselves somehow. Then one of their vehicles turned upside down and one person died in the car. The Fortuner skidded off the road because it was speeding. It crushed someone and lost balance."
Mangat added: "They fled (drove away) while firing. We caught two of their people --- they were from Allahabad and Lucknow and were criminals. We don't remember their names but handed them over to the police safely."
Mangat underlined that Teni had threatened to teach the protesting farmers "a lesson" at a meeting in Sampurna Nagar, Palia, a few days ago.
"We had shown him black flags. When he (Teni) climbed onto the dais he said he was a big goonda... and would teach us a lesson. He said, 'I will raze their houses and schools'.... It doesn't become a minister."
Asked about a video that purportedly shows a man being beaten up by farmers, Mangat said: "It is possible. What will your friend do if someone runs you over or fires at you? People were agitated. But we handed their people to the police. We didn't want to commit any crime."
He added: "There was a huge force here and the police would have lathi-charged us had we pelted them with stones."
Kulwant, the local farmer, told a TV channel: "We were standing near the Agrasen College on the Tikunia-Banvirpur Road, carrying black flags. Some policemen were there, asking us to maintain peace. Suddenly two jeeps came at full pelt and crushed those who were on the road.
"Monu was driving the first jeep. Later, I saw two more SUVs coming behind them at high speed. Both these jumped off the road and turned turtle. I don't know what happened thereafter. Soon, the farmers attacked those who were in the last two vehicles."
The constable who sought anonymity told reporters: "Monu was in the driver's seat in a Thar with two supporters. There were at least four more SUVs and cars behind him, driving at full speed, running over farmers.
"At least four farmers came under the wheels of Monu Misra and again under another SUV. Some farmers stopped Monu and pulled him out. Monu whipped out a revolver and fired, hitting one of the farmers in the head, and he fell there. Monu and some of his supporters then fled on a motorcycle."
A journalist who was at the spot said: "The farmers had been stopped at a distance from the Tikunia crossing through which Maurya's motorcade was supposed to pass. Maurya somehow reached Banvirpur, where Monu Misra had organised a wrestling competition.
"Maurya was also scheduled to lay the foundation stones for a few local development projects. As the farmers waited to show him black flags, Maurya seemed to have concluded his programme in a hurry and left along some other route."
Sources said Maurya had skipped the foundation stone ceremonies.
"Maybe Monu Misra was angry because Maurya had left quickly. Monu was definitely in an open jeep and there were five more SUVs in his convoy. As the farmers saw the BJP flags on the vehicles, they started chanting: 'BJP murdabad, Teni murdabad, Monu Misra murdabad'," the journalist said.
"Suddenly, Monu speeded up, running over the farmers. Another SUV did the same. Then they escaped. Someone opened fire there but I cannot say who."
At his news conference, Teni said Maurya had not yet reached the village when the incident took place. If so, Maurya attended the wrestling contest even after farmers had been mowed down in the area.
"My son was at the event in Banvirpur, 4km from the violence site," Teni said.
"Our supporters were going to receive Maurya (at the helipad) when the farmers stopped them and started pelting them with stones and attacked them with lathis and swords. It was in this situation that some farmers came under the wheels of a car."
Teni claimed the violence was committed by members of the banned organisation Babbar Khalsa, which is in line with the government's past attempts to malign the farmers agitating on Delhi's borders as Khalistanis.
Vijay Pal Singh Tomar, BJP Rajya Sabha member, claimed that the farmers protesting at Tikunia were supporters of militant leader Jarnail Singh Bhindranwale, who was killed in 1984.
ADG Kumar said: "The farmers have allowed us to take the bodies of the dead for post-mortem. Their last rites will be performed by their families thereafter."
Tikait, flagging the FIR, said: "This is just the beginning. I appeal to the farmers to wait and watch."