'Non-Hindu' dancer denied temple performance in Kerala
Mansiya V.P was allegedly told by the authorities that she was being dropped from the programme because of her religious background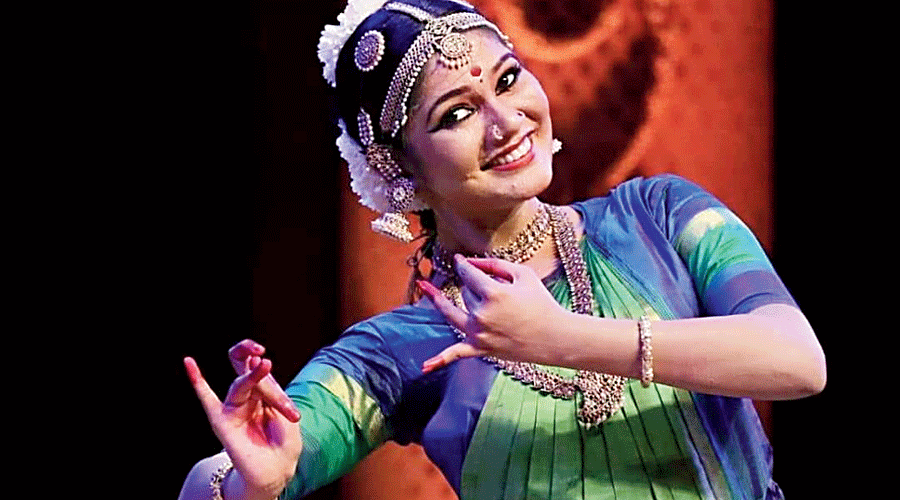 ---
Bangalore
|
Published 30.03.22, 04:04 AM
|
---
An ancient temple in Kerala has been accused of denying permission to a Bharatanatyam dancer to perform at its annual festival since she is a Muslim by birth and an atheist by choice.
Mansiya V.P., a noted dancer who is pursuing a doctorate from Kerala Kalamandalam, the celebrated institution for learning classical art forms in the southern state, was allegedly told by the authorities of the Koodalmanikyam temple in Irinjalakuda, Thrissur district, that she was being dropped from the programme because of her religious background.
Married to Shyam Kalyan, a Carnatic classical violinist, Mansiya was apparently asked if she had converted to Hinduism following her wedding. When she told the temple authorities that she did not follow any religion, they allegedly cancelled the agreement by saying only Hindus were allowed to perform within the periphery of the shrine.
"When I asked him (the temple committee member who communicated with her) if religion was the sole criterion (for being dropped), he asked me if I had converted to Hinduism after marrying Shyam Kalyan. I told him that due to some past experiences I don't have any religion and hence I am living peacefully," Mansiya told The Telegraph on Tuesday.
The Koodalmanikyam temple, earliest references to which date back to 854/55 AD, is said to be the only ancient shrine in India dedicated to the worship of Bharata, Lord Ram's second brother. The idol, however, is that of Lord Vishnu.
Mansiya brought the issue to light in a Facebook post where she mentioned that the temple authorities had booked her for an hour-long dance recital scheduled for 4pm on April 21.
"Several years ago I was denied an opportunity to perform at the Guruvayur (Sri Krishna) temple festival for the same reason," she said in the post.
In neighbouring Karnataka, Muslim traders have been stopped from setting up stalls at temple festivals and also on roads in the vicinity of the shrines, which have chosen to follow a diktat from Hindutva outfits. Though considered a "progressive" state, Kerala is no stranger to discrimination based on caste and religion, a situation that has allegedly worsened with the proliferation of Hindutva outfits there. 
The younger among two sisters trained in Bharatanatyam, Mansiya had faced tremendous hardships during her formative years as family and friends ostracised the siblings for pursuing a dance form alien to their religion.
"We had to endure a lot of humiliation during our childhood as other girls from our school kept a distance from us, as if we were into something unethical. But we managed to overcome every challenge, thanks to the support of our parents," recalled Mansiya, who grew up in Malappuram before moving to neighbouring Thrissur after getting married.
While her elder sister Rubiya has since moved away from performing arts, Mansiya pursued a master's in Bharatanatyam from the University of Madras, followed by an MPhil from the Kerala Kalamandalam where she is now pursuing a PhD for three years.
"It's rather ironic that most of my solo performances were in temples, where I faced no issues. In Kerala I have performed in big temples such as the Mahadeva temple in Vaikkom (Kottayam district), and the famous Chidambaram and Thanjavur temples in Tamil Nadu, besides many in Andhra Pradesh," Mansiya said.
"At least 10 dancers called me up after I posted on Facebook and spoke of even caste-based discrimination (at temple festivals). One girl narrated her ordeal of being told off a stage after the organisers checked her caste," Mansiya said.
Pradeep Menon, the chairman of the Koodalmanikyam Devaswom that controls the temple, could not be reached for comment as his mobile phone was switched off and his office staff said only he could speak on the matter.
The temple boards come under the department of Devaswom of the government of Kerala that is now helmed by communists, who have an avowed apathy towards caste and religion.
CPM MLA and former health minister K.K. Shailaja was among those who slammed the very idea of making religion a criterion for performing in a temple.
"The nation will become totally communal if it means that one can live only based on a religion…. It is a scary situation that some people even think based on their religion, and governments support such practices," she said.
Temple musicians and priests, too, have suffered caste-based discrimination in Kerala. N. Vinod Panicker, an exponent of Poorakkali (a folk dance from north Kerala), was stopped from performing at temples in Karivellur village in Kannur district since his son was married to a Muslim girl. The matter came to light earlier this month after a temple urged him to evict his son and daughter-in-law from his home if he wanted to perform. Panicker refused to give in.
Temple percussionist Kalamandalam Chandran Peringode had in November 2020 come out against the Guruvayur temple administration for denying him permission to perform within the perimeter of the shrine since he is a Dalit.
While the Left government has pushed for Dalit empowerment by appointing them as priests in temples, many have lamented the open discrimination at the hands of Brahmins, still the dominant priestly class.