Kerala Left does a shrine flip-flop
Govt resists women entry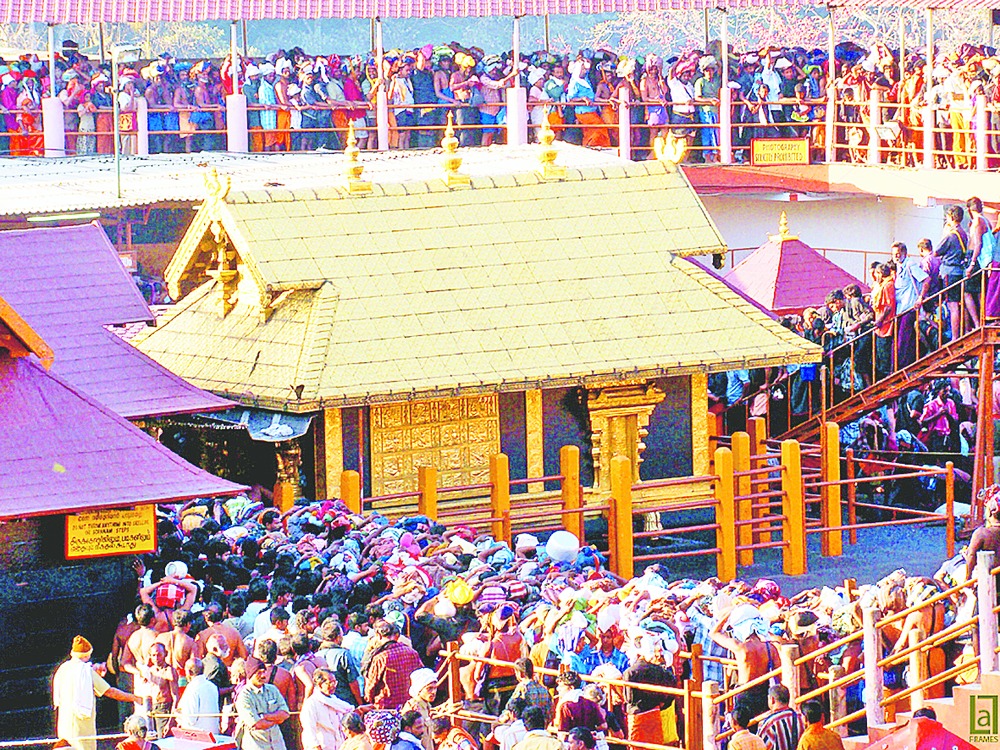 ---
---
New Delhi, July 11: Kerala's Left government today did an about-turn in the Supreme Court and opposed the entry of women aged 10 to 50 into the Sabarimala Temple, contradicting its own stance of 2007 and backing its Congress-led predecessor's position.
As a surprised apex court grilled him, state counsel V. Giri stressed that the new CPM-led Left Democratic Front government was sticking to the viewpoint expressed earlier this year by the previous United Democratic Front government.
"As of now there is no change in our stand. I have no instructions on any change," Giri told the bench of Justices Dipak Misra, C. Nagappan and R. Banumathi.
The court was hearing a public interest plea that a group of women lawyers from the Indian Young Lawyers' Association had moved in 2006, challenging the shrine's centuries-old practice of denying entry to women during the "menstrual age" of 10 to 50.
According to the petitioners, this violated women devotees' right to equality (Article 14), right not to be discriminated against (Article 15), freedom to practice any religion (Article 25) and freedom to manage their religious affairs (Article 26).
Earlier, Kerala High Court had upheld the practice at the temple, whose presiding deity is the "celibate" Lord Ayyappa.
At an apex court hearing in 2007, the then Left Democratic Front government had agreed with the petitioners that there should be no age bar on women devotees.
But in February this year, its successor United Democratic Front government moved a fresh affidavit supporting the restrictions on women devotees, prompting an angry court to question the state's "somersault". In May, however, the current CPM-led government assumed power.
Today, the court asked the state government whether there would be a fresh switch of stand following the latest change in government, prompting Giri's clarification.
Before adjourning the matter till November 7, the court indicated that the ticklish issue of women's rights versus the rights of religious denominations might be referred to a constitution bench if it involved a "substantial question of law".
Justice Misra asked senior counsel K.K. Venugopal, appearing for the temple authorities, whether a religious denomination's rights under Articles 25 and 26 could trump women's right to worship, equality and non-discrimination.
"We have to examine as a constitutional principle whether... the cult can impose such a condition. Assuming it is a cult - a cult's right - can it go beyond Article 25 and 26?" Justice Misra said.
"It has been the view of this court that there has to be a balance. Your (temple authorities) fundamental right cannot have a higher fundamentalism or constitutionality over his (petitioner's) fundamental rights."