Kashmiris betrayed: Historian Irfan Habib
'It would have been better had a democratically elected state Assembly passed a resolution to scrap these articles'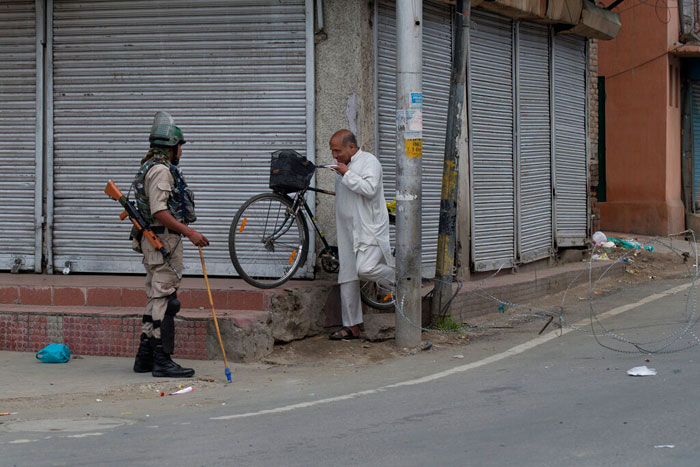 In this Tuesday, Aug. 6, 2019 photo, a Kashmiri man carries his cycle and crosses a temporary check point, with a paramilitary soldier standing beside it during curfew in Srinagar, on Wednesday, August 7, 2019.
AP
---
Lucknow
|
Published 09.08.19, 09:23 PM
|
---
Historian Irfan Habib has dubbed the scrapping of the Article 370 provision that accorded special status to Jammu and Kashmir as an "act of betrayal against the residents of Kashmir".
"Feigning danger to Jammu and Kashmir, the central government took this decision without taking Kashmir's people into confidence," the 87-year-old professor emeritus of history at Aligarh Muslim University said during a conversation with local reporters on Friday.
Habib said the BJP never tired of praising Maharaja Hari Singh, the then ruler of Kashmir who had rejected the complete integration of Jammu and Kashmir with India and got the Constituent Assembly to provide for autonomy for the state.
"The fact remains that the question of abrogating Article 370 would not have arisen had the maharaja agreed to the (then) central government's wish to treat Jammu and Kashmir like any other state," he said.
"Sardar Vallabhbhai Patel, who was home minister at the time, had genuine reason to agree to the special status for Kashmir."
Habib said the Sangh parivar had begun attacking the Muslims of Kashmir at the time.
"Sangh members used to harass local Muslims and snatch their land. This was the reason that Sardar Patel agreed to the permit system (for entering Kashmir) — to prevent outsiders from grabbing local people's land," Habib said.
"Still, the people of the country could easily secure the permit and visit Kashmir. But leaders like Syama Prasad Mookerjee (founder of the Jana Sangh, from which the BJP evolved) were prevented from going there because their intention was not good."
Habib explained that Article 35A — which granted Jammu and Kashmir residents exclusive rights over land and government jobs and scholarships — had been introduced in 1954 to lure back Kashmiris who had gone over to Pakistan after the Partition. This article has now been revoked along with the amendment of Article 370.
"Later, Article 35A was introduced to bring the local residents (Muslims) back to the state. It worked and people did return. These articles (370 and 35A) were incorporated after thorough consultations with the local people," Habib said.
"The agrarian policy of Jammu and Kashmir was the best in the country at that time because the state government had given land to the farmers free of cost. This wouldn't have been possible under the law of the government of India."
Habib added: "It would have been better had a democratically elected state Assembly passed a resolution to scrap these articles. Some people have been dubbing the Centre's decisions as merely wrong — I think the people of the Valley have been ditched."