Kashmiri Pandits who stayed on fear the worst now
With the state's special status gone, Kashmiri Pandit leader Sanjay Tickoo now fears he may have to pack his bags at last.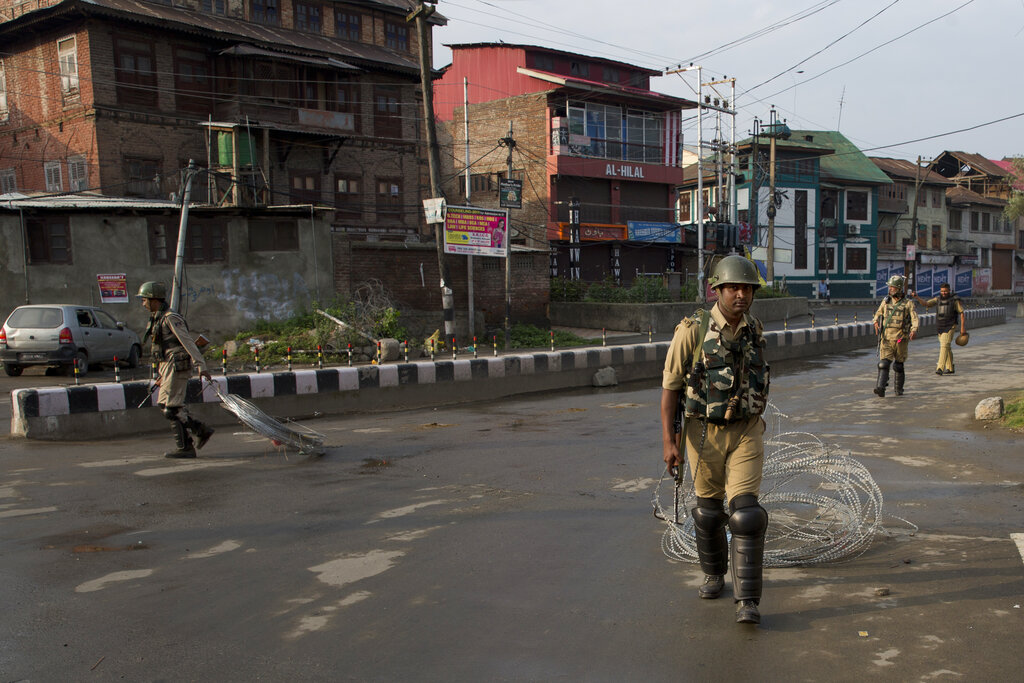 ---
|
Srinagar
|
Published 16.08.19, 10:10 PM
---
Kashmiri Pandit leader Sanjay Tickoo has braved alleged militant threats and weathered massive pro-independence agitations over three turbulent decades, refusing to join his community in migrating out of Kashmir.
With the state's special status gone, he now fears he may have to pack his bags at last.
"I predict worse times ahead, deadlier even than the early phase of militancy when the Pandits migrated," Tickoo told The Telegraph at his home in Barbarshah, a neighbourhood in Srinagar's older parts. "The move on Article 370 will prolong the conflict for another 100 years, sharpen the communal divide and bring down people's tolerance level."
He said: "We (Pandits living in Kashmir) can be the political targets. There could be a backlash. In the next three or five years, you might not see Sanjay Tickoo standing here. We are mentally prepared this time."
Barbarshah was a mixed neighbourhood with a thriving Pandit community before the militancy. Only three Pandit families are left there now.
Tickoo criticised the decision to amend Article 370, calling it an assault on Kashmir's identity.
He said the move could hit the prospects of the displaced Pandits' return — which is high on the Narendra Modi government's agenda — as many Muslims who would have welcomed them might not do so now.
Tickoo, who heads the Kashmiri Pandit Sangharsh Samiti, a body representing those from the community who have not migrated, said many Pandits had left the
Valley since the revocation of the state's autonomy on August 5.
Tickoo, however, explained that most of these were migrants who had received government jobs in Kashmir under a central package but had not shifted permanently to the Valley. Tickoo said they had shifted quietly to Jammu and other places.
"There were around 4,000 to 6,000 migrant Kashmiri Pandits living here, and most of them have left," he said.
"We also have reports that seven non-migrant (fully settled) Pandit families from Somran in Anantnag district have left while five families were shifted out by police from the Lar, Wusan and Manigam villages in Ganderbal on the night of August 5. We have no information about other families because of the information blockade."
The government had evacuated thousands of tourists, Amarnath pilgrims and non-local labourers and students ahead of the August 5 decision. There have been no reports of any visitor or non-Kashmiri being targeted anywhere in the Valley so far, although at some places they were asked to leave.
Tickoo said some 808 Pandit families, accounting for about 3,500 people, were settled in 242 places across Kashmir. About 3 lakh migrant Pandits live in Jammu and other places.
The divisional administration could not be contacted to verify Tickoo's claims because of the curfew-like restrictions and complete information blockade the authorities have imposed to prevent unrest, blocking landlines, mobiles and the Internet.
This newspaper found that several non-migrant Pandit families who had been living as tenants in Srinagar's Indra Nagar locality, a cantonment area on the edge of the 15 Corps' city headquarters that is home to dozens of Pandit households, had left.
Kewal Krishan Ganhar, who heads a temple committee in Indra Nagar, said a Pandit couple living in his house had shifted to Jammu but claimed this was because of the shutdown and not fears about their safety.
"There is no scare. We have lived here and will continue to do so," he said.
However, tension was palpable in his locality. Several Pandit families had bolted their doors and would not open them. Ganhar spoke to this correspondent from his first-floor balcony, apparently unwilling to entertain strangers.
Raksha Bandhan, the biggest Pandit festival, was a quiet affair on Thursday, much like Id-ul-Zoha earlier this week.
Tickoo proudly calls himself an Indian and recalls how he used to confront even militants, telling them that Kashmir belonged to him as much as it did to them.
"I can't say it to anyone any more. Pandits living outside have celebrated the scrapping of the special status. Many Muslims tell us that the Pandits are responsible for its abrogation," he said. "None of us has been threatened so far but people are angry and nobody knows on whom they might vent their anger."
One of Tickoo's associates, a Pandit who requested not to be named, said he could sense the change in mood. "When I went to my office recently, my Muslim colleagues gave me the cold shoulder," he said.