Kashmir: Actress murder triggers fear of return to 90s
Ambreen's distraught father Khazir Mohammad Bhat said the actress had never received any warning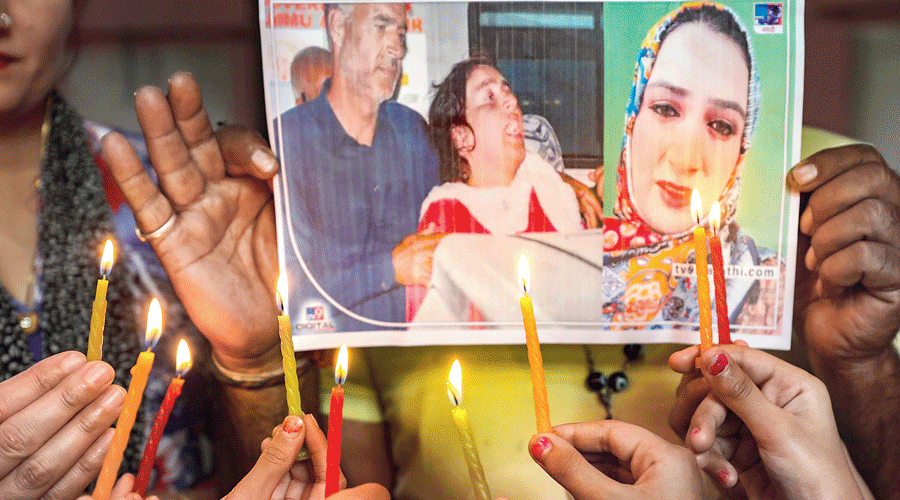 Students of a dance institute light candles to pay tribute to Ambreen Bhat in Jammu on Thursday.
PTI Photo
---
Srinagar
|
Published 27.05.22, 02:49 AM
|
---
Kashmir was no paradise for its handful of struggling artistes before the brutal murder of 35-year-old actress Ambreen Bhat by suspected militants on Wednesday evening. Her death and the recent attack on a liquor shop have led many to fear a possible revival of the militant drive of the early 90s against what the insurgents perceived as "immoral" or "un-Islamic".
"We are all in shock and everybody is asking what was her crime. Before you shoot somebody, you have to tell her or him what wrong they had done. Without even telling her where she went wrong, she was shot," a prominent artiste who introduced Ambreen to TV told The Telegraph.
"She was the lone bread-winner of the family, having had to take care of her ailing parents. For her, acting was all about feeding her family. Besides, in every shoot, you would see her properly dressed. We are part of our society and we all know our limits," the artiste added.
Ambreen's distraught father Khazir Mohammad Bhat said the actress had never received any warning.
"My daughter was resting at home last evening when somebody came and asked her nephew where Ambreen was. When she went outside, the man told her that they needed her for a shoot (for singing). She told them that she was not singing these days but all of a sudden he took out a pistol and shot her," he said.
Budgam resident Ambreen used to make videos on TikTok and YouTube as TV serial offers from local cable stations have dwindled for the Valley's few hundred artistes. Her 10-year-old nephew was also injured.
Last week, a grenade attack on a newly opened wine shop in Baramulla killed an employee and injured three others.
Wednesday night's attack has prompted many to apprehend a renewed campaign to target people indulging in what militants perceive as "immoral" or "un-Islamic actions".
This has brought back memories of the early 1990s, when militants had launched a campaign to shut cinemas and liquor shops and targeted artistes.
"I think she (Ambreen) is the second artist to die this way. In the early 90s, an artiste named Shamina Akhtar was shot dead. But all these years in between, we faced no issues. God knows why it has happened now," another artiste said.
Since the 2019 scrapping of Jammu and Kashmir's special status, militants have carried out multiple attacks on members of minority communities and non-locals, both Muslim and Hindu, as part of a bid to drive them out. There have been many other targeted killings, mostly off-duty security force personnel enjoying vacation at home or panchayat members.
Two off-duty policemen, one in Srinagar and another in Pulwama, were killed in May alone.
The murder of Ambreen has spread fear and grief among the 450-odd TV artistes in Kashmir. Many of them are jobless these days, prompting some to switch to the tricky terrain of social media platforms that has earned them both accolades and brickbats.
The sole source of livelihood for these TV artistes used to be the government-run Doordarshan, All India Radio and the Cultural Academy. But from 2012, there has been no work on Doordarshan, apparently because of lack of funds. Some radio shows and theatre offers still come from AIR and the Cultural Academy.Some artistes have shifted to other professions.
The prominent artiste who introduced Ambreen to TV said income avenues had dried up since the dilution of Article 370, a move the government had claimed would bring development to Kashmir.
Last year, CPM veteran Mohammad Yousuf Tarigami had petitioned the government for help, saying many artistes were starving.
"There are hundreds of artistes whose families were solely dependent on production work at the Kashir channel (a Doordarshan affiliate). All these years, they managed to run their families with some savings, which have now been exhausted. They have no other source of income," Tarigami had said.
The prominent artiste said Ambreen's family had been struggling financially.
"I remember, some 15 or more years ago, I was in her area for a shoot. She came to me and said she loved acting. I did not know her before that. I gave her a small role in a song and this is how it started," he said.
"Over the years, she became a very good actress. Two months ago, she opened a YouTube channel. She was also on TikTok. Her death has not killed her alone but her family too because she was the sole bread-earner," the artiste said.