'Kash' in memo row speaks
Patel tells his side of the court story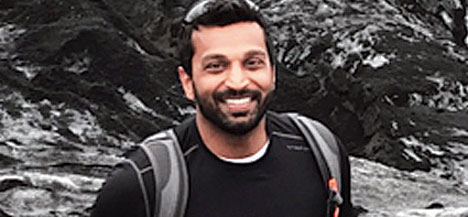 ---
---
New Delhi: The memo that is shaking Washington DC has pitchforked an Indian American from Gujarat into limelight and scrutiny.
Some are calling Kashyap Pramod Patel the author of the Republican document that accuses the FBI of using an unsubstantiated and Democratic-funded report to secure permission to spy on a former aide to President Donald Trump. Some are even referring to the Nunes Memo (named after the chairman of the House intelligence committee Devin Nunes) as the "Kash Memo".
Patel, 37, is far from amused.
With his "family in India now", Patel agreed to respond to questions - specifically on his India links - from The Telegraph over email so that they will be "able to read the truth, unlike" what was being printed about him in newspapers back home.
Before getting down to business, Patel was every bit the interrogating lawyer and wanted to know how this newspaper had secured his personal email address. (A random search on the Internet had thrown up the address.)
Over the weekend, he has been ridiculed, called unscrupulous and described as someone who has "sometimes run afoul of the rules" and who deserved to be in jail.
Of all these, the US-born-and-bred lawyer with roots in Vadodara appeared to be most concerned about reports that said he was berated by a federal judge who issued an "Order of Ineptitude" to the department of justice (DoJ) where he was working in 2016.
Patel, the senior counsel for counter-terrorism in the House Permanent Select Committee on Intelligence, refused to confirm whether he authored the Nunes Memo. Nunes chairs the committee.
But Patel was particularly keen to set the record straight on the "Order of Ineptitude".
"I led the prosecution and investigation of a terrorist living in Houston who was going to blow up shopping malls there.... After we charged him with terrorism offence, I deployed to Tajikistan to run an unrelated counter-terrorism investigation into the ISIS (Islamic State) emir of war.
"While there, the judge in Houston set a hearing. DoJ requested I fly back, as the case had just been charged and the local prosecutors did not have any national security experience. I flew 27 hours to Houston and went straight to the court in a suit but no tie. The judge went off in a tirade against DoJ, and I sat there and was professional, putting the national security mission above all....
"The transcript is available online and is now the model of how prosecutors should conduct themselves in the face of an awful and, in this instance, a racist judge. I have always put the national security mission above politics and will continue to do so, regardless of how low mainstream media is willing to attack me and my family.''
A report in The Washington Post in February 2016 on what transpired in the courtroom is in line with Patel's version.
Born in New York City, Patel grew up on Long Island and schooled at the Garden City High School. He graduated from the University of Richmond in 2002 and got a certificate in international law from the University College London Faculty of Law in 2004 before graduating from Pace University's law school a year later.
Patel said his parents were born and raised in East Africa and attended university in India at the Maharaja Sayajirao University, Baroda.
His father, the lawyer added, fled Uganda when Idi Amin came to power, "first going to Toronto, then settling in New York where he has been since the late 1970s".
A Republican for long, Patel has been a frequent visitor to India, "going back my entire life".
As a child, he spent his summers in India and continues to return to visit family and friends.
After his stint with the DoJ - where he ran "prosecutions and counter-terrorism operations around the world", Patel served as a civilian in the joint special operations command, "doing global targeting operations with the Department of Defense" before moving to the House Intelligence Committee at Congress in April last year.
What made him prefer the Republicans to the Democrats, particularly in the current phase of American politics where there is a narrative against outsiders?
"My hope is not to be partisan but to reveal the truth to the world and have everyone else decide. Which, I believe, I have done," Patel said.