Judicial probe into 'encounter'
People have the right to know the truth: SC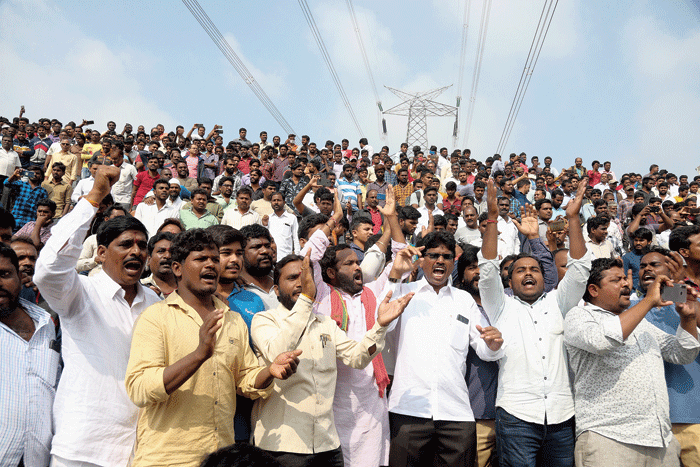 A crowd cheers police at the site where the four rape suspects were shot in Shadnagar near Hyderabad on Friday.
(AP)
---
New Delhi
|
Published 12.12.19, 09:32 PM
|
---
The Supreme Court on Thursday set up a judicial inquiry headed by a retired apex court judge into the December 6 "encounter" killing of four men suspected to have gang-raped and burnt to death a Hyderabad veterinarian, but stayed parallel proceedings undertaken by Telangana High Court and the National Human Rights Commission.
The judicial commission, which has been asked to submit its report within six months, is headed by Justice (retd) V.S. Sirpurkar and has as members former Bombay High Court judge Rekha Baldoate and ex-CBI director D.R. Karthikeyan. The retired CBI officer had headed the special investigation team that probed Rajiv Gandhi's assassination.
A bench of Chief Justice S.A. Bobde and Justices Abdul Nazeer and Sanjiv Khanna also issued notices to the Press Council of India and certain media organisations on allegations that the parallel media trial conducted in the rape-and-murder case eventually resulted in the extra-judicial killings.
The bench brushed aside the objections by senior advocate Mukul Rohatgi, appearing for the Telangana government, that there was no need for the Supreme Court to intervene as the high court and the NHRC were already seized of the matter.
The Supreme Court passed the directions while dealing with two petitions filed by advocates G.S. Mani and Manohar Lal Sharma seeking a CBI probe into the action by Cyberabad police, which reports to commissioner V.C. Sajjanar who had earlier too presided over an encounter.
The Supreme Court said: "People have the right to know the truth."
Justice Bobde said the state must conduct a probe against the police personnel involved in the alleged encounter.
"Be fair. The trial against the accused in this case is of no consequence since all four are dead now. They can't present their case at all. It will only be policemen giving their evidence. Be more fair, otherwise the trial will end up being a mockery…. At the moment, we don't want to assume facts. But this is a question of credibility, we don't understand why are you resisting an inquiry. We expect you (the state) to be more statesmanlike in this," Justice Bobde said.
"We are not saying you are wrong. At this stage we don't know anything," the CJI added.
The court, however, rejected the plea of one of the petitioners — Manohar Lal Sharma — who had argued that the families of the four must each get a compensation of Rs 15 lakh.