JNU protests with graffiti
The target is the vice-chancellor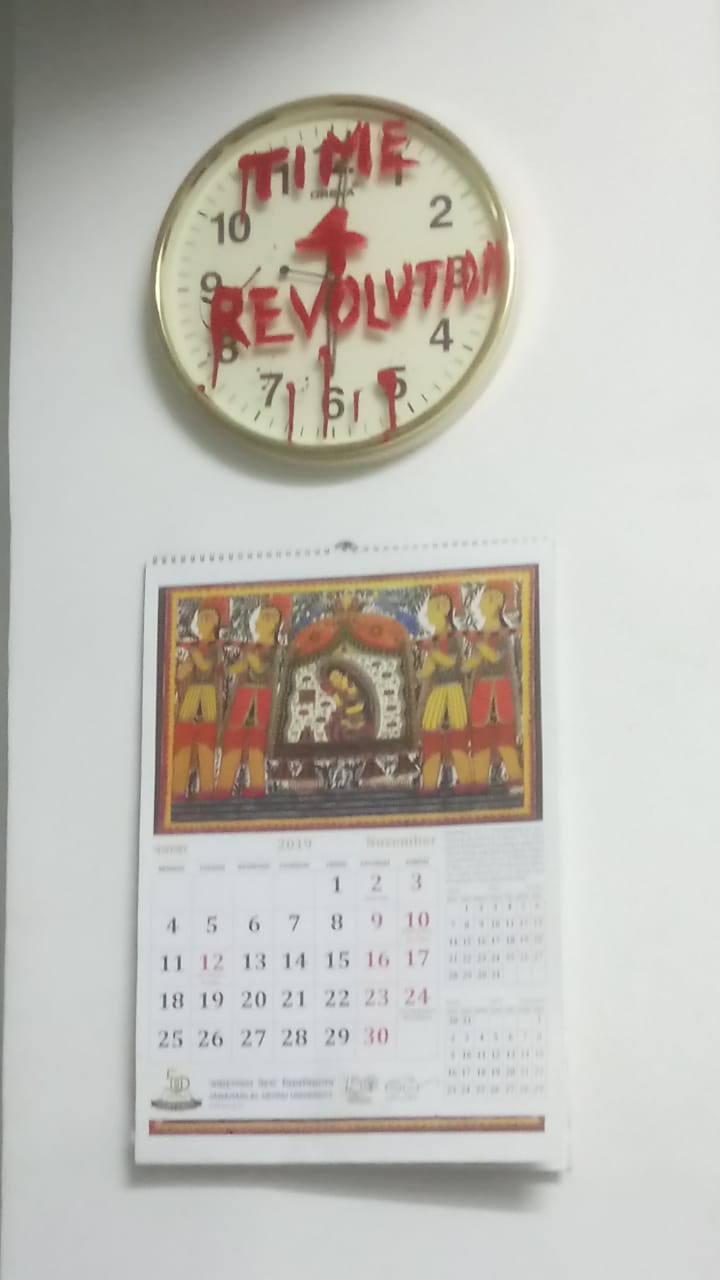 ---
New Delhi
|
Published 17.11.19, 01:11 AM
---
Clocks and floors have them, as do the walls. In JNU's fresh season of protest graffiti is everywhere.
The words are borrowed from Bollywood and from Islamic theology. Almost always, the target is vice-chancellor M. Jagadesh Kumar.
The university has witnessed 15 days of protests over a hostel fee rise, which the university partially rolled back. But that has not satisfied students.
One graffito in Urdu read "Dajjal ka beta". Dajjal is a doomsday figure in Islamic theology.

Another has called Kumar 'Shaitan ka s***" (a kin of the devil). The line is borrowed from the recent film Bala.
The block, which houses offices of the university, has acquired a museum-like aspect. As the JNU students' union made speeches at the block on Friday evening, students in groups walked around staring at the graffiti.
Not everyone supports this kind of protest. Durgesh, the ABVP JNU president, said the fee hile protest was now moving towards 'total anarchy'.
'We do not subscribe to painting of walls. This is not our method of protest. What kind of revolution are they talking about? They (the Left) are taking the movement in a different direction. Our protest was against fee hike, now they are taking it towards total anarchy. We don't agree to vandalism as a method of protest, ' he said.
Guards on campus complained that they had suffered injuries when they stopped the students from writing on the walls. "What could we do? They were in hundreds and we only a handful. Three female and two male guards suffered injuries and had to be taken to the hospital," said one of the guards on duty.
The vice-chancellor on Friday termed the students' method of protest uncondonable and said the university has take an "an extremely grim view" of the agitating students' conduct. He appealed the students to end their agitation, calling the revision in mess and hostel charges "reasonable" and "vital for financial viability" of the hostels.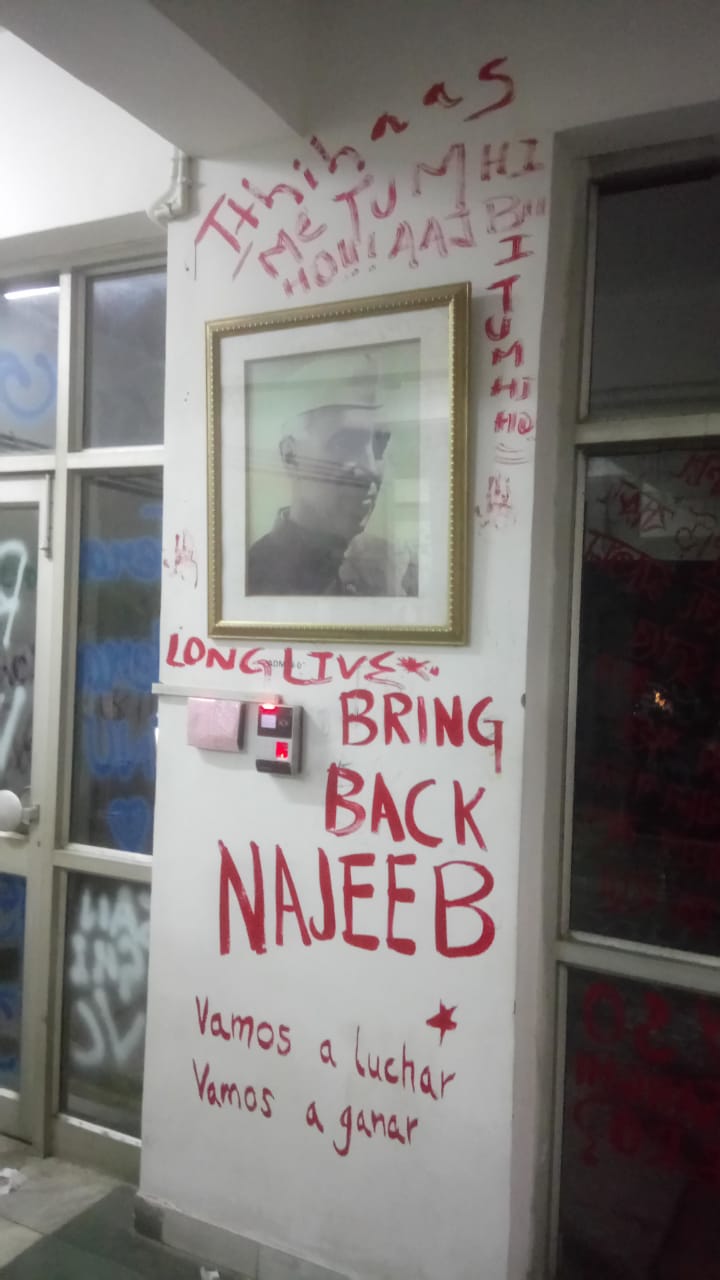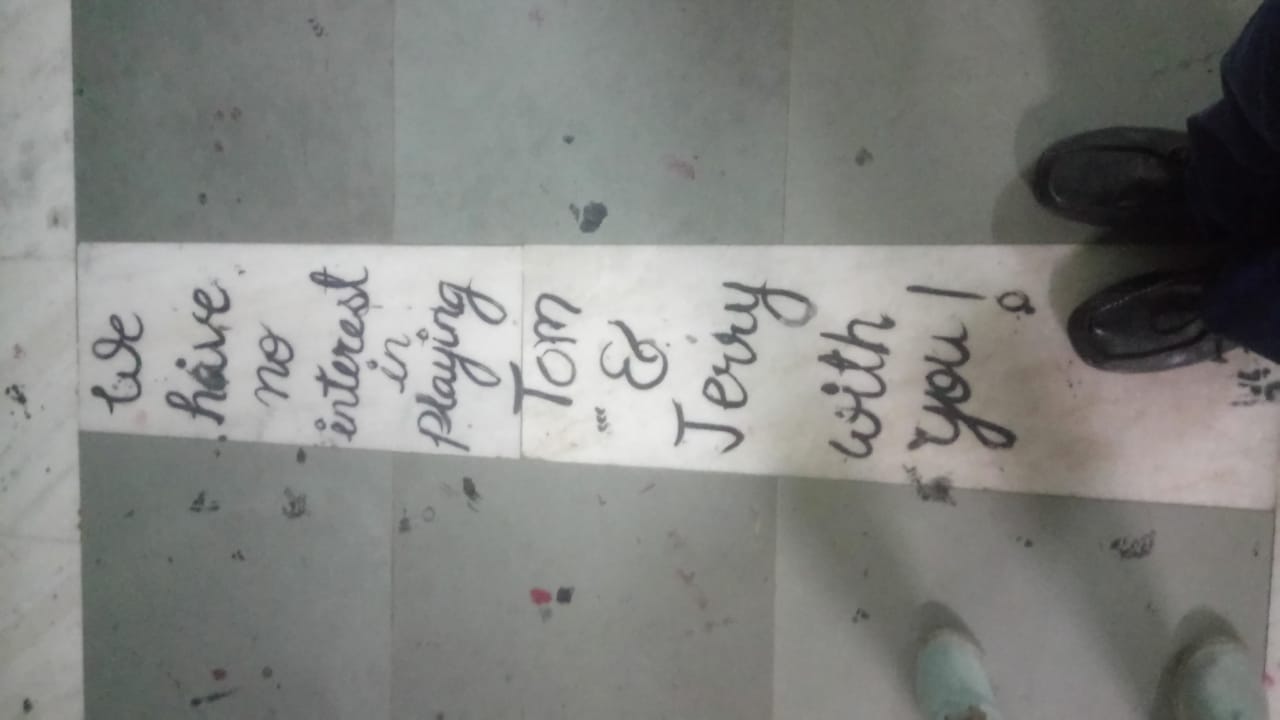 "We don't regret what we have done. I myself wrote some of these graffiti, the ones in Urdu. It is not vandalism. Vandalism was when the police hit me on the head during the protest at the AICTE on Monday for which I got 12 stitches," an MPhil student from the school of languages told this website, requesting that his name is not revealed.
Another student in his final year at the centre of Russian studies said he had to come down to paint the office walls as a last resort.
"What will you do if your vice-chancellor refuses to meet you? He hasn't met us in last two years. He hasn't been coming to the office for days now, who do we raise our concerns with?" he said.
"He won't come to meet us despite so many of our requests, and when we protest and express dissent, we are called anti-nationals," a woman student doing her MA in sociology said.