J&K: Rawat baiter 'ousted' from school she founded
Sabbah Haji had castigated Chief of Defence Staff — after his death in a chopper crash on December 8 calling him a 'war criminal'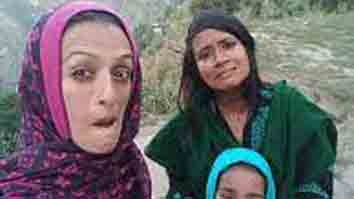 ---
Srinagar
|
Published 19.12.21, 03:21 AM
|
---
A celebrated educator from Jammu who called the late General Bipin Rawat a "war criminal" has purportedly been sacked by the school she founded, summoned to a police station and made to sign a bond not to repeat her act if she wants to avoid arrest.
Sabbah Haji, 39, had castigated the Chief of Defence Staff — after his death in a chopper crash on December 8 — for awarding an army major who had used a Kashmiri as a human shield against stone-throwers in 2017, when Rawat was army chief.
According to the 1949 Geneva Conventions, forcing non-combatants to serve as human shields constitutes a war crime.
Sabbah, whose family had relocated to the Gulf from Jammu's Doda district with the outbreak of militancy, had returned about a decade ago to set up a quality school in Breswana, a remote hamlet with no roads in Doda.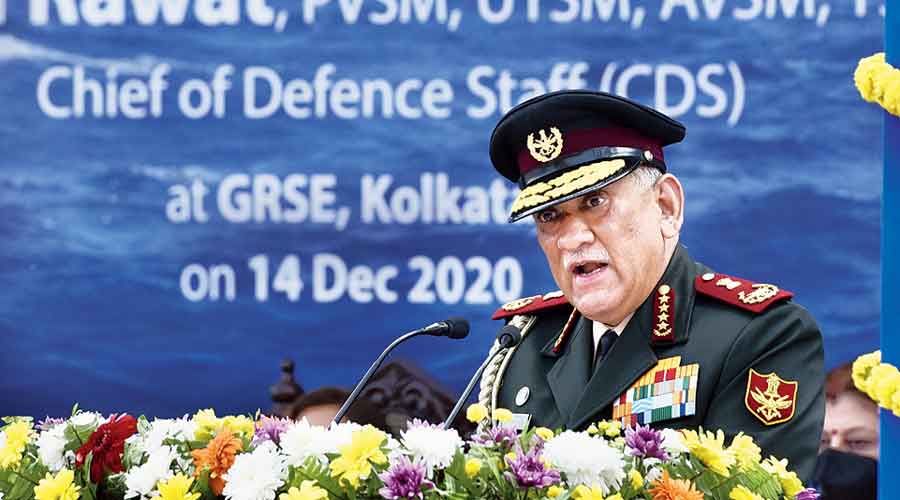 Her Instagram post condemning Rawat led BJP activists to lodge a police complaint, prompting a summons to her to appear before the women's police station in Doda on December 13.
By then, another complaint to the school education department, seeking suspension of the registration of the acclaimed school Sabbah had founded, had forced the school to announce she was no longer with the institution where she had been founding director.
Her family sources said Sabbah had been "summoned and detained" on December 13, had to report to the police station every day for the next four days, and was eventually made to sign a "surety bond" on December 17.
After the December 13 summons, a magistrate's order the same day had asked Sabbah to be present at the women's police station from 10am to 2pm every day from December 14 to 17. Social media was agog with reports of Sabbah's "arrest".
Doda executive magistrate Shabir Ahmad denied that Sabbah had been arrested or detained but confirmed that she had on December 17 signed bonds executed under Section 107 of the Code of Criminal Procedure.
"She will be under surveillance for six months and action can be initiated against her if she repeats the act. Yesterday, she signed a surety bond pledging not to repeat it," Ahmad told this newspaper on Saturday.
Section 107, also called the "bond to keep the peace", requires a person to "bind" themselves "not to commit a breach of peace" or "do an act that may probably occasion a breach of the peace" if they want to stay free.
Sabbah's Haji Public School, a non-profit initiative, has been an inspiration for many in Jammu and Kashmir and outside. The school, which imparts quality education to children from remote hamlets, has recruited acclaimed professionals from across the country and abroad.
Early this week, the school wrote on its official page: "The Haji Public School management would like to clarify that a recent distasteful media post during the rounds has nothing to do with the school and that the said person has acted in their individual capacity after their tenure with the school ended. Ms Sabbah Haji is not associated with Haji Public School in any official capacity."
Melaine Easton, a Canadian writer and filmmaker, was among many who expressed outrage at Sabbah's treatment.
"I volunteered at Haji Public School for a brief period in 2013 and can say with absolute certainly that Sabbah Haji is an incredible human being and teacher," she tweeted. "…Full solidarity with Sabbah Haji."
UK-based Kashmiri author Mirza Wahid tweeted: "Sabbah has improved the lives of so many children in a region with extremely poor educational facilities. This vengefulness has to end."
Unconscionable that Sabbah Haji was arrested. Sabbah has improved the lives of so many children in a region with extremely poor educational facilities.
This vengefulness has to end. https://t.co/eKucqeFHFA

— Mirza Waheed (@MirzaWaheed) December 17, 2021
In their police complaint, BJP youth leaders had accused Sabbah of "abusing the nation" by describing General Rawat as a "war criminal". They also accused her of making fun of Independence Day.
In August, Sabbah had objected to what many have described as "forced hoisting" of the Tricolour at schools across Jammu and Kashmir. Sabbah had accused the government of "doing school-by-school phone calls" to ascertain whether they had hoisted the national flag rather than check on the "status of teaching and students" in the schools.
She had tweeted: "Just got a call from some unknown person asking me whether I am Sabbah Haji, and then: Aaj aapke school mein jhanda lehraaya thha (Did your school fly the Tricolour today)? Me: Nahin lehraaya, aaj Sunday thha (No, today was a Sunday). What is this new rubbish?" August 15 was a Sunday this year.