Jharkhand became second state to have Food Security Atlas
Objective of SPANDAN initiative is to undertake research understanding linkages between agriculture, nutrition and health in India: Economist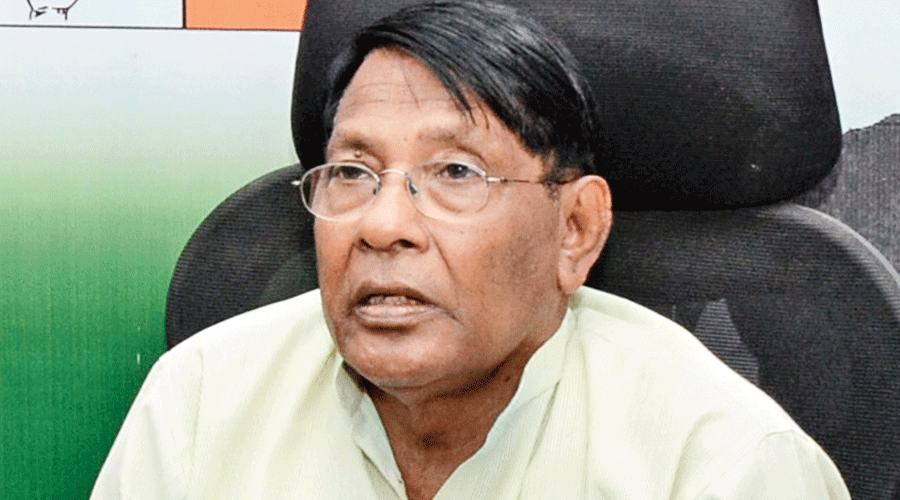 Rameshwar Oraon.
File photo
---
Jamshedpur
|
Published 13.09.22, 12:51 AM
|
---
Jharkhand became the second state after Bihar and Odisha in eastern India to have Food Security Atlas for its rural areas prepared by Delhi-based Institute for Human Development (IHD) as part of the research initiative of the Indira Gandhi Institute of Development Research (IGIDR), Mumbai.
Odisha and Bihar had their Atlas launched in 2018.
Speaking on the need of 'Food Security Atlas of Rural Jharkhand 2022' launched on Sunday in Ranchi, state food and finance minister Rameshwar Oraon, said: "This document will play an important role in informing policy. Given the poor monsoon this year due to which there is a drought like situation in many districts of the state. Hence, the availability of food is an issue due to low extent of irrigation and ensuring food security is even a bigger issue wherein 75 per cent of the people need attention whose hunger needs to be eradicated."
Oraon assured that the government would make efforts towards giving quota and green cards to the food insecure districts of Jharkhand.
Noted economist and vice-chancellor-cum-director, IGIDR S. Mahendra Dev, in his address said: "This Atlas has been prepared by the IHD as part of the research initiative 'System of Promoting Appropriate National Dynamism for Agriculture and Nutrition (SPANDAN)' implemented by the IGIDR with support from a grant from the Bill and Melinda Gates Foundation. The objective of SPANDAN initiative is to undertake research understanding the linkages between agriculture, nutrition and health in India."
He further said that the study examines the state of food and nutritional security at the district level for Jharkhand. It looks at the availability, access and utilisation and also the nutritional outcomes.
Development economist with the IHD Alakh N. Sharma said: "Jharkhand needs to give topmost focus on nutrition security during the next eight years so as to meet the sustainable development goals (SDG) target 2030. It will eliminate poverty and hunger in the state as well."
Economist and director of IHD — Eastern Regional Centre at Ranchi — Ramesh Sharan said: "In spite of progress, Jharkhand faces food insecurity, particularly in its hinterland. This Atlas is an effort towards mapping the food security situation in the state."
In his theme address Jean Dreze, visiting professor, Ranchi University, averred that "Education is a very important factor in enhancing nutrition. During Covid school education has been adversely affected and a one-year crash programme should be adopted in Jharkhand to compensate for the loss of education suffered during Covid. He strongly pleaded that "egg" should be made part of the mid-day meals and in anganwadis as it is the most nutritious commodity and its introduction will go a long way in enhancing nutrition in the state and also increasing the school attendance."
Some of the key suggestions in the food atlas are that 14 out of 24 districts are priority districts and the entire belt of Santhal Pargana region has been marked as alarming in terms of food insecurity. The Atlas suggests that special emphasis needs to be given in terms of overall food security. The Food Atlas suggests that districts with high multidimensional poverty also are highly insecure districts in terms of overall food security and also have very poor food security outcomes.
It also mentions that the state has high instability in food grain production. Also crop diversification is very less in Jharkhand and is mainly a single cropped area. Better irrigation facility is a needed policy to stabilise agricultural production through cropping intensity as well as overall food security
It calls for steps to reduce the impact of rainfall variability and suggests rain harvesting for the priority districts. Construction of dam, renovation of ponds can be initiated on a large scale under MGNREGA and Integrated Watershed programmes.
It also suggests diversification of crops, improve access to food: expanding employment opportunities in non-farm sector, increasing casual wage rate, higher involvement of rural population in processing non-timber forest product, expanding job under MGNREGA, promotion of Millets (distribution of millets through the Public Distribution System).
A panel discussion on enhancing food and nutrition security in Jharkhand was also held after the launch of the Food Security Atlas.