Jammu & Kashmir: Waqf Board disbands shrine committees
Move comes months after the board banned collection of donations by traditional caretakers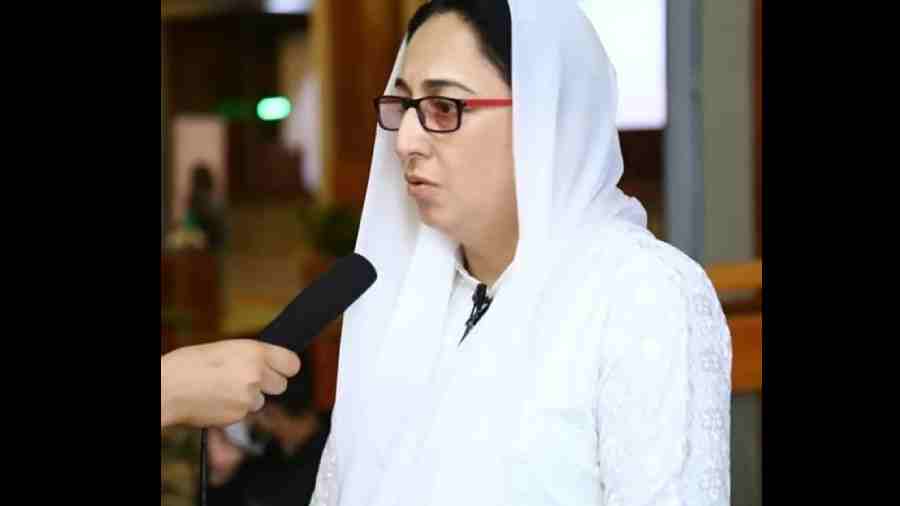 Dr Darakshan Andrabi.
File Photo
---
Srinagar
|
Published 20.12.22, 03:47 AM
|
---
The Jammu and Kashmir Waqf Board, led by BJP leader Darakshan Andrabi, has disbanded all local committees of the shrines and mosques under its jurisdiction, stating that any action in contravention of the order would be punishable by law.
The move comes months after the board banned the collection of donations by the traditional caretakers, called khudams, of Muslim shrines in the Union Territory.
The Waqf Board has hundreds of shrines and mosques under its control and caretakers have traditionally relied on donations, called nazr-o-niyaz, for survival.
The order initially sparked speculation that it was the government-run body's attempt to take control of the Muslim religious places that were not part of J&K Waqf Board and were run by local committees.
Thousands of mosques, including Srinagar's Jamia Masjid, are not part of the board.
Andrabi denied the allegation. "The order only pertains to shrines and mosques that are under the jurisdiction of the Waqf Board. We don't want any parallel committees to run, as is the case with several places. The mosques that are not under the Waqf Board will continue to function under local committees," Andrabi told The Telegraph.
"We are doing this for the betterment of these places. The board will get educated people who will run these places. The purpose is also to promote Sufi culture at these places," he added.
The local committees had traditionally enjoyed considerable control over the places of worship before National Conference founder Sheikh Mohammad Abdullah floated the Waqf Board in 1940 and brought hundreds of religious centres under its control.
Khudams, however, continued to wield some influence till August this year when the board banned them from collecting donations, prompting them to defy the board.
The fresh order is seen as an attempt to keep them in check.
"It is hereby notified that all the local Auqaf/Waqf committees shall be deemed as void ab initio throughout J&K and any kind of interference by such local Waqf committees be reckoned illegal & to invite action under law on all the Waqf units managed by J&K Waqf Board," the order read.
The directive also urged government departments and residents to not entertain any communication/decision of the local committees.
Kashmir's chief mufti Nasir-ul-Islam said the board was trying to snatch control of all Muslim religious centres in Jammu and Kashmir.
"The question is what authority it has. You do not have any elected body or Assembly in place in Jammu and Kashmir, which ideally should have the right to decide over such issues," he said.