Jagdeep Dhankhar rouses people against Opposition
Somebody goes abroad and says mike is switched off in Parliament: Vice-President takes dig at Rahul Gandhi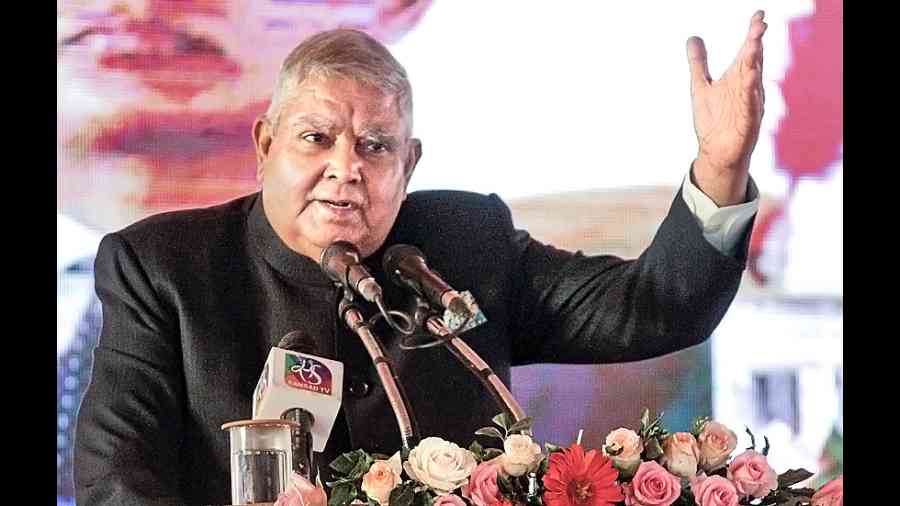 Jagdeep Dhankhar in Meerut on Saturday.
PTI
---
New Delhi
|
Published 12.03.23, 03:24 AM
|
---
Vice-President Jagdeep Dhankhar on Saturday called on the people to speak out against "these elements" who "defame" India and disrupt Parliament, arguing that popular intervention alone can bring them to heel.
Citing "one instance", Dhankhar said: "Somebody goes abroad and says mike is switched off in Parliament." Congress MP Rahul Gandhi had said in London a few days ago that mikes are often silenced when the Opposition is speaking. 
Dhankhar's extraordinary appeal — suggestive more of a politician than a neutral constitutional authority such as a Vice-President — came at a three-day "Ayurveda Kumbh" organised at the Chowdhary Charan Singh University in Meerut.
"Only people's intervention can bring these elements on the right path," Dhankhar, who is ex officio Rajya Sabha Chairperson, said.
"When India is rising, some people have decided to denigrate the country. They have taken a resolve to defame India. One instance I see in front of my eyes. Somebody goes abroad and says mike is switched off in Parliament."
Dhankhar's comments came two days after he had lambasted Rahul's remarks in London about the Opposition being denied the freedom to raise issues in Parliament, prompting the Congress to ask the VicePresident not to act as the government's "cheerleader". 
"(The) Lok Sabha is a big panchayat. Mike has never been switched off there. How can we tolerate it? Chhati par kitna saanp lotatha hoga (How jealous he must have been)," Dhankhar said on Saturday.
He said such silencing of the Opposition had been seen during the Emergency, when patriots were thrown into jail.
"Such a situation will never arise again. I earnestly request, entreat, appeal to you with folded hands: Aap apne vicharon ko khul kar rakhiye. Aise vyaktiyon ke bare mein chuppi mat sadhiye. Nirbheek hokar apni baat kahiye. Ye apka dayitva hai. Aap hi kar sakte hain. Aam jan hi kar sakta hai (Express your views openly. Don't remain silent about such people. Put forward your views fearlessly. This is your responsibility. Only you can do it. Only the common people can do it)," he said.
"If you want order in Parliament, if you want Parliament to function normally, if you want debate on issues, you (the people) have to intervene. It is your responsibility. When you intervene in these matters, when you stop encouraging these people, they will come on the right path."
The Congress and other Opposition parties allege that the House disruptions happen because of the government's refusal to allow discussions on crucial national issues.
Dhankhar had in the past too warned Opposition members that the ordinary citizen was angry at the persistent disruptions of the Houses.
Asked about Dhankhar's assertion that mikes have never been switched off, the Congress whip in the Lok Sabha, Manickam Tagore, told The Telegraph: "It shows the hon'ble Vice-President has never been in the gallery of the Lok Sabha. He probably doesn't watch the proceedings carefully.
"Mikes have been switched off many times, whenever the Opposition members find fault with the Modi sarkar. Those who attend the House know it. They (the ruling dispensation) only want praise of the government, not criticism."
Tagging a pur ported video of Dhankhar's latest statement, RJD Rajya Sabha member Manoj Jha tweeted: "Honourable Sir… Greetings!! Leave these issues to the political parties which occupy Treasury and Opposition benches. Constitution of India provided you with enough and more critical assignments than this. Jai Hind."
Jha was implying that Dhankhar was drifting into a province reserved for active politicians and those not bound by the restrictions of his constitutional post. Congress communications chief Jairam Ramesh had made a similar point on Thursday while referring to Dhankhar's veiled attacks on Rahul.
"History measures leaders not on the zealousness with which they defended their party, but the dignity with which they performed their roles in the service of the people," Ramesh had said.
"The Vice-President's statement on Rahul Gandhi, therefore, was surprising to say the least. He rushed to the defence of a government from which he is constitutionally required to be at arm's length…."
On Saturday, asked how he saw Dhankhar's appeal to the public and his persistent criticism of Opposition leaders outside Parliament, Jha said: "The position of the President and the Vice-President were envisaged as non-partisan. In the 75th year of Independence, it doesn't give me a positive sense of where we are moving."
Jha added: "Actually, what Rahulji said about mikes being turned off should have been taken as a metaphor. A metaphor whereby he, and many of us, underlined that parliamentary democracy is in danger. "If you pass a bill in twothree minutes, doesn't it reflect what's going on in the name of parliamentary democracy? When you (as presiding officer of a House) snub or ridicule the Opposition, doesn't that show an attitude that is antithetical to the spirit of parliamentary democracy?
"Instead of taking corrective measures, which we all should collectively take, you choose to ridicule and denigrate the Opposition with greater vigour. Instead of taking those repairs that are required in our parliamentary democracy, you are taking it to a level where it further disturbs the rhythm of not only parliamentary democracy but the very idea of democracy. That worries me as a citizen of this country."