Ire over illegal sand mining in Odisha
The state is losing nearly Rs 14,000 crore per annum because of the unlawful activities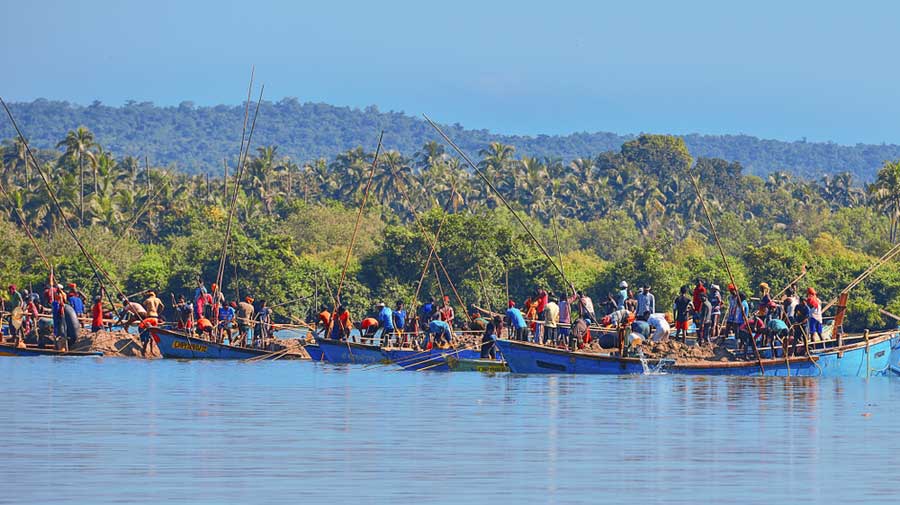 ---
Bhubaneswar
|
Published 27.02.21, 12:12 AM
|
---
The Odisha government on Friday faced the Opposition wrath over its failure to formulate a policy to curb illegal sand mining in the state. The state is losing nearly Rs 14,000 crore per annum because of illegal sand mining, which is rampant across the state, the Opposition members alleged in the Assembly.
They said that though a draft policy was prepared in 2018 to curb the illegal sand mining no steps were taken to turn it into a law. 
Members of both the Congress and the BJP alleged that as the state does not have a clear policy on curbing the illegal sand mining, the mafias are indulging in a massive racket and sending thousands of trucks of sand to neighbouring states. There was rampant lifting of sand from different riverbeds crisscrossing the states. "Every thing is going under the nose of the local officials but no steps are being taken to check it. The State is losing Rs 14,000 crore revenue per annum due to illegal sand mining." said senior Congress MLA Tara Prasad Bahinipati.
The Congress MLA said: "It's a matter of great concern that that local officials are imposing a hefty fine on poor villagers for lifting sand and stones for construction of their housed but no action is being taken against mafia indulging in such illegal business and transporting the sand to neighbouring state."
Opposition chief whip and senior BJP MLA Mohan Charan Majhi said: "Though the draft policy was formulated in 2018, no law has been made to this effect. The mafias are taking benefit of the laxity of the law."
The state government landed in trouble when Speaker Surya Narayan Patro himself leapt on his feet and said sand was also being transported from his constituency to neighbouring Andhra Pradesh. He also raised the question as to why there has been delay in formulating a policy to curb it. "The state is earning Rs 1,500 crore as revenue from sand lifting but it is still losing nearly Rs 5,000 crore owing to illegal trade," said Patro.
As the issue snowballed into a major controversy, revenue minister Sudam Marandi assured the Assembly that the draft policy on sand would be brought soon. "We are into discussions with various departments to formulate a new sand policy. It will be implemented soon," said Marandi.