CAPA report pegs 2-year losses at $8 billion
India's airline industry seen racking up $8 billion in Covid losses over two years
Aviation sector teetering on brink, needs $5 billion in recapitalisation 'just to survive', warns CAPA report warns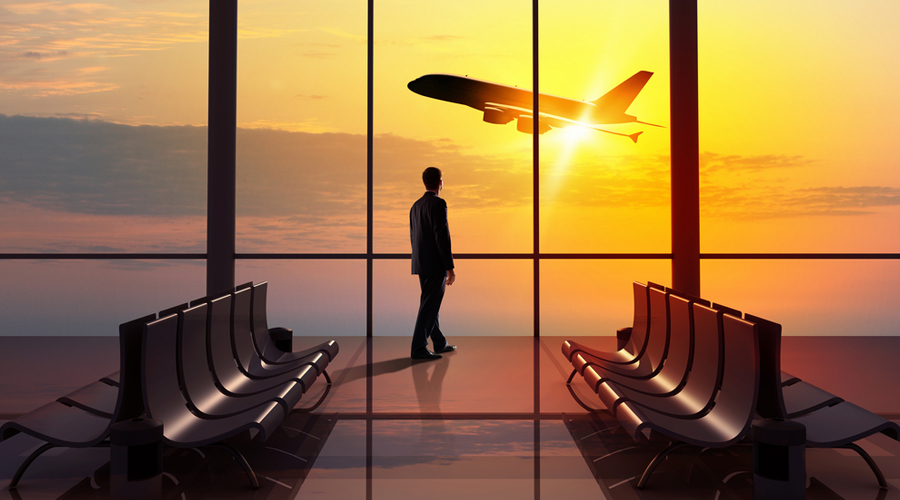 The twin Covid-19 waves have resulted in a "high level of solvency risk for most airlines which could impact the entire industry, including airports," CAPA says.
Shutterstock
---
New Delhi
|
Published 07.06.21, 02:14 PM
|
---
India's aviation industry faces pandemic-induced losses totalling some $8 billion for this year and last and is "standing on the edge of a cliff," the CAPA Centre for Aviation warns in its yearly industry outlook.
"We have run out of words to describe the state of Indian airlines," CAPA says tersely in its India Airline Outlook report for the financial year 2022. "The industry is standing on the edge of a cliff," the aviation consulting firm adds.
The twin Covid-19 waves have resulted in a "high level of solvency risk for most airlines which could impact the entire industry, including airports," CAPA says. Airlines around the world have been suffering badly from the pandemic but the devastating second wave has pushed the once high-flying Indian aviation sector to the brink. "Even airlines with "access to large pools of money" are facing huge problems, it said.
Indian airlines will lose a consolidated $4.1billion in this financial year to March 2022, similar to the level of losses seen last year after the first pandemic lockdown, CAPA forecast. Full-service carriers (FSCs) are expected to account for $2.1billion of losses while low cost-carriers would represent $2.0 billion. The government must "provide immediate fiscal relief to the sector," said CAPA.
Underscoring the crisis facing the sector, budget airline IndiGo reported on the weekend a bigger-than-expected loss as passenger load levels contracted with Covid-19 on the rampage. The airline, run by InterGlobe Aviation, reported a loss of Rs 11.5 billion in the fourth quarter of the last financial year ended March 31.  That compared with a loss of Rs 8.7 billion the previous year and was much larger than analysts' forecasts of a Rs 4.5 billion loss.
CAPA projects the airlines could carry between 80 million and 95 million domestic passengers in this financial year which began in April after taking into account the pandemic second wave and assuming there won't be a third wave to trigger further lockdowns.
However, it adds a caveat to this prediction, saying: "Bearing in mind the considerable uncertainty that exists in the market, our guidance based on currently available information is for traffic towards the bottom end of the range at around 80 million."
Still, even the lower-end figure would be better than last year's number when Indian carriers had only 52 million passengers. But it's nowhere near the almost 140 million passengers who flew on domestic routes in the financial year 2020.
Out of the $8 billion in combined red ink over the two years, two airlines, Air India and IndiGo alone are likely to wrack up losses of $4.5 billion between them, CAPA says. Full-service carriers like Air India will together post losses of $2.1 billion and low-cost carriers like IndiGo and SpiceJet will have losses of $2 billion, the consultancy reckons.
Start-up airlines
Despite the parlous state of the industry, CAPA believes one or two new start-up airlines may launch once the worst of Covid-19 is over and there could be eight to nine domestic carriers totally.
The desperate state of the industry can be judged from the fact that once-busy routes like Mumbai-Thiruvananthapuram that pre-pandemic had three to four daily flights now have only four flights weekly. And on several key domestic routes, there have been cases during the punishing second wave of planes taking off with only one or two passengers. Passenger load factors of barely 20 per cent have become commonplace.
CAPA predicts a "moderate recovery" in June after the "massive slump in April and May". It adds, "We expect to see rising confidence and continued traffic recovery in the second half of this financial year," barring any major renewed Covid-19 outbreak.
The report forecasts international traffic of between 16 million and 21 million passengers but warns that this will be very dependent on border restrictions. Besides that, Indian carriers are scheduled to begin flying on new international routes again. Vistara, for instance, is scheduled to start flying to New York later this financial year. 
Airport charges
India's airports, which have been badly hit by falling traffic, are also expected to hike charges steeply to offset their sharp income loss since last March.
The airports are in a particularly tight corner because they had been spending heavily to cope with the boom in air traffic between 2014 and 2018. Delhi airport, for instance, has been expanding to increase capacity from its current 60 million to 100 million in coming years. New airports are also scheduled to come up at Navi Mumbai and Jewar just outside Delhi.
The aviation industry experienced double-digit growth from 2014 to 2018 and in 2017 more than 158 million passengers flew on domestic and international routes. Compared to that, this year is not expected to see more than 120 million passengers at the very best.
With all the airlines bleeding money copiously, CAPA estimates they will together require some $5 billion for recapitalisation in this financial year "just to survive". It says that about $1 billion, "is in the pipeline in the form of IPOs, QIPs and other instruments."  
The report notes that massive, perennial losses have created a debt trap which has resulted in most airlines having very limited means of recapitalisation. The government: is providing almost no direct support; lenders have by and large closed their doors to airlines, even for restructuring purposes; and lessors will soon have no option but to start applying pressure on defaulting airlines."
Additionally, the industry could be pushed further into the red because of rising oil prices. CAPA estimates that oil prices could climb to about $70 a barrel and might possibly even touch $75.
Fleet likely to shrink
India's airlines are expected to induct about 70 aircraft this year but these will mostly be replacements for around 80 planes slated to be retired. In all likelihood, therefore, the combined fleet of aircraft will probably shrink. GoAir, Vistara and IndiGo have made the most progress on fleet renewal, the report says.
This state of affairs "cannot continue. If we are to achieve the Honourable Prime Minister's vision of affordable connectivity as a critical enabler of economic transformation, the viability of the airline sector must receive the highest level of attention and support," CAPA said.
The Government has imposed price controls and also controls on the number of flights that can be scheduled and these are unlikely to be lifted in FY2022. But the report points out that if these are lifted it could harm the industry because it might lead to price wars. The report recommends that the government should, "develop a framework for conducting a financial stress test of carriers prior to removing price and capacity regulations."
The one bright spot is cargo. Some carriers like SpiceJet have turned a number of aircraft into cargo carriers and created a dedicated freighter fleet. Cargo made a valuable contribution to airline financials in the last financial year and will remain an important segment this year with carriers expected to achieve a 15-per-cent year-on-year increase in cargo revenue.
Air India 
CAPA says the Government appears to be totally committed to the privatisation of Air India but the airline's losses could mount to astronomical levels in the coming year and this could mean that "bidders may find it difficult to prepare a bid in the current challenging environment. It is therefore not certain at this stage whether the privatisation will succeed unless changes are made to the offer."
The group adds: "The Government of India must have a Plan B for Air India in place now, which can be immediately operationalised if required….Closing Air India would not only be extremely challenging politically but will have a notable impact on the market, especially in the international segment."
To help turn around the dire situation, the report says that aviation turbine fuel should be brought under GST and the fuel excise should be brought back to 4 per cent. CAPA also suggests GST should be reduced on aircraft spares. "Without these measures, it will hurt any remote chance of recapitalisation," the group concludes bluntly.