98% Indians don't eat enough vegetables: Survey
Nationwide study of adults finds they eat little fruit, too much salt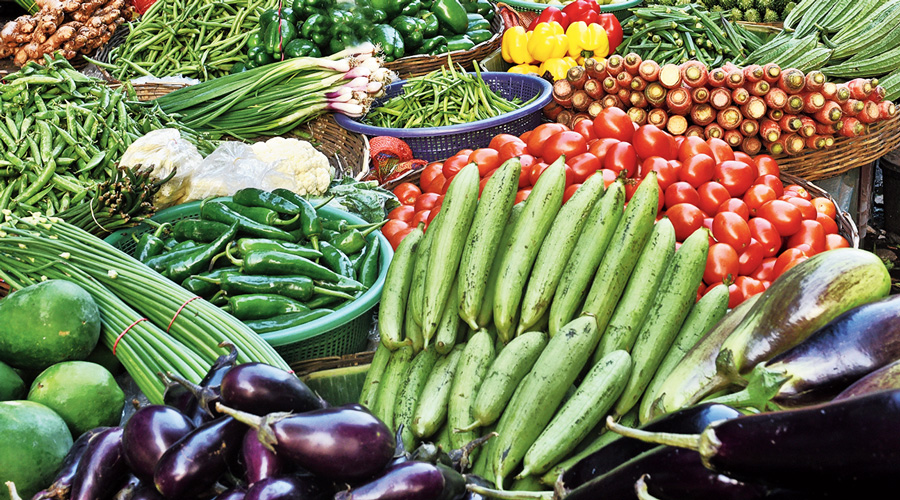 ---
New Delhi
|
Published 06.03.21, 02:12 AM
|
---
About 98 per cent of India's adults eat inadequate levels of fruits and vegetables, according to a nationwide survey that researchers say has flagged multiple lingering lifestyle-related habits that enhance risk for non-communicable diseases.
The survey described as the first comprehensive and nationwide effort to measure risk factors has found that 98.4 per cent of sampled people aged between 18 and 69 years eat less than the recommended 400gm fruits or vegetables a day.
It has also found that the average salt intake is 8gm per day, corroborating through the first direct measurements –through spot urine samples -- earlier findings that Indians consume excess salt.
The World Health Organisation recommends that adults consume less than 5gm salt per a day and describes reducing salt intake as "one of the most cost-effective measures countries can take to improve population health outcomes."
The survey also found that about 51 per cent of men and 13 per cent of women consumed smoked or smokeless tobacco, 10 per cent of men reported heavy episodic drinking and 41 per cent of the adults did not have adequate physical activity.
 "We now have for the first time comprehensive baseline data on risk factors for non-communicable diseases," Prashant Mathur, head of the Indian  Council of Medical Research National Centre for Disease Informatics and Research, Bangalore, and the study's principal investigator told The Telegraph.
Illness and premature deaths from non-communicable diseases such as cardiovascular disorders, diabetes, or cancers have increased in India over the past two decades and accounted for 6.1 million, or about 65 per cent, of India's deaths in 2019.
The Union health ministry had a decade ago launched a national programme for the prevention and control of cancer, diabetes and non-communicable diseases, but the country's progress on prevention remains unmeasured amid a dearth of data.
Earlier, studies to measure the prevalence of risk factors have been limited to small samples or were ad-hoc studies focused on specific risk factors such as blood pressure or tobacco smoking or blood sugar levels.
In their survey, Mathur and his collaborators from medical colleges across the country examined the dietary habits, exercise levels, weight, and blood pressure and sugar levels from a representative sample of people from over 10,000 households.
Among subsets of their sample, they found 98.8 per cent of 5,732 women and 98 per cent of 4,714 men did not eat five servings of fruits or vegetables a day, a practice long recommended by doctors to reduce the risk of non-communicable diseases.
The diet continues to dominated by carbohydrates, roots and tubers, Mathur said.
"This could be either because of lack of awareness of the importance of fruits and vegetables or because of affordability," he said.
Public health researchers say a similar study two years from now would allow India to measure progress on reducing the prevalence of risk factors that they say ideally need to be tackled through education, poverty, and income levels.