One China? India sticks to 2010 policy
Country's relevant policies are well known and consistent, they do not require reiteration: External affairs ministry spokesperson Arindam Bagchi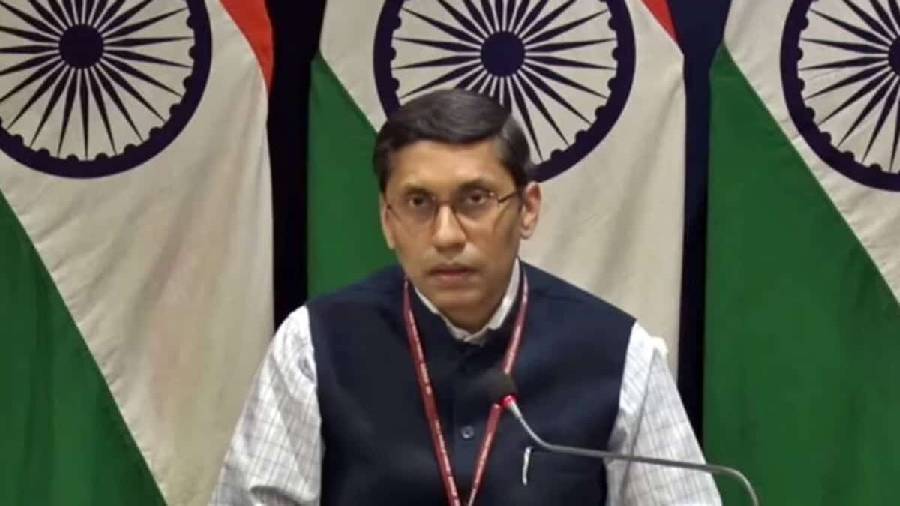 Arindam Bagchi.
File photo
---
New Delhi
|
Published 13.08.22, 02:53 AM
|
---
India on Friday refused to reaffirm the "one China policy" at a time Beijing is keeping tabs on such affirmations but New Delhi maintained that there was no change in its approach.
"India's relevant policies are well known and consistent; they do not require reiteration," external affairs ministry spokesperson Arindam Bagchi said, asked specifically to clarify New Delhi's stance.
This is the first time India has spoken on the escalation of tensions in the Taiwan Strait following the visit of US House of Representatives Speaker Nancy Pelosi to Taiwan.
Both in refusing to iterate its commitment to the "one China policy" and in articulating consistency, India has signalled that the policy in place since 2010 continues to hold.
India's refusal to reaffirm the "one China policy" came in response to a direct question from Xinhua.
Xinhua, the official news agency of the People's Republic of China, asked  Bagchi the question at the weekly briefing about New Delhi's silence on the issue at a time, according to Beijing, "more than 170 countries and many international organisations have reiterated their one-China commitment".
India was among the first countries to accept the "one China policy" in 1949 and used to regularly iterate it in joint statements, but stopped doing so around 2010 in response to Beijing's insistence on issuing stapled visas to residents of Jammu and Kashmir and Arunachal Pradesh.
While China stopped issuing stapled visas to residents of Jammu and Kashmir in 2012, the practice continued for visitors from Arunachal till the pandemic set in and all inward travel was stopped. Travel has yet to resume fully.
Institutional recall is that India's last articulation of its adherence to the "one China policy" came in a 2005 joint statement during a visit by then Chinese Premier Wen Jiabao.
Over the years, India has also deepened its engagement with Taiwan through trade, including negotiations for a free trade agreement, and culture without having diplomatic relations.
India has a trade and cultural office in Taipei with a reciprocal set-up in New Delhi, which also provides consular services.
As for the situation around Taiwan, Bagchi said: "Like many other countries, India too is concerned at recent developments. We urge the exercise of restraint, avoidance of unilateral sanctions to change status quo, de-escalation of tensions and efforts to maintain peace and stability in the region."
India rejected the insinuation by China that New Delhi had pressured Sri Lanka into asking Beijing to defer the port of call of Chinese "survey/research" ship Yuan Wang 5 at Hambantota Port from August 11 to 17. "Sri Lanka is a sovereign country and makes its own independent decisions," Bagchi said.
After giving diplomatic clearance for the ship to dock at the port on July 12, Colombo requested China to defer the port of call last weekend. This came days after India had flagged security concerns about the presence of the vessel, which can track missiles and satellites close to the Indian shore. China alleged that New Delhi was exploiting cash-strapped Colombo's current vulnerability.
"With regard to our security concerns, this is the sovereign right of every country. We will make the best judgment in our own interest. This naturally takes into account the prevailing situation in our region, especially in the border areas," Bagchi said.
He reaffirmed Sri Lanka's centrality to India's Neighbourhood First policy and underscored the need for "mutual respect, mutual sensitivity and mutual interests as a basis for the development of ties" with China.