Congress slams Modi government
Jaipur: India is a land of Hindus, not Hindutvavadis, says Rahul Gandhi
Statement draws immediate criticism from the BJP and the VHP, as well as the All India Majlis-e-Ittehadul Muslimeen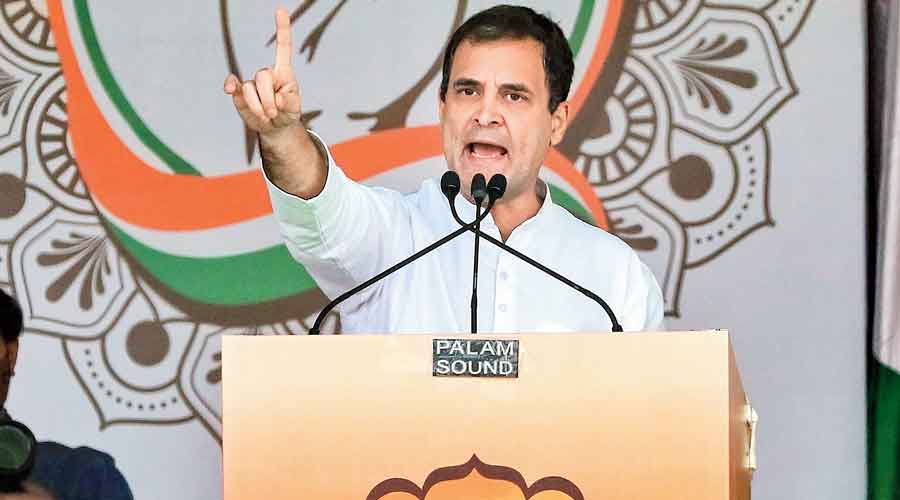 Rahul Gandhi addresses the Mehangai Hatao Rally against the central government in Jaipur on Sunday.
PTI Photo
---
New Delhi
|
Published 13.12.21, 02:28 AM
|
---
Rahul Gandhi on Sunday said "India is a land of Hindus, not Hindutvavadis", drawing a distinction between the religion and the political project in its name.
The Congress leader sought to dispel the perception that India was now under "Hindu rule" by asserting what the country had instead was "Hindutvavadi rule" that was untruthful, fearful and the cause of all the country's problems.
Rahul was speaking at the Mehangai Hatao Rally against price rise in Jaipur when he digressed from the subject at hand to elaborate on the difference between Hinduism and Hindutva.
"I am Hindu, but not Hindutvavadi. All these people here (pointing to the gathering) are Hindus but not Hindutvavadi," he said. "Mahatma Gandhi was a Hindu, Godse was a Hindutvavadi."
Hindutva, Rahul said, is a political project that is on a perennial quest for power, is unmindful of the truth, and considers any means to attain power justifiable.
He went on to blame the price rise and the people's sufferings on the Hindutvavadis.
"It's the work of the Hindutvavadis," Rahul said, and stressed the need to bring back the rule of Hindus who were accommodative of all.
"Who is a Hindu? A Hindu is one who respects all faiths," he said. "Which Hindu scripture says that the poor and the weak should be trampled upon?"
Rahul has attacked Hindutva politics earlier too but this is probably the first time he has used a political rally to impart a lesson on the difference between Hinduism and the political project of Hindutva.
Rahul later posted a clip of his speech, which had been delivered in front of the entire Congress leadership, including his mother Sonia Gandhi and sister Priyanka Gandhi Vadra as well as the chief ministers of the states where the party is in power.
He said: "Hindutvavadis will hear this speech and attack me. Go ahead, I am not afraid. #NoFear."
हिंदुत्ववादी ये सुनकर मुझपर वार करेंगे।

कर लो, मैं नहीं डरता!#NoFear pic.twitter.com/OYK50KTFRQ

— Rahul Gandhi (@RahulGandhi) December 12, 2021
Rahul's statement that India is a land of Hindus as epitomised by Gandhi, and his call to remove the Hindutvavadis — represented by Nathuram Godse — to bring in Hindu rule, drew immediate criticism from the BJP and the VHP, as well as the All India Majlis-e-Ittehadul Muslimeen.
BJP general secretary P. Muralidhar Rao wondered how long Rahul would continue to mislead the country in the name of Godse.
The AIMIM's Asaduddin Owaisi said: "Bringing 'Hindus to power' is a 'secular' agenda in 2021. Wah! India belongs to all Bharatiyas. Not Hindus alone. India belongs to people of all faiths & also those who have no faith."