Regulatory decision may take days to weeks
Oxford-AstraZeneca vaccine can become India's first approved Covid shot
Health minister Harsh Vardhan had earlier this year announced a plan to vaccinate around 250 million people with 500 million doses of the vaccine by July 2021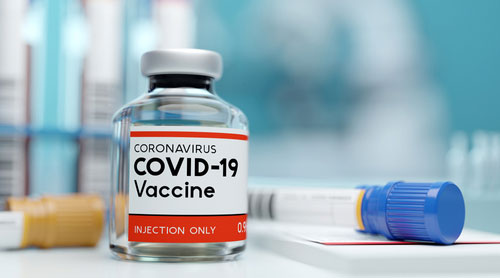 AstraZeneca, a UK-based biopharmaceuticals company, announced on Monday that an interim analysis of the clinical trials on around 23,000 volunteers in the two countries has found that the candidate vaccine is "highly-effective" in preventing Covid-19 infections.
Shutterstock
---
New Delhi
|
Published 24.11.20, 02:12 AM
|
---
A candidate vaccine developed by AstraZeneca and Oxford University against the coronavirus disease has shown 70 per cent efficacy in clinical trials in the UK and Brazil and could become India's first approved Covid-19 vaccine if Indian drug regulators are convinced by the data.
AstraZeneca, the UK-based biopharmaceuticals company, announced on Monday that an interim analysis of the clinical trials on around 23,000 volunteers in the two countries had found that the candidate vaccine was "highly effective" in preventing Covid-19 infections.
Is the efficacy low?
The AstraZeneca vaccine on average prevented 70 per cent of Covid cases in late-stage trials in Britain and Brazil but the success rate rose to 90 per cent if the vaccine was administered as a half dose followed by a full dose.
The efficacy was 62 per cent if the full dose was given twice, as it was for most study participants.
The efficacy was calculated on the basis of how the 131 Covid-19 cases (patients who developed the infection among the 23,000 volunteers) were split between the volunteers who received the candidate vaccine and those who received a placebo. No serious safety events were confirmed, the company said.
The Oxford scientists said they were still trying to understand why the vaccine was more effective at a smaller first dose. The first dose is supposed to prime the immune system, while the second is supposed to boost its response. While it seemed counterintuitive for a smaller first dose to be more effective, they said that strategy may more closely mimic what happens with a real infection.
AstraZeneca's shares fell 4 per cent, on track for their worst daily performance in six months, as investors perceived the efficacy data as disappointing compared with rivals. Pfizer and Moderna, which reported that their vaccines prevented around 95 per cent of the infections, had set the bar for success sky high.
In the AstraZeneca trial in Britain, researchers counted infections by swabbing participants weekly. That detection method was likely to have turned up more infections than the trials run by Moderna and Pfizer, which tested people who developed symptoms and may have failed to find any asymptomatic cases. The different approaches to counting infections could make it harder to compare how well the different vaccines work.
Both AstraZeneca and a Russian vaccine called Sputnik V (which announced 92 per cent efficacy) rely on adenovirus delivery platforms, but while AstraZeneca uses a chimpanzee adenovirus, Sputnik V uses two different human adenoviruses.
The Sputnik V team used Twitter to speculate on a reason for the 62 per cent efficacy reported by AstraZeneca's candidate. "The possible reason 62 per cent efficacy of AstraZeneca's full dose regimen is that immunity to chimpanzee adenoviral vector from the first shot makes second shot not effective," the Sputnik V team posted.
"Sputnik V addresses this issue by using two different human adenoviral vectors for two shots (92 per cent efficacy.)"
Danny Altmann, professor of immunology at Imperial College London, put matters in perspective. "I think it is a real fool's errand to start trying to pick these three (Pfizer/ Moderna/ Astra) apart on the basis of snippets of phase 3 data from press releases," Altmann said.
Altmann added: "For the bigger picture, my suspicion is that by the time we are a year down the line, we'll be using all three vaccines with about 90 per cent protection — and we'll be a lot happier."
Why relevant in India AstraZeneca's vaccine could give the world's fight against the global pandemic a new weapon, cheaper to make, easier to distribute and faster to scale up than its rivals.
The British drug-maker said it would have as many as 200 million doses by the end of 2020, around four times as many as US competitor Pfizer. Seven hundred million doses could be ready globally as soon as the end of the first quarter of 2021.
"This means we have a vaccine for the world," said Andrew Pollard, director of the Oxford University vaccine group that developed the drug.
The AstraZeneca shot does have some advantages over the offerings from US rivals.
The drug's cost to governments works out at just a few dollars a shot, a fraction of the price of shots from Pfizer and Moderna, which use a more unconventional technology.
Adar Poonawalla, the CEO of the Pune-based Serum Institute of India, was quoted by PTI last week as saying Serum would make the vaccine available for the public at between $5 and $6 per dose, while the government would get it at $3 to $4 per dose. The Serum Institute is AstraZeneca's Indian manufacturing partner.
The vaccine can also be transported and stored at normal fridge temperatures, which proponents say would make it easier to distribute, especially in poor countries, than Pfizer's, which needs to be shipped and stored at minus 70 degrees C.
The faster roll-out means both the rich and poor countries that had been drawing up plans to ration vaccines can distribute them more widely, helping to eventually halt the social and economic disruption of a pandemic that has killed 1.4 million people.
In poor countries, where the logistics of distributing rival vaccines posed a bigger challenge, the effect of a cheaper and easier alternative could be even more pronounced.
Zahid Maleque, health minister of Bangladesh, which is buying 30 million doses of the AstraZeneca vaccine made in India, called the findings "really good news".
"The big advantage of having the vaccine is that it can be stored, transported and handled at 2-8 degrees Celsius, and we have that storage facility," he said.
Pascal Soriot, Astra's chief executive, said the smaller initial dose was good news, as it meant limited supplies could stretch further to vaccinate more people.
By when?
The company said it would seek emergency use listing from the World Health Organisation for an accelerated pathway to make the vaccine available in low-income countries and "immediately prepare" for submission of the data to regulatory authorities around the world.
The Serum Institute of India can currently produce 70 million doses per month of which 35 million doses would be available for use within India once the vaccine is approved by regulatory authorities, Serum officials have said.
Serum is also testing the vaccine for safety and its capacity to stimulate an immune response in around 1,600 volunteers across India.
Serum officials have said the company plans to submit efficacy data from the UK and Brazil and the local trial data to the Central Drugs Standard Control Organisation, India's regulatory authority for drugs and vaccines. The company would be seeking emergency use authorisation to enable early roll-out of the vaccine for use in priority populations such as healthcare workers.
Indian health officials have said a regulatory decision on the vaccine would require the company to submit the data for analysis by a panel of experts that could take days to weeks. Serum officials have said the company has already manufactured stocks for roll-out.
Union health minister Harsh Vardhan had earlier this year announced a plan to vaccinate around 250 million people with 500 million doses of the vaccine by July 2021. The health ministry has asked the states to prepare lists of priority populations such as healthcare workers and other vulnerable groups.
But one source indicated on Monday that there was still uncertainty over when Serum could make the vaccine available for the country's private market. "This will depend on what quantity the government orders," the source who requested not to be named told The Telegraph.
India is also evaluating through clinical trials two home-grown candidate vaccines from the Hyderabad-based Bharat Biotech and Zydus Cadila and has approved clinical trials on Sputnik V.
The Bharat Biotech candidate is now undergoing efficacy trials with the results expected during the first quarter of 2021. Bharat has said it can supply around 300 million doses of its vaccine.
Russia has offered India 100 million doses of Sputnik.
Additional reporting by New York Times News Service