India detects omicron in samples from 2 Covid patients in Karnataka
One of them, a 46-year-old Bangalore doctor with no travel history, was infected on November 22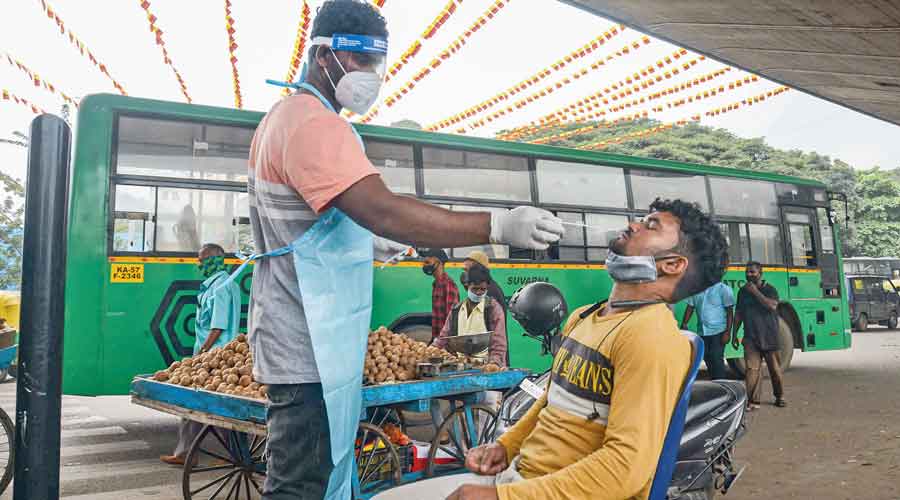 A commuter is tested for Covid in Bangalore on Thursday.
PTI Photo
---
Bangalore, New Delhi
|
Published 03.12.21, 01:46 AM
|
---
India has detected omicron in samples from two Covid-19 patients in Karnataka, health authorities announced on Thursday while urging enhanced surveillance and precautions amid high uncertainty worldwide over how the worrisome variant might impact the pandemic.
One of the patients, a 46-year-old Bangalore doctor with no travel history, was infected on November 22. This suggests omicron was circulating in India before South Africa alerted the world on November 25 and before the World Health Organisation designated it a variant of concern on November 26, medical experts said.
Tests in the Netherlands too have indicated that omicron was circulating in Europe days before the South African alert.
India is the 30th country to detect omicron since the variant was first spotted in Botswana last month. The variant has triggered concern among scientists and health authorities because of its disquieting set of mutations and rapid spread in South Africa.
The Bangalore doctor tested positive after developing fever and body ache, Karnataka health minister K. Sudhakar said on Thursday.
The other patient was a 66-year-old man from South Africa who arrived in Bangalore on November 20. His samples, collected at the airport, tested positive for Covid-19, Sudhakar said.
While under isolation in a hotel, the traveller tested negative for Covid-19 and returned to South Africa via Dubai on November 27.
Both men had been fully vaccinated. The doctor, who was under home isolation, was moved to a hospital on Thursday after genome sequencing revealed omicron. He is clinically stable with no complications, Sudhakar said.
Two primary — household or close — contacts and three secondary contacts of the doctor have tested positive for Covid-19 and their samples have been sent for genome sequencing. All the 24 primary and 240 secondary contacts of the South African national have tested negative.
Gaurav Gupta, chief commissioner of the Bangalore city corporation, said: "Since the doctor has no travel history, it is possible the variant was already here."
Countries across the world have imposed travel bans, restrictions and quarantines to lower the risk of omicron's spread. India is testing all travellers from "at-risk" countries and randomly screening passengers from other countries.
Health officials say omicron's disease severity and implications on the pandemic remain unclear. Preliminary data have shown a rise in hospitalisation in South Africa alongside omicron's emergence but, officials say, this could reflect the large count of infections rather than increased severity.
"Let us not fear or panic — just be even more responsible," said Vinod Paul, chair of the national Covid-19 task force and member (health) of the Niti Aayog, the government's apex think tank. "We know what tools to use (against Covid-19); we need to use them again."
The Centre has asked the states to enhance surveillance and testing; investigate all clusters of cases; augment the health infrastructure, including critical care beds, ventilators and oxygen supplies; and try to increase community awareness about omicron.
"Covid-19-appropriate behaviour, such as wearing masks and maintaining hygiene, are required," said Balram Bhargava, director-general of the Indian Council of Medical Research (ICMR).
"That also means not going out into mass gatherings and not organising mass gatherings."
The ICMR's National Institute of Virology, Pune, will seek to culture (grow) omicron in its bio-secure laboratory to study and measure the effectiveness of antibodies generated by Covaxin and Covishield against the new variant, Bhargava said.
The NIV had conducted similar studies with the delta variant and had shown that although the antibodies are less effective against delta than they were against the original Chinese variant, the residual antibody effectiveness was strong enough to offer protection from delta.
Medical experts believe that as more and more people — travellers and their contacts — get tested, more omicron cases are bound to emerge.
"But the size of any omicron-driven outbreak or surge will hinge on how quickly it can spread, how well it can evade immunity, and how intense the public health measures to curb its spread are," said a physician turned researcher.
Scientists say preliminary data from South Africa suggest that omicron has a higher transmissibility than delta, which fuelled India's second Covid-19 wave.
The set of mutations on omicron and the current infection patterns in South Africa have prompted some researchers to speculate that omicron might be able to re-infect previously infected people and infect fully vaccinated people more efficiently than delta.
The samples from 10 passengers found Covid-19-positive among 7,976 travellers who had arrived in India from at-risk countries over the past 24 hours have been sent for genome sequencing. Even passengers who test negative from at-risk countries need to quarantine themselves.