'Barriers unfair to entrepreneurs, employees who lost job'
Firm on Galwan, China harps on trade coupling
Concern in China over New Delhi's moves to reduce commercial cooperation of the past three decades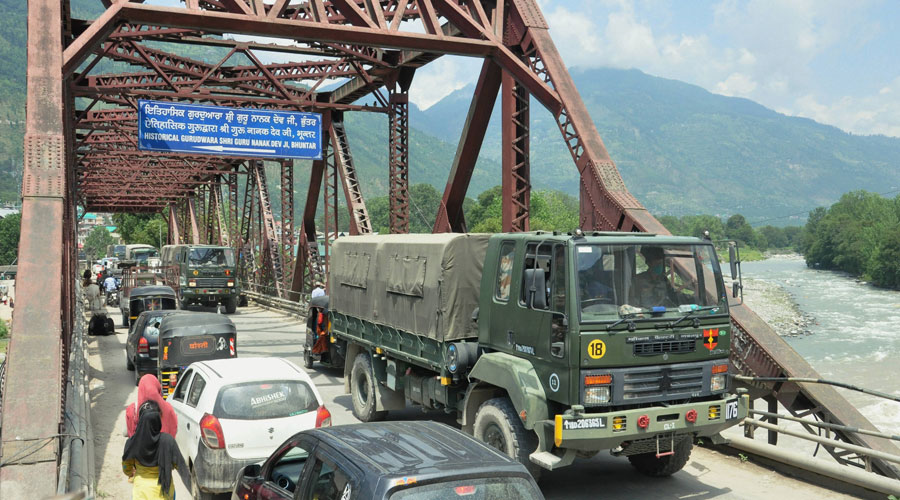 Army trucks move towards Ladakh in the wake of India-China border dispute in eastern Ladakh on Friday, July 10, 2020.
PTI
---
New Delhi
|
Published 11.07.20, 02:54 AM
|
---
Without budging from its position on Galwan, China on Friday sought a reset of the derailed bilateral relationship with a reminder that both countries have benefited from trade ties and that boycott calls would affect not just Chinese enterprises but also Indians.
In a video message posted on the embassy's YouTube channel, Chinese ambassador Sun Weidong said: "Some people have been trumpeting the so-called 'decoupling' of China-India economic and trade relations with an attempt to completely exclude 'Made in China'. One basic fact they ignore is that the current global industrial and supply chains are formed in a process of natural selection by market optimisation over the past decades.
"The business community and people of India are beneficiaries of China-India economic and trade cooperation. Any self-protection, non-tariff barriers and restrictive measures against China are unfair to Chinese enterprises, unfair to Indian employees who lost their jobs as a result, and unfair to Indian consumers who cannot get access to the products and services they deserve. It will only harm others without benefit to oneself, and it will eventually hurt oneself as well."
The ambassador's detailed argument was delivered in English, plugging the scope for the message to be lost in translation.
If it was a message to India that Indians also stand to lose by the measures being taken or planned by the Modi government on the economic and business front in retaliation to Chinese ingressions along the Line of Actual Control (LAC), Sun's speech also betrayed concern in China over New Delhi's moves to reduce trade cooperation of the past three decades.
But the speech again made it clear that China was not backing down on the border incursions.
"The right and wrong of what recently happened at the Galwan Valley is very clear. China will firmly safeguard its sovereignty and territorial integrity, and ensure peace and tranquillity in the border areas," Sun said.
The ambassador's video address was essentially a more elaborate articulation of the Chinese perception of the bilateral relationship, spelt out on Monday in Beijing's readout on the talks between the two special representatives on the boundary question.
China's contention is that the territorial dispute -- a hand-me-down of history -- should not hold up other aspects of the bilateral relationship. This has been the consensus since the 1990s, resulting in China becoming India's largest trading partner for several successive years.
Dwelling on the border issue -- both sides accuse the other of prising it open -- Sun said: "Cooperation benefits both while confrontation serves neither. As two major neighbouring countries, it is natural that China and India may have some differences.... We should always bear in mind the overall bilateral relations, put differences in an appropriate place and not allow differences to interfere with bilateral relations."
Although the ambassador did not specifically mention China's concerns over India engaging with America's moves in the Indo-Pacific to contain Beijing, he seemed to hint at it by saying that an India-China fight would "only hurt those close to us and gladden the foes".
There was also a mention of the public narrative in India. "I have noticed some emerging opinions in recent days which repudiate the essence of China-India friendship due to the border-related incidents, make false assumptions about China's intentions, exaggerate conflicts and provoke confrontations, and regard a close neighbour of over thousands of years as 'enemies' and 'strategic threats'. It is not the fact. It is harmful indeed and not helpful."
Sun also mentioned the media coverage: "The media outlets of our two countries should also make their efforts in an objective, rational and responsible manner, avoid inciting antagonism in an effort to contribute positive energy to the steady and sound development of China-India relations."
The video message was released around the time the Working Mechanism for Consultation and Coordination on China-India Border Affairs was meeting via video-conferencing for the second time in less than 20 days. Usually, it meets twice a year.
While taking stock of the disengagement along the LAC, the two sides decided to meet again soon and also proceed with a commanders' meeting where the focus is likely to be de-escalation since troops are still amassed on both sides.