On the evening of December 20, when news of a police crackdown at Daryaganj in Old Delhi spread, two young lawyers present at a protest at India Gate 5km away rushed there to help those taken in by police. Tanvi Sharma and Abhisht Hela reached the Daryaganj police station to join a group of lawyers, activists and journalists already there to negotiate their entry inside.
"Some of those who were detained were minors. Their parents stood outside the police station as they weren't allowed to step in. They had reached there after searching for their children in nearby hospitals and were sure the police had picked them," said 24-year-old Sharma, who along with Hela are a part of a pro bono legal advocacy group.
It was a repeat of what had happened a few days earlier with students of Jamia Millia Islamia and Aligarh Muslim University. After the brutal police crackdown at Jamia on December 15, 50 students were picked up by police and taken to police stations in Delhi, Kalkaji and New Friends Colony.
It took a nightlong vigil by civil society activists, lawyers and journalists outside the police stations to free the students _ all badly injured as a result of police beatings _ some of whom were in need of serious medical intervention. A massive protest outside the police headquarters in the middle of the night ultimately forced the police to release the students.
"If the lawyers weren't there that day at Jamia or Daryaganj, people would have been kept in detention, beaten up all night and then a few of them would have been named in FIRs. Police might not have released any one of them," said 28-year-old Hela.
According to Hela, police acted arbitrarily and illegally. "Nobody can deny a person his/her right to counsel when being detained by police or any other official. We asked them to call the IO (investigating officer) or SHO (station house officer), but no one responded. They weren't wearing police badges. Nor did they share any information," said Hela.
Sharma and Hela are part of Indian Civil Liberties Union. Set up last year, ICLU describes itself as a network of lawyers, activists, paralegals and law students committed to protecting civil liberties. Abhisht Hela practices law at Delhi High Court while Tanvi Sharma is at the Tis Hazari district court. Sharma volunteered his services with ICLU after the protests started.
Anas Tanwir, the 30-year-old Supreme Court lawyer behind this growing network of lawyers, said it was started to get the apex court guidelines implemented to curb lynchings.
"It was a reaction to the hate crimes that were going on. We felt lawyers were required at taluka levels to ensure the guidelines are followed by magistrates or investigating officers," Tanwir said.
ICLU worked in Assam after the publication of the National Register of Citizens (NRC) in August to create awareness and allay fears of those left out. It also started building a network of lawyers and paralegals to fight the cases that would eventually reach the foreigners' tribunals.
Police action in BJP ruled states of UP, Assam and Karnataka led to the deaths of over 20 people. In UP, police have been accused of going on a rampage in areas inhabited by Muslims. Reports have revealed that they entered homes, caused destruction, beaten up children and in some cases even looted residents.
"This (police action) violates so many principles of law that you cannot stop counting. Rules on using police action, ie, use of batons and firearms, were violated. The way people were detained and the way policemen entered houses, are all criminal acts. The notice issued for seizing property are completely illegal. You have simply bullied a community," said Tanwir.
Are there other places in Delhi where people have been detained. There are already 40 lawyers at Daryaganj. Let's use our resources in smart manner.
Please RT

— बुकरात वकील (انس) (@Vakeel_Sb) December 20, 2019
The true test for these lawyers and others in the fraternity was when the protests started and police escalated crackdowns.
"True crisis came when the protests started," said Yusuf Safwi, a 30-year-old lawyer, who was part of ICLU from start but got involved actively when he started getting calls after calls about detentions.
"The team in Lucknow felt they could face a similar situation when people would need legal aid like in Delhi. We sent out messages that we were there for those who needed legal help," said Safwi, a law graduate from Lucknow University practicing at the Lucknow bench of Allahabad High Court.
But they did not expect such a large number of requests. From a team of four, Safwi said, their numbers have now gone beyond 20. They are currently representing 22 arrested people.
"We were not prepared for this kind of a situation where there is so much brutality by the police," he admitted.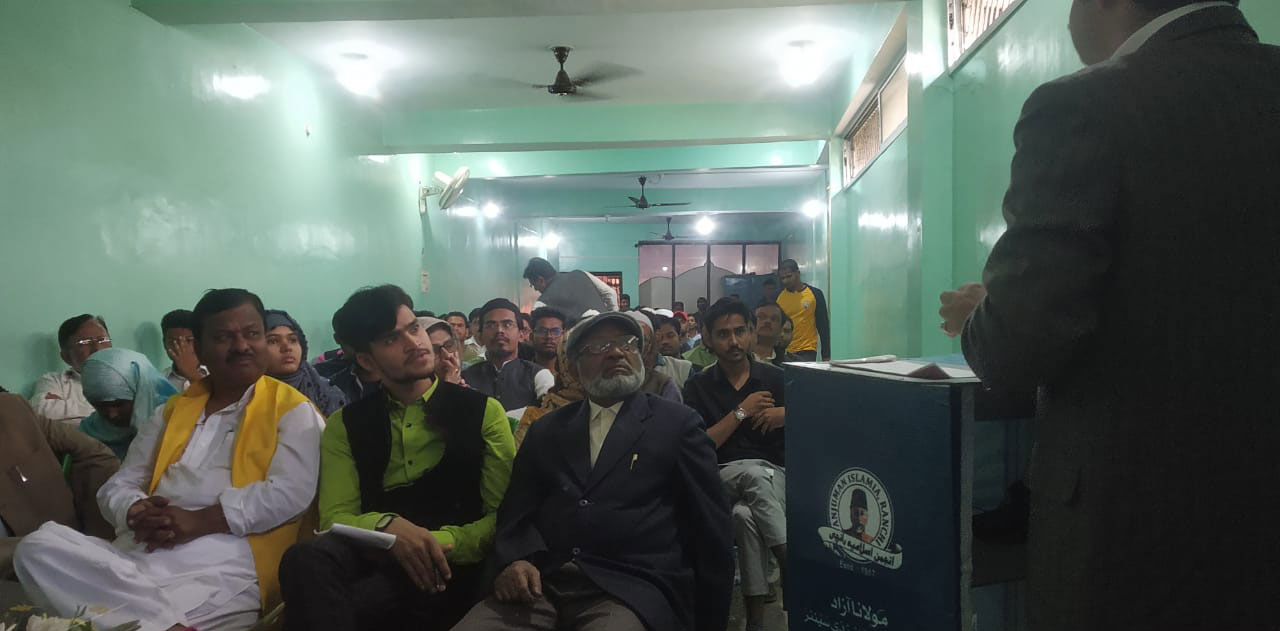 Members Indian Civil Liberties Union holding a workshop at Anjuman Islamia in Ranchi in November 2019. Picture courtesy ICLU
The ICLU network is present in Delhi, UP, Bihar, Jharkhand and Assam. Plans are afoot to be in Telangana and Karnataka by next month. A rather successful crowd funding campaign has boosted the hopes of team. More than Rs 11 lakh was raised in a day, surpassing a target of Rs 10 lakh.
Apart from keeping lawyers on stand-by in case of another police crackdown, the team is now busy organising workshops for the women sitting in protest at Jamia Nagar's Shaheen Bagh and institutions like the National Law University of Assam, Jamia Coordination Committee.
ICLU's objective is to train paralegals and law students, focusing on the mandated requirements of NRC and National Population Register (NPR) if and when it is rolled out across the country.
"We think it will be better to provide free legal aid to people. Good legal aid that gives them a real chance of getting out of the legal mess," Tanwir said, referring to the situation in Assam, in particular, in some of the poorest areas of the country, where the emergence of touts had further complicated matters.
ICLU spokesperson Sanobar Fatma said it was important for paralegals to be trained to communicate effectively with people on the field.
"A good understanding of local language and culture helps. We train them on basic fundamental rights, the rights of those arrested or detained and how legal aid can be accessed by them," Fatma explained.
ICLU is also holding sessions on what the law says about CAA, NPR and citizenship; using case studies from Assam to cite documents needed to draft a good appeal.