IMA call to halt non-essential services on Monday
Support for Bengal doctors pours in from all corners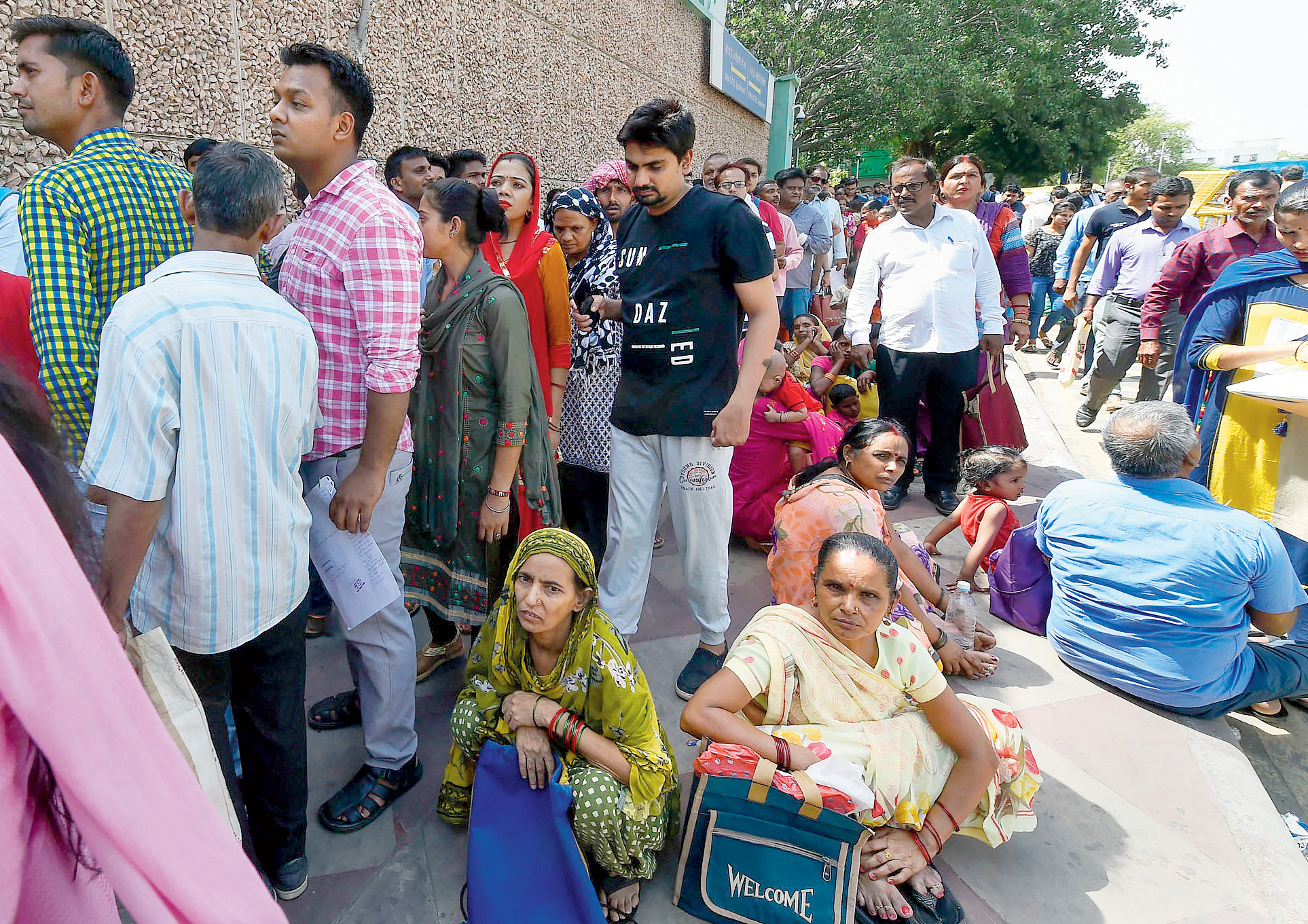 Patients and their relatives stranded outside the OPD at the All India Institutes of Medical Sciences in New Delhi as members of Resident Doctors' Association (RDA) of AIIMS stage a sit-in.
(PTI)
---
New Delhi
|
Published 15.06.19, 01:27 AM
|
---
The Indian Medical Association (IMA) on Friday appealed for withdrawal of non-essential services by healthcare institutions nationwide on Monday and revived its demand for special legislation to curb violence against doctors.
All non-essential services in healthcare institutions, including outpatient departments, will be withdrawn for 24 hours starting 6am on Monday, but emergency and casualty services will continue to function, the IMA said in a statement that condemned the attacks on doctors in Bengal.
A senior official of the IMA, the country's largest body of doctors, said there were indications that the government would be willing to examine legislation to protect medical professionals, but the demand would persist until there was a formal announcement from the government.
"Our call for a strike on Monday stands," IMA's secretary general R.V .Asokan said.
The IMA has sought legislation that provides "a minimum of seven years' imprisonment" for violence against doctors or healthcare institutions and actions to ensure cases are registered, culprits are arrested, and conviction is obtained.
Over 2,000 junior and senior residents and interns at the All India Institute of Medical Sciences, New Delhi, joined a protest on Friday, crippling outpatient department services, denying new patients a chance to seek treatment at the institute, and delaying elective surgeries. The institute did not accept new patients while faculty examined old patients in the OPD clinics. "We usually get 90 to 110 new patients every day — today it was zero," an official in the gastroenterology OPD told The Telegraph.
A senior doctor in the emergency department said there was "no impact whatsoever" on emergency services.
In Maharashtra, over 4,500 resident doctors in 16 medical colleges joined the strike, Kalyani Dhongre, president of the Maharashtra Association of Resident Doctors said.
"We are yet to decide whether to join the IMA call," she said. The IMA's call for a nationwide strike on Monday disregards an appeal by the Union health minister Harsh Vardhan earlier on Friday reminding medical professionals of their duty to patients.
"Doctors should resort to other simple and symbolic ways to protest," Harsh Vardhan said.
"As medical professionals, their duty is towards protecting rights of patients. Strike is not the best way to protest. Patients should not be deprived of immediate and emergency healthcare facilities," he said. Resident doctors on strike at AIIMS, as well as IMA officials, expressed concern that unchecked violence against doctors would adversely affect patients. The IMA has warned about indirect consequences.
"Institutions will be reluctant to take up complicated and risky patients…the threat of violence increases stress levels on healthcare workers…sound judgment regarding patient care will be compromised in such situations," the IMA said.
However, sections of medics, while sharing the concerns about attacks against doctors, are also pointing to long-standing issues that they view as "root causes" that contribute in multiple ways to the violence. "We have to ask these questions: Do our doctors know how to effectively communicate with patients? Do they receive sufficient training for this? Do they get time to communicate while managing many patients?" said K V Babu, a senior ophthalmologist in Kerala and member of the Alliance of Doctors for Ethical Healthcare (ADEH).
The ADEH, a body of doctors campaigning for ethics in medical practice, has pointed out that alongside enacting legislation, the government should also focus on investment in medical infrastructure, human resources, and reforms that ensure transparency in treatment, billing, and effective grievance redressal mechanisms.
In a statement, the ADEH said it condemned "the violence and attempts at intimidation that have ensued in Bengal in the aftermath of the protests by junior doctors in the past 48 hours". The alliance has called on the government to acknowledge the gravity of the crisis and take steps to ensure the safety of the medical community."