Hungry swarm, earlier & bigger
Scientists fear largest incursion in 27 years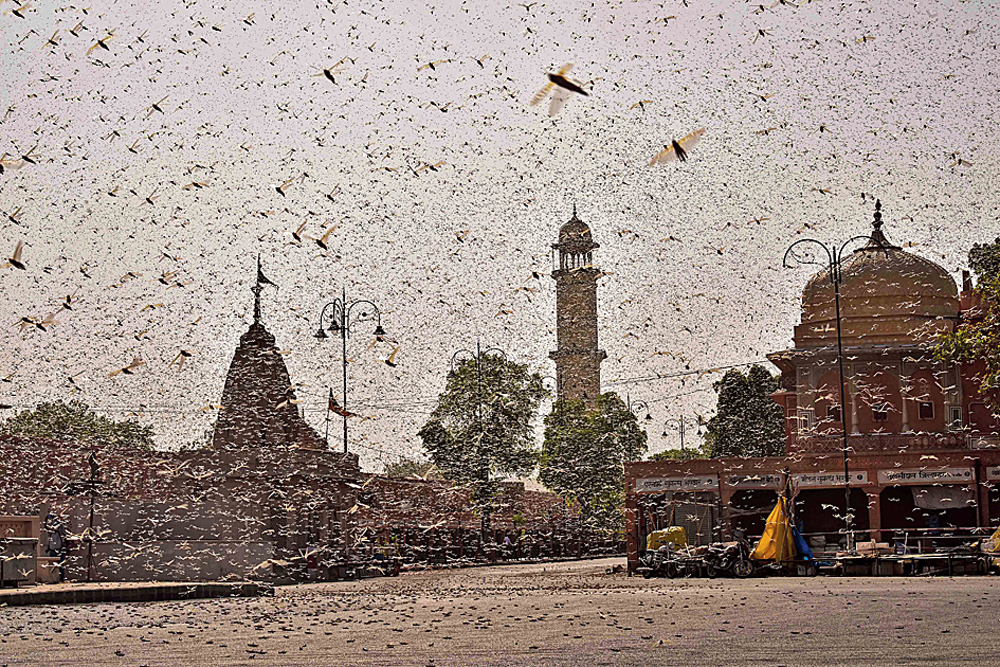 ---
---
Swarms of desert locusts have descended on Rajasthan and Madhya Pradesh and could mark the biggest such incursion in 27 years, scientists with India's plant protection department said on Wednesday after alerts to several neighbouring states.
Desert locusts — riding on winds and transformed by a neurochemical called serotonin from harmless solitary creatures into gregarious swarms — arrive in India almost every year. But scientists say the number of the swarms is unusually large this year, and control operations have been a challenge under the coronavirus lockdown.
Locusts devour leaves, flowers, fruits and tree bark. Scientists at the Union agriculture ministry's plant protection and quarantine directorate have estimated that a small locust swarm can eat as much in a day as 10 elephants or 25 camels.
"We've had a relatively early incursion this year — they arrived in April and began spreading," K.L. Gurjar, deputy director for plant protection, told The Telegraph.
"Last year, they arrived in May and remained for nearly 10 months, up to around mid-February this year."
The directorate's locust alert officers at the traditional incursion sites in Rajasthan observed swarms in Jaisalmer, Barmer, Jodhpur, Phalodi, Bikaner, Nagaur and Ganganagar during the first half of this month.
Plant protection teams armed with pesticides and trained to stamp out the infestation — but handicapped by the lockdown's restrictions, such as those on movement — were able to initiate control activities at 213 of the 342 spots by May 15, scientists said.
"For now, Rajasthan and Madhya Pradesh remain the most affected states, but we've seen incursions in Punjab and Gujarat too," said a senior scientist at a locust alert post in western Rajasthan.
Plant protection teams, relying on 810 tractors, 89 fire brigade trucks and other vehicles to spray pesticides over the infestation zones, had till May 26 conducted control operations in 21 districts in Rajasthan, 18 in Punjab, two in Gujarat and one in Punjab.
The directorate said control activities had by now been carried out in 303 sites across the four states, covering over 47,000 hectares.
India has recorded multiple locust upsurges over the past decades, the insects almost always flying into Rajasthan or Gujarat from Iran, Afghanistan or Pakistan, usually in summer. "They use winds and can travel 150km a day," Gurjar said.
The plant protection directorate had recorded 13 locust upsurges between 1964 and 1997, the biggest in 1993 when scientists had documented 172 swarms, compared with 15 swarms in 1989 and 26 in 1983. There were 20 swarms in 1978.
"This year, we've already seen 15 to 20 swarms," a directorate scientist said.
Crop scientists had also observed small-scale and localised locust breeding in 1998, 2002, 2005 and 2010, each of which had been controlled.
"The locust posts in Rajasthan are the first line of defence – we take actions to prevent them from spreading into other states," the officer in western Rajasthan said.
The directorate scientist said the control activities under way, and the wind patterns, made it unlikely that the swarms would expand further east. The east-to-west-flowing winds provide resistance to any eastward expansion, Gurjar said.
Also, the rains could reduce the further eastward movement of swarms from Rajasthan.
The Food and Agricultural Organisation, a UN body, had in a May 21 bulletin cautioned that the breeding of locusts was continuing in southern Iran and southwest Pakistan, where control operations were in progress.
As vegetation dries out, more groups and swarms will form and move from these areas to the summer breeding areas along both sides of the India-Pakistan border, the FAO had said, predicting "several waves" until early July.
A decade ago, scientists at the University of Cambridge in the UK had suggested that serotonin, a brain chemical, might explain how locusts that are otherwise solitary creatures turn into gregarious swarms, their aversion to each other turning into attraction.
Their findings, published in the US journal Science, had shown that locusts in a swarm mode had around three times the serotonin levels seen in calm and solitary locusts.
In the wild, scientists believe, locust swarms emerge by the combined sight and smell of other locusts. When sufficient levels of such "crowding" has taken place, the locusts stop trying to avoid each other and move as a swarm.