Tumse na ho payega: VC-making words
How a put-down propelled Minz to helm of Dumka Varsity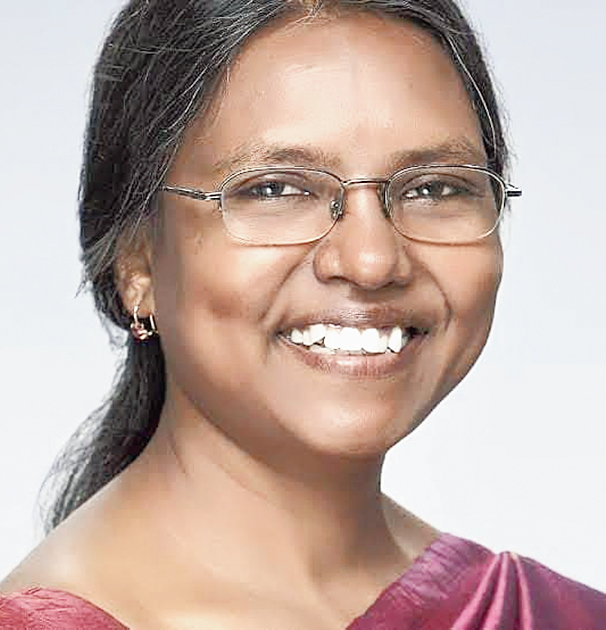 ---
---
Sonajharia Minz still remembers the stinging comment: "Tumse na ho payega (You're not good enough)."
These words from her school maths teacher in Ranchi had propelled Minz, an Oraon tribeswoman from Gumla district in present-day Jharkhand, to resolutely pursue higher studies in mathematics.
"I couldn't get into an English-medium school as I was an Adivasi. But I did well at St Margaret's, a Hindi-medium school in Ranchi with mostly tribal students and teachers," she told The Telegraph.
"The maths teacher, who wasn't tribal, knew it was my strong subject and that I had scored 100 per cent thrice. Yet he told me not to study maths for graduation. That made me even more determined to study the subject further."
Minz was speaking shortly after learning she had been selected for appointment as vice-chancellor of Sido Kanhu Murmu University (SKMU) in Dumka, Jharkhand.
The Jharkhand governor's secretariat had notified the appointment on Wednesday. Minz received the news on Thursday morning as she was rushing to catch a flight from her family home in Ranchi — where she was during the lockdown — to Delhi where she teaches at JNU's School of Computer and Systems Sciences.
It was because she was stranded in Ranchi during the lockdown that Minz had ended up applying for the VC's post.
The Raj Bhavan had advertised the posts of VC and pro-VC for four state universities, where the incumbents' tenures were ending in May.
Minz applied for the post of VC for the Vinoba Bhave University, Hazaribagh, and SKMU.
"My father had studied at St Columba's, Hazaribagh, from which VBU evolved. Such a responsibility is like an exam, so I wanted to choose one easy and one tough question," she said.
"The easy option was VBU, the tough one was SKMU—which is the main centre of learning for the Santal Parganas and which I feel should have matched up to the other varsities started around the same time (1992)."
Minz is the daughter of the Lutheran Bishop Emeritus Nirmal Minz, who founded Gossner College, Ranchi. He is an authority on the teaching of Adivasi languages, especially Kudukh, spoken by the Oraon tribe. He won the Bhasha Samman in 2016 for his contribution to the development of Kudukh.
After graduating in mathematics from Women's Christian College, Chennai, and earning an MSc in the subject from Madras Christian College, the slight-framed Sonajharia Minz had moved to JNU in 1986 to study computers, then a new discipline.
"I shifted from maths to computers to take on a new challenge, and to come to JNU," she said.
After short stints at universities in Bhopal and Madurai, she returned to teach in JNU in 1992 and stayed on. She intends to return to JNU after the three-year tenure as SKMU vice-chancellor, during which she hopes to teach a few classes in the computer applications courses offered there.
Until a decade ago, many students from eastern India would mention her as their local guardian in Delhi. Now that role has largely been taken over by the many young Adivasi men and women who have in recent years joined the faculties at JNU and Delhi University, Minz said.
In 2018-19, she was president of the JNU Teachers Association. During her tenure, students and teachers participated in a militant agitation against the introduction of seat cuts, compulsory attendance and the online entrance exam.
In January this year, she was injured in stone-throwing when a Right-wing mob went on the rampage across the campus.
"Having been on the other side, I must say that any authority should stick to two principles: truth and justice. Truth cannot be changed, perverted or misused. And you cannot shy away from delivering justice," Minz told this newspaper.
In recent days, she has been occupied by the misery of the stranded migrant workers.
Several activists and politicians in Jharkhand, Tamil Nadu and Karnataka had received a call from Minz last week to help bring back 141 mostly young women workers, stranded in the textile hub of Tiruppur, Tamil Nadu. The last of the workers reached their villages in Jharkhand on May 23.
"This large unseen population of workers is now returning (home). We should have some mechanism to record their skills for the government so they can be absorbed and given employment and a dignified living," Minz said.
"Rehabilitation will be even more important than relief, which we are focusing on right now."