Section of party leaders call for more research
Hinduism vs Hindutva: The contradiction in Congress
There is support yet caution on Rahul's campaign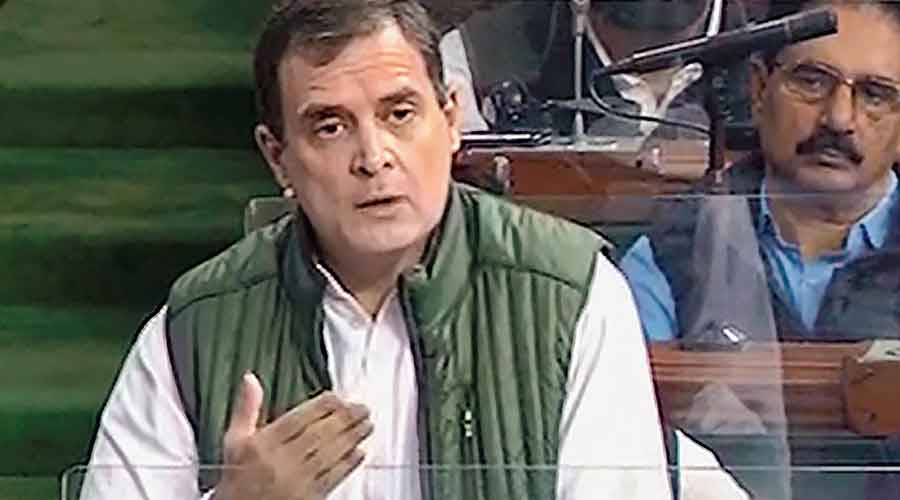 ---
New Delhi
|
Published 03.01.22, 02:59 AM
|
---
Rahul Gandhi's critical intervention in India's political discourse to differentiate between Hindutva and Hinduism has divided both observers and Congress leaders as many believe the strategy is fraught with risks and difficult to sustain in the long run.
The party itself is split probably because Rahul went public without any structured consultation within the organisation and no follow-up action has been initiated to take the discourse forward. 
The majority of leaders see merit in Rahul's argument, conceding that people must be told how the RSS-BJP was misusing Hinduism for political purposes, but some others believe the Congress should have first done adequate homework before embarking on this journey.
Even the communications department hasn't held any serious discussion on the subject and spokespersons are relying on Rahul's speech at a public meeting in Jaipur earlier in December as the sole resource material. 
Some leaders insist there should be a well-researched document that will help party workers articulate their position without any major goof-up. Others feel it is better not to take the fight to the RSS-BJP turf and that maximum energy should be deployed on exposing Narendra Modi's governance failures.
Although spokespersons have defended Rahul's argument by focusing on the obvious flaws of the Hindutva project, no senior leader except Salman Khurshid has so far spoken about it. This lack of planning in the Congress has prompted many within and outside the party to wonder whether Rahul will be able to muster the requisite intellectual and political support to sustain the dialogue.
Khurshid himself referred to confusion and doubts within the party while insisting that the risk was worth taking. He wrote in an article: "Hindutva might continue to resonate for the ordinary person without meticulous analysis of its misuse. Hinduism is under attack, they scream, when Hindutva is questioned. They and the ordinary Hindu need to be told that neither Hinduism nor Hindutva is under attack. What is and must be under attack is the distorted and indecent misuse of the term Hindutva to serve dishonourable political goals."
Rajya Sabha member Kumar Ketkar told The Telegraph: "Rahul has effectively neutralised the vicious BJP campaign about the Congress being anti-Hindu. He has pushed the BJP on the defensive by explaining the difference between Hindutva and Hinduism. High time we took this message to every citizen that Hindu is civilisational in nature while Hindutva is political like Nazism. Hindutva has nothing in common with the liberal Hindu philosophy."
Asked if this difference can be explained to the masses, Ketkar said: "Intellectuals know this already. It has to be explained to the masses only. That's what Rahul is doing
People also know Hindu philosophy and the Congress. But they have been prejudiced by the false campaign of the BJP. The RSS-BJP will now have to explain why Nathuram Godse killed a devout Hindu. The Congress should aggressively explain that secularism and the idea of India have not been compromised in this analysis."
Political scientist Zoya Hasan, however, believes the Congress is taking avoidable risks. She said: "Hindutva and Hinduism are of course different. Hindutva is a political ideology, while Hinduism is a religion. But political mobilisation through this strategy may be difficult. This difference has meaning for the people who are well informed and understand Hindutva politics. It is true that the RSS-BJP take advantage of this confusion but to confront them on this issue won't be easy. Academic debate is different."
Hasan went on: "Competition should not be between Hinduism and Hindutva. Instead of drifting into this territory, the Opposition should question the Modi government on economic and social rights, on democracy and justice. Political attack should be straightforward. Instead of building a counter-narrative on Hindutva, the Congress should focus on the exclusionary politics of the RSS which is antithetical to constitutional principles."
Sudheendra Kulkarni, who has worked as adviser to both Atal Bihari Vajpayee and L.K. Advani and is now opposed to the Modi regime, sees Rahul's intervention as significant.
"What Rahul said is absolutely right and there should be a serious national debate on the subject because the brazen exploitation of religion has posed a grave threat to democracy. While Hinduism lays greatest emphasis on human unity and freedom, Hindutva not only violates constitutional principles but is also now giving open calls for genocide. Its intolerance has no space even for Mahatma Gandhi," Kulkarni said.
He added: "Some countries exploited Islam and used it for coercion against other religions. It is a national tragedy that the same is being done by Hindutva forces in the Modi-Shah regime. It is the duty of all patriots to support Rahul Gandhi in this task of distinguishing Hinduism from Hindutva, both within the Congress and outside."
"The intelligentsia and the activists should also strengthen Rahul's hands and all the right-thinking citizens should join hands to isolate and corner the forces which threaten constitutional culture in our country."
Kulkarni insisted that a message has to go out loud and clear that Hinduism cannot be the monopoly of any political party. Congress leaders support this view but there are dilemmas and confusion about articulation of this concern.
Some leaders suggested an internal brainstorming session to create a document that will formally present to the nation what the Congress view on Hindutva is and how this tactical positioning isn't detrimental to the cause of secularism.