Hindu Rashtra a fact of life, says RSS
RSS chief Mohan Bhagwat portrayed the RSS as a flexible and liberal organisation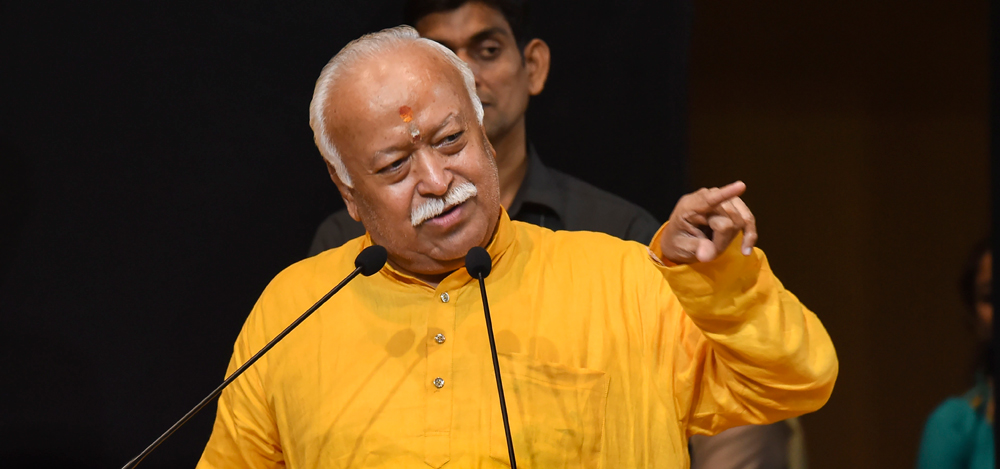 ---
---
RSS chief Mohan Bhagwat has said India is a Hindu Rashtra, that it is a fact of life and it cannot be altered even if everything else changes.
Bhagwat portrayed the RSS as a flexible and liberal organisation, underscoring the need for change according to "desh, kaal, paristhiti (country, time and circumstances)" and keeping distance from any "logy" (ideology).
He pointed out that certain things are independent of "desh, kaal, paristhiti" and then referred to India as a "Hindu Rashtra", quoting the RSS's third chief Balasaheb Deoras.
"Balasaheb had said that barring one thing — that Hindustan is a Hindu Rashtra — everything else can change," Bhagwat said.
Bhagwat was speaking at the release of a book titled RSS: Roadmaps for the 21st Century, authored by Sunil Ambekar, organising secretary of the Sangh's student organisation ABVP.
Bhagwat said the fact that India was a "Hindu Rashtra" did not crop up from someone's thought but it had been so for thousands of years.
"We haven't made this (Hindu Rashtra)…. Neither have we made Hindus, nor this country. This we have inherited. We can't change it," he said. "It's a fact of life."
Bhagwat went on to quote RSS founder Keshav Baliram Hedgewar. "Dr Hedgewar had said… 'till one person who considers India his motherland and calls himself a Hindu is alive, India remains a Hindu Rashtra'."
"So, what is ideology? We are not bound by any 'logy' or 'ism'. We have one truth that we are one nation," he underlined while acknowledging diversity, saying "diversity in language, religion and regions" was also a truth and it had been so. He said "diversity" doesn't contradict "unity" but they supplement each other. "Our unity fosters diversity," he said.
This is not the first time Bhagwat is calling India a Hindu Rashtra. But when he did so last year, he had said the concept of Hindu Rashtra doesn't envision the exclusion of any community.
"Hindu Rashtra doesn't mean there's no place for Muslims. The day it becomes so, it won't be Hindutva," he had said last year in response to a question on the RSS's concept of a Hindu nation and Muslims. On Tuesday, Bhagwat did not make any reference to Muslims.
The latest non-negotiable stand on the Hindu Rashtra comes close on the heels of a claim by a Sangh parivar leader that the RSS and India were synonymous.