Hemant Soren cautions tribals against BJP's 'ploy'
Jharkhand CM cites Chhattisgarh, says saffron party trying to divide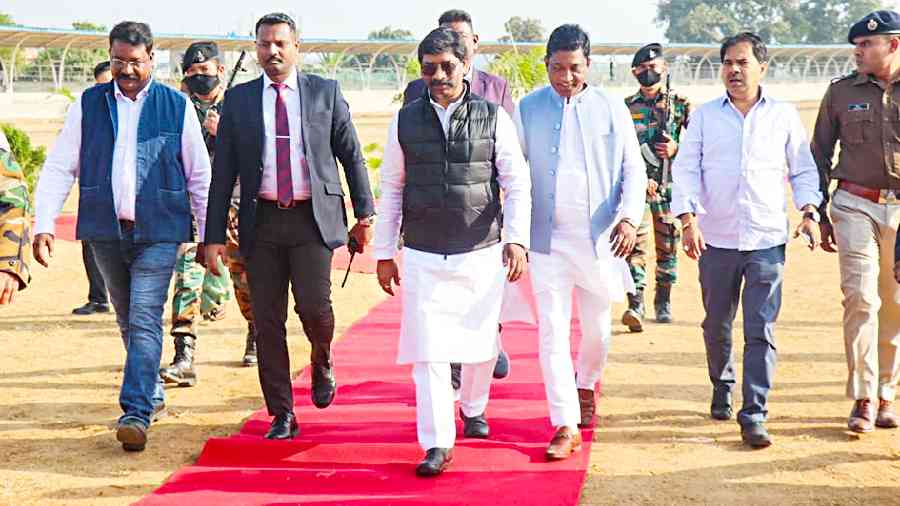 Hemant Soren (centre) arrives at Simdega in Jharkhand on Monday.
Bhola Prasad
---
Jamshedpur
|
Published 24.01.23, 02:47 AM
|
---
Jharkhand chief minister Hemant Soren on Monday drew a parallel between his state and another tribal state Chhattisgarh to allege BJP's (Opposition in both the states) trick in inciting tribals against each other.
"Tribals must be cautious about the BJP's poison. They are experts in injecting the poison of hatred and inciting fights on lines of caste and religion. We have seen what happened in several districts of neighbouring Chhattisgarh where tribals fought against Christian tribals and the friction was engineered by a few tribals who act as the BJP dalals (agents). Similar things have already started in our state over Parasnath Hills in Giridih district and few tribal leaders are acting as BJP agents," Soren said while addressing a Khatiyani Johar Yatra rally at Simdega on Monday evening.
Thousands of tribals in Chhattisgarh who had converted to Christianity were attacked by tribals in villages of Narayanpur and Kondagaon districts in December last year and the matter came under national glare after a church was vandalised in January by tribals in Narayanpur.
A fact-finding team of the Centre for Study of Society and Secularism, in partnership with All India Peoples Forum, All India Lawyers Association for Justice and United Christian Forum, had hinted in December about such attacks precipitating in the New Year and had claimed that RSS and BJP leaders were behind inciting the tribals against attacks on Christian tribals alleging conversion.
Thousands of Christian tribals were ostracised from their villages.
After the last attack in Narayanpur, over 100 Christian tribals had to spend several weeks in a camp before returning to the village amid heightened security in the villages by the district administration.
The Assembly election in Congress-ruled Chhattisgarh is scheduled to take place at the end of 2023 and has over 30 per cent tribal population (according to the 2011 census).
On the other hand, the Assembly polls in the JMMCongress-RJD alliance-ruled Jharkhand would take place at the end of 2024 and the state has a tribal population of over 26 per cent (according to the 2011 census).
"I tell our tribal brothers and sisters that this year will be a challenging one with people having vested agendas trying out all tricks to unsettle a tribal-friendly government in Jharkhand. They will use tribals who will be lured into doing dalali for them and create division among tribal and moolvasis (original settlers) on false apprehension. I tell you if the BJP comes to power this time, the tribals will not be able to rise again," said Soren.
Soren continued to reiterate the division created by the BJP at least four times in an over half-an-hour address.
"Before leaving the dais I would once again like to remind people to be aware of the poison of BJP. Remember if Adivasis fight against Adivasis, all will be finished. Fighting over religion does not lead to any solution, only hard work and vision lead to solutions for problems. Don't get distracted by their (BJP) tactics and fight on religious issues," Soren said.
Soren, while addressing a similar rally in Giridih on January 18, had accused the BJP of poisoning the minds of tribals and Jains over Parasnath Hills and asserted that Parasnath Hills will continue to be Marang Buru.
However, this time he was more focused on the BJP pitting tribals against tribals. On Sunday, several tribal leaders under the banner of Jharkhand Bachao Morcha during a meeting in Dumka questioned the Soren government's intention over 'meekly handing over' the Parasnath Hills to the Jains as their pilgrimage centre.
The Jain community has been protesting against a 2019 decision (taken by the erstwhile BJP government in Jharkhand and endorsed by the Centre before Soren came to power) announcing  Parasnath Hills as a religious tourism site.
Following a series of protests, Soren had written to the Union environment minister on January 5 requesting him to cancel the August 2019 notification that allowed tourism activities on the hills where the Sammed Shikharji, sacred to the Jains, is situated.
The Union environment ministry on January 5 directed Jharkhand to stop all tourism activities on the hills and strictly enforce the existing ban on the sale of liquor, intoxicants and non-vegetarian food in the Parasnath Wildlife Sanctuary area.
On January 10, a section of tribals took out a rally and burnt effigies of Prime Minister Narendra Modi and chief minister Soren on the  Parasnath Hills, demanding that the hills be declared a pilgrimage centre for tribals too just like it was done for the Jains and sought revocation of the blanket ban on certain activities like animal sacrifice which are part of tribal customs and religious practices.
The tribals contended that the entire mountain range is their Marang Buru (Mountain God). Worshipping the mountain range, hunting animals in the forest and offering sacrifices to the deity are their traditional rituals for ages, they warned of an agitation if their Marang Buru is also added as a pilgrimage centre. Three BJP leaders are said to be behind the tribal agitation.