Mehbooba Mufti accuses J&K admin of 'forcing' people to buy Tricolour
Many in Valley fear that government may force people to hoist Tiranga atop their homes from August 13 to 15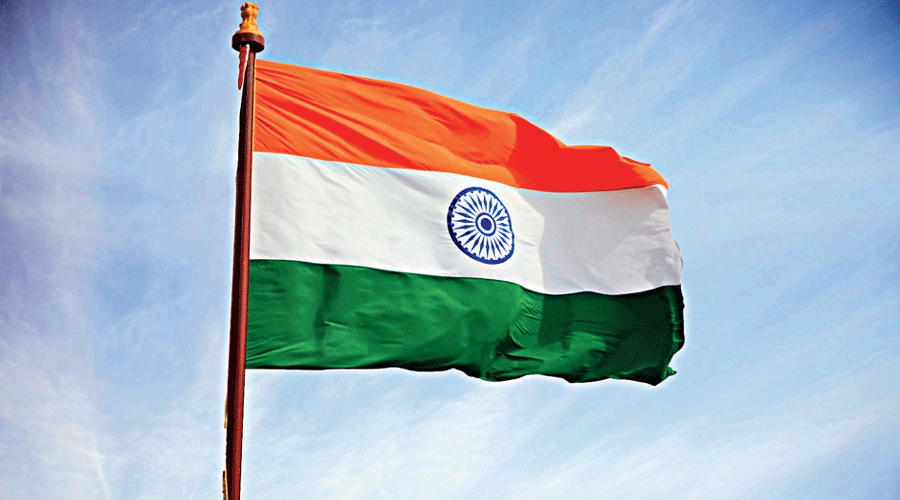 Representational image.
File photo
---
Srinagar
|
Published 25.07.22, 01:14 AM
|
---
A video purportedly showing officials ordering traders in Anantnag through a loudhailer to pay up for the Har Ghar Tiranga campaign or face "action" has drawn angry reactions from senior Valley politicians.
The development comes days after a government order demanded that schoolchildren in the district cough up Rs 20 each towards the campaign, prompting an outcry that led to the directive's withdrawal.
On the loudhailer controversy, Anantnag district commissioner Piyush Singla told The Telegraph on Sunday night: "No sanction to such kind of announcement from administration. It is purely a voluntary campaign. Announcer did (so) on his own. Disciplinary action shall be taken."
The Har Ghar Tiranga campaign urges every Indian home to hoist the national flag in the run-up to the 75th anniversary of Independence on August 15 this year.
Many in the Valley fear that the government might force people to hoist the Tricolour atop their homes from August 13 to August 15, with officials having made conflicting statements on whether the flag-flying is mandatory.
Valley politicians, including former chief minister Mehbooba Mufti and CPM veteran Mohammad Yousuf Tarigami, have shared the Anantnag video, which shows a loudhailer fitted to a vehicle purportedly blaring out an "appeal" to traders to pay Rs 20 each.
Once they do so, they are told, they would be given a Tricolour for hoisting at their homes.
They are told the "appeal" is being issued at the behest of the Anantnag district administration. Those issuing the "appeal" from inside the vehicle are not seen but are reasonably assumed to be government officials.
"As you know, you get the licences (to run shops) from our office. All the shopkeepers within the limits of the town are requested to pay Rs 20 for the Har Ghar Tiranga scheme. You have to deposit the amount in the office before noon on Monday," the "appeal" says.
"It is possible that those who won't pay, there might be action. They should deposit the money to save themselves."
Mehbooba, while sharing the video, said: "The manner in which J&K admin is forcing students, shopkeepers & employees to pay for the national flag to hoist it is as if Kashmir is an enemy territory that needs to be captured."
The manner in which J&K admin is forcing students, shopkeepers & employees to pay for national flag to hoist it is as if Kashmir is an enemy territory that needs to be captured. Patriotism comes naturally & can't be imposed. pic.twitter.com/FdMDBrouev

— Mehbooba Mufti (@MehboobaMufti) July 24, 2022
She added: "Patriotism comes naturally and can't be imposed." Tarigami underlined that the divisional commissioner, Kashmir, P.K. Pole had said the campaign was a voluntary initiative.
"But, on the other hand, local administration makes announcements on loudhailers asking traders to deposit Rs 20 to buy Tiranga, and non-compliance may result in action. Whose writ runs, I wonder?" he asked.
Hours before his statement to this newspaper, district commissioner Singla had shared newspaper reports and pictures and tweeted that there was a "widespread campaign with sweeping community participation in 'Har Ghar Tiranga' in Anantnag district". The tweet did not mention the loudhailer controversy.
Like other district chiefs, Singla, whose profile picture shows him receiving an award for excellence in public administration from Prime Minister Narendra Modi, has been trying to make the campaign successful.
Hilal Ahmad Shah, chairman of the Anantnag municipal council, claimed the video was not from his area.
"I have seen it. It is not from my area. It may be from some other area," he told this newspaper.
On Thursday, the Anantnag chief education officer had sent a WhatsApp message to principals and headmasters of government higher secondary schools and zonal education officers in the district, asking them to collect Rs 20 from every student of Classes VIII to XII. The money collected was to be deposited with the nodal officers by 2pm on Saturday.
On Saturday, however, the chief education officer said the circular relating to the "Har Ghar Tiranga campaign" was being "withdrawn with immediate effect".
But by then, several schools had collected the money from their students.