Graffiti in JNU targets vice-chancellor & BJP
Pictures of a graffiti-smeared administrative block emerged on social media on Thursday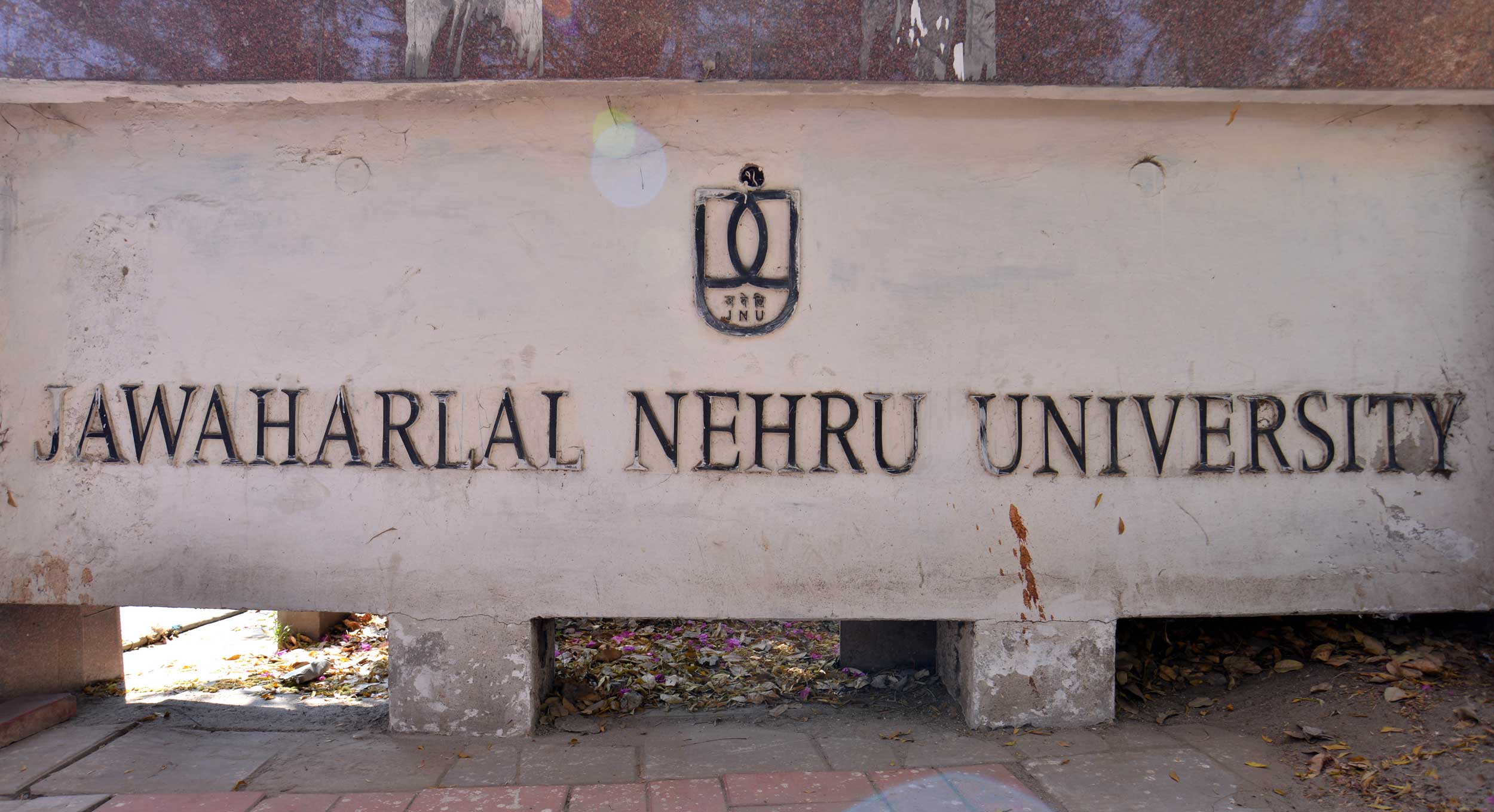 The university is in a deadlock situation over the decision of hike in hostel and mess charges taken by the administration, which has had students up in arms for over a fortnight
Picture: Prem Singh
---
New Delhi
|
Published 14.11.19, 03:55 PM
|
---
Graffiti targeting JNU vice-chancellor M. Jagadesh Kumar have appeared on the university's campus a day after a partial hostel fee rollback. 
Apart from the walls of the administrative block, some students also smeared Vivekananda's statue with anti-BJP slogans. The statue, which is yet to be inaugurated and remains under a veil, was defaced with slogans against "fascism" and included an unparliamentary word against the ruling party.

Graffiti inside the administrative block challenged the vice-chancellor to resign and condemned "privatisation" of the university.
JNU authorities condemned the vandalism and said the matter will be reported to the police.
"We haven't been to the administrative block yet. The students protesting there are not allowing any official inside. We have only come to know of the vandalism by the media. This is not acceptable to us and we are going to report it to the police today," registrar Pramod Kumar told this website.
The administrative block, where most of the official work is done,  was proclaimed out of bounds for staging protests by Delhi High Court in 2017. According to the order, the students, as well as teachers, were proscribed from carrying out a protest within 100 metres of the block.
In a statement issued after the matter came to light, the JNU students' union denied that the vandalism was handiwork of its affiliates and attributed the act to its opponents.
"We condemn unequivocally the attempts to malign the JNU Student Movement through acts which do not represent the JNU Student Movement. The JNU student community does not endorse any act of vandalism done in its name and whoever does it is doing it in his or her own name and should not use the name of the movement to justify such acts," it said.
"The acts of vandalism are a conspiracy to defame the university and it's democratic culture by the right-wing forces. The VC, the ruling regime and their lackeys on campus, which is the ABVP, want to divert the issue from the fee hike to pointless and polarizing debates. The so-called roll-back of the fee hike is fiction. The service and utility charges which were zero have been added to the mess bills of students. The gimmick of providing relief to BPL students is a lie...." the statement said.
The ongoing standoff between the authorities and the students is a fortnight old and began over a hike in hostel and mess charges. After it met with stiff resistance from a large number of students, the administration revoked some of the charges partially on Wednesday, requesting protesting students to go back to class.
The students groups are still dissatisfied and have called the rollback superficial as the fees are still too exorbitant to be paid by most of the students coming from poor homes.
Another reason of the continued agitation by the students is the provision of economic help to the 'below poverty line' students proposed by the administration on Wednesday. 

Shocking and unacceptable vandalism in JNU. Sad state for a premier University to be in. Where is the security? Appalling. pic.twitter.com/mzk5iTDjAo

— Anand Ranganathan (@ARanganathan72) November 13, 2019