Only entry route into army bottom ranks: Anil Puri
Government rules out rollback of Agnipath recruitment scheme
Centre says applicants under the programme must give an undertaking that they are not involved in violent protests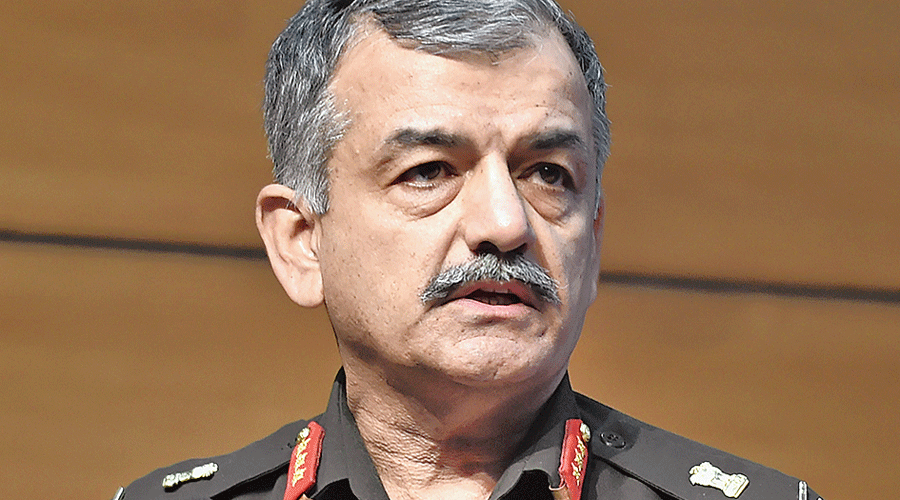 Lieutenant General Anil Puri.
PTI file pciture
---
New Delhi
|
Published 20.06.22, 03:54 AM
|
---
The government on Sunday ruled out a rollback of the Agnipath armed forces recruitment scheme and appeared to warn the agitators, saying applicants under the programme must give an undertaking that they were not involved in violent protests.
Asked whether the government was reconsidering the scheme after five days of protests, Lieutenant General Anil Puri, the top military officer in charge of the scheme, said: "No, why should there be a rollback?"
Addressing a joint media briefing of the army, navy and air force, Puri said recruitment to the bottom ranks would now be done only via the Agnipath scheme, under which three-fourths of the recruits are to be demobbed without pension after four years of service. Puri confirmed that all pending recruitment processes stood cancelled.
He dismissed the charge that the latest reliefs — a one-time age relaxation for recruits this year and 10 per cent job reservations by the defence and home ministries for demobbed Agniveers — were afterthoughts forced by the agitation.
"The announcements were pre-planned and not in reaction to the arson and protests," Puri, the additional secretary in the defence ministry's military affairs department, said.
He issued a veiled warning to the protesters: "The Indian Army's foundation is discipline. (It has) no space for arson and vandalism. Every (armed forces) job aspirant will have to give a pledge that they were not part of protests or vandalism while applying."
Puri said those facing FIRs for violent protests cannot join the armed forces. "They will be asked to write (on) the enrolment form that they were not part of the arson, and later their police verification will be done," he said.
Puri defended the Agnipath scheme as "the only progressive step to make the army young".
"This reform was long pending. We want to bring youthfulness… and with this scheme the average age in the army will come down to just 26 from 32 years," he said.
Puri said the need for a younger army had been felt as far back as 1989, and the Kargil Review Committee too had stressed this. He asserted that all the service chiefs and the now-deceased Chief of Defence Staff, Bipin Rawat, had discussed the scheme over the past two years, with multiple studies focusing on its various aspects.
Asked whether the military brass had anticipated the violent protests, Puri said: "No, we did not; it's not our job. It's a law-and-order problem."
Covid a 'godsend'
Puri said Covid had been a "godsend" that led to a two-year freeze on recruitment and allowed the authorities enough time to think and plan Agnipath.
He said there had been no opportunity in 30 years to undertake this transformative reform till the pandemic struck.
"God and nature gave us this opportunity to build a younger army," he said, adding that whether "God heard or nature heard, we got this golden opportunity."
A Twitter user, Birender Dhanoa, wrote: "The day armed forces' heads start giving clever explanations for events, is the day they lost focus on what their main purpose, protecting a nation's interests, is supposed to be."
A retired major general, Yash Mor, told this newspaper: "Never ever had this issue come out in the Kargil Review Committee report that soldiers were unfit. Age is not an issue at all. The issue is the economic impact, pay and pension bill. Why don't they admit that?"
Government officials have said a key objective of the Agnipath scheme is to cut the forces' ballooning salary and pension bills.
Mor said the government had several alternative ways of cutting down expenses. "We have legacy and logistical establishments, like petrol pump and petroleum depots that are of Second World War vintage. We can disband them, besides horse cavalry, ordnance depots, military bands. We can outsource lots of other services."
He added: "A jawan is as fit as an officer. Why does this scheme come only for soldiers and not officers? If you don't want a jawan to be 32 and fighting in the army, why do we have officers beyond 30 in the fighting army?"
He went on: "Yes, we need military reforms but not in the recruitment of soldiers as that affects the socio-economic fabric of the rural areas. All these recruits come from villages."
Responding to remarks by some serving military officers that Agnipath would promote nationalism among the youth at large, he said: "Was I not a nationalist when I joined the army? Please avoid jingoism and rhetoric when you deal with the military. Every Indian is patriotic; please don't put a label on who is more patriotic and who is less."
Another retired major general, C.M. Seth, tweeted: "Govt must withdraw this Agnipath scheme as for those it was formulated are against it. Better not to provoke youth.. there are many ways to effect saving in the budget."
He added: "Was Agnipath scheme discussed with the commanding officers who have to face the merits/ demerits of it? Some questionnaires could have been sent to them on how such a policy can be formed among the few (behind) closed doors."
Many military veterans have said the scheme would destroy the armed forces' ethos, professionalism and morale, asserting that it takes seven to eight years for an infantryman to achieve full professional competence.
They have been asking why the government did not consult the stakeholders first or run a pilot project.