GOLI-ATH
Discovers Valentine's Day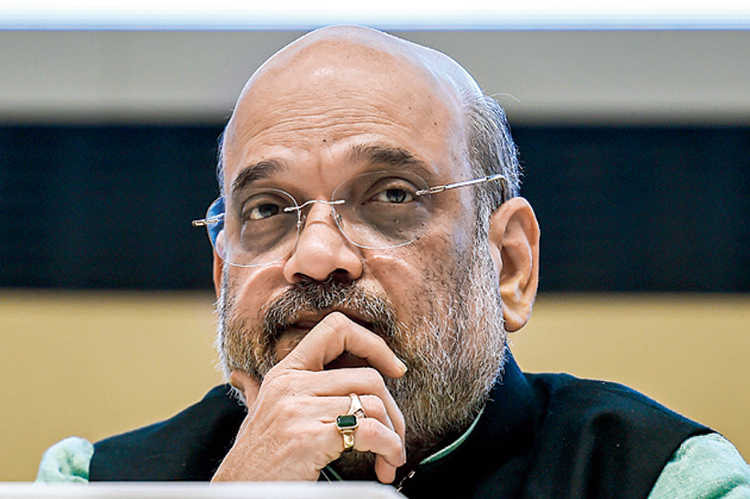 ---
---
Amit Shah on Thursday acknowledged that explosive slogans like "goli maaro" should not have been raised in the Delhi Assembly elections and that such exhortations "may have cost the party".
But the Union home minister and the BJP's campaign spearhead chose to publicly address such provocation only after the polls while allowing the situation to fester during the vitriolic campaign.
At a question-and-answer session at the Times Now Summit 2020, Shah conceded that his assessment that the BJP would surely win 45 of the 70 seats in the Delhi Assembly was wrong.
Other than the rare admission, Shah more or less stuck to his known stated position on most issues, including the Citizenship (Amendment) Act (CAA) and the National Register of Citizens.
Although Shah said his election arithmetic was proved wrong, he added that it didn't mean the "ideology" he had propagated during the campaign had been rejected by the people.
At the session, interviewer Navika Kumar had asked Shah about incendiary comments of party leaders such as "desh ke gaddaro ko, goli maaro salon ko" and a description of the Delhi election as an "India-Pakistan match".
Shah replied: "Aise bayan nahi deni chahiye (Such statements shouldn't have been made)."
Asked if the BJP had paid the price for such comments, the leader replied: "The BJP may have paid the price, it is possible."

Shah claimed that the leaders who had made such remarks had been pulled up. One of the leaders caught in the "goli maaro" controversy was junior finance minister Anurag Singh Thakur but Shah gave no indication that any action would be taken against him.
BJP MP Parvesh Verma had publicly said that lakhs of people gather at Shaheen Bagh and "they could enter houses, rape and kill your sisters and daughters". On Thursday, Shah replied that "no one said wives and daughters will be raped".
Asked about his much-ridiculed clarion call to the voters to make Shaheen Bagh feel the current, Shah said: "Maine usme kuch galat nahi bola (I didn't say anything wrong in that)."
Shah then explained: "Current matlab kisi ko current dena nahi hai. Ye ek samjhane ka tarika hai ki victory ek vichar ke saath judi hai (Current doesn't mean to give electric shock to anyone. This is a way of convincing voters that victory is associated with an ideology)."
On the CAA, Shah showed no signs of any retreat, repeating that the legislation posed no threat to the citizenship of "any Muslim or any minority".
On the NRC, Shah did not proclaim that it would be rolled out nationally, saying that "no decision" had been taken by the government.
Pointed out that he was going back on his promise of pushing through the NRC, Shah asked: "Hum peechhe kahan gaye (where have we gone back)?" Shah said he and Prime Minister Narendra Modi had said publicly that no decision had been taken on the NRC.
Still, Shah refused to categorically rule out a nationwide NRC. Asked if a decision on the NRC would be taken soon, Shah replied: "Jab karenge tab thodi na cheepa rahega? Jab karenge tab maaloom padega (If we decide, then will it remain a secret? It will be known when we decide)."
Told that the protesters were "apprehensive" about a nationwide rollout of the NRC, Shah refused to accept it. "Protests shouldn't be based on apprehensions. They should protest when it (NRC) comes. Why now?" he asked.
Asked about an outreach to the anti-CAA protesters like those holding a vigil at Shaheen Bagh, Shah said he was ready to give appointment to "koi bhi (anyone)" to remove "misconceptions" about the law. "If anyone seeks an appointment with my office, I will give it in three days," he said.
At Shaheen Bagh, Sarvari, 75, told The Telegraph: "We are not against any leader and we respect PM Modi and all other leaders…. We don't know how long we will live and we don't want to leave this law behind for our children and grandchildren. I am not moving anywhere. Let the government send some responsible person to talk to us."