Glare on Yes Bank loan jump
Chidambaram calls for a 'thorough investigation'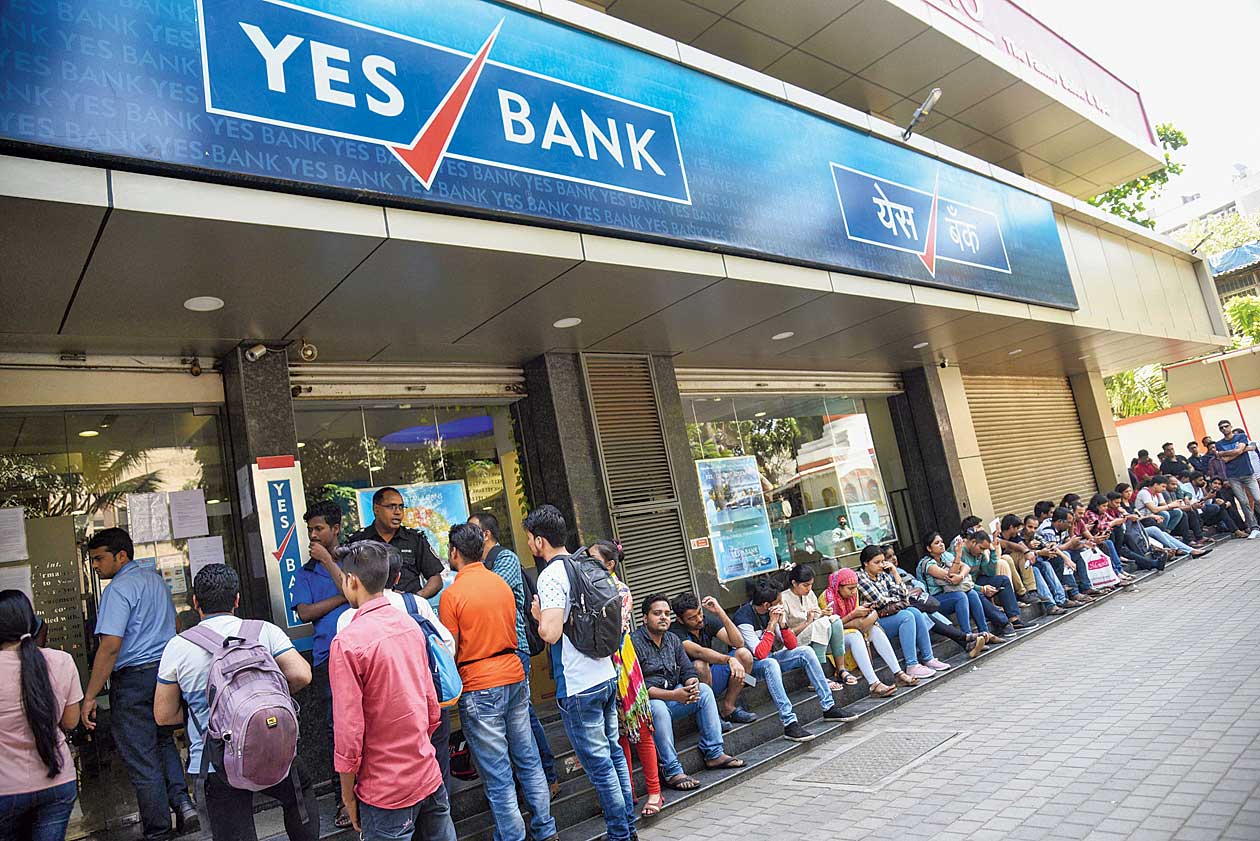 ---
---
Former finance minister P. Chidambaram on Saturday asked the government to tell the nation what had gone wrong with Yes Bank as it was impossible for auditors and the department of financial services not to have noticed the abnormal jumps in the loan book over the last five years.
"Where was the regulatory failure? How did the loans jump from Rs 55,633 crore in 2014 to Rs 241,499 crore in 2019? The loans were rising by almost 35 per cent. Between March 2016 and March 2018, it grew by 100 per cent," Chidambaram said at a media conference.
"I don't think any bank in India doubled its loan book in two years. No official in the department of financial services of the government noticed it? No one in the RBI read the balance sheet? No auditor noticed this abnormal jump?"
The former Union minister said all this pointed to "mismanagement" and called for a "thorough investigation".
"This was incompetence or criminality," he said. "The RBI must come up with the truth."
Asked about finance minister Nirmala Sitharaman's allegation that the loans were given by the UPA, he said: "At times I feel I am the finance minister even now and she is in the Opposition. It is possible some loans were given then but the government must explain how the loans jumped from Rs 55,633 crore to Rs 241,499 crore."
Chidambaram asked: "Which committee or who authorised the grant of new loans after March 2014? Were not the RBI and the government aware that Yes Bank was on a loan-giving spree? It was not banking but buccaneering. Why did nothing change after the CEO was replaced and a new CEO appointed in January 2019? Why did nothing change after a former deputy governor of the RBI was appointed to the board of Yes Bank in May 2019? Why did the alarm bells not ring when Yes Bank reported its first-ever quarterly loss in the quarter January-March 2019?"
Describing the resolution plan proposed by the SBI as "bizarre", he said: "The plan appears to be that the SBI will invest Rs 2,450 crore to pick up a 49 per cent stake in the restructured capital of the bank at a price not less than Rs 10 per share (face value Rs 2). The net worth of the bank is perhaps zero. We will await details of the plan before we comment further. But I stated yesterday that a better option would be for the SBI to take over, under orders of the RBI, the loan book of Yes Bank at one rupee and an obligation to assure all depositors that their money is safe and will be returned."
But Chidambaram also doubted that the SBI was a volunteer in the rescue act, just like the LIC in the IDBI case. "These are command performances," he said, adding that the best judge of the management of the economy was the market.
"Even allowing for the effect of the coronavirus threat, it is noteworthy that yesterday the Sensex fell by 884 points; the price of an SBI share fell by Rs 18; and the rupee (to US dollar) declined by 54 paise (-0.74 per cent). The price of a Yes Bank share fell from Rs 36.80 to Rs 16.15; actually it is worthless."
Referring to the overall bungling in the banking sector, Chidambaram said: "As of December 2019, the total impaired assets of the banking sector stood at Rs 1,688,600 crore or 15.7 per cent of the total advances. Total write-offs since 2014 have amounted to Rs 778,000 crore or 7.3 per cent of the total advances. In 2018-19 alone, the write-offs amounted to about Rs 1.83 lakh crore. As of December 2019, gross NPAs stood at Rs 910,800 crore. The number will rise once the moratorium on declaring stressed assets of SMEs is lifted on March 31, 2020."
He said: "The Mudra scheme has seen a write-off of about Rs 2 lakh crore besides generating an NPA of over Rs 17,000 crore in the four-and-a-half years since its inception. According to the finance minister's answer to a question in Parliament, the amount involved in frauds in banks and select financial institutions increased from Rs 10,171 crore in 2013-14 to Rs 143,068 crore in the first three quarters of 2019-20."