Girl: Taped proof against ex-minister Chinmayanand
The woman was a master's student at a law college run by Chinmayanand from his Shahjahanpur ashram complex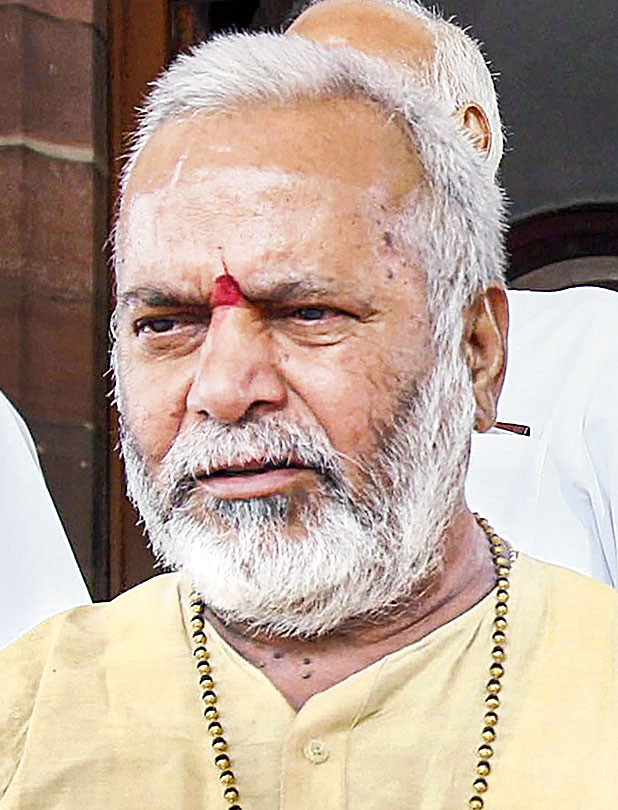 ---
|
Lucknow
|
Published 15.09.19, 07:47 PM
---
The law student who has accused Chinmayanand of blackmailing and raping her told reporters at her home in Shahjahanpur on Sunday that she had enough evidence against the former junior minister for internal affairs.
She said she had videos of Chinmayanand's alleged acts, recorded with cameras hidden in her spectacles, and a recorded statement from another woman whom she described as a fellow victim.
She alleged that someone powerful had been trying to protect the former BJP parliamentarian since she ran away from Chinmayanand's ashram, where she says he raped her for over a year, and posted her allegations on social media.
She said she had been carrying a pen drive containing video evidence but it was taken away by the Uttar Pradesh police team that had tracked her to Rajasthan and brought her back on the Supreme Court's orders late in August.
"I knew this might happen, so I had kept copies of these recordings in another pen drive at my home, which I have now given to the (apex court-appointed) special investigation team," she said.
The woman had on Saturday revealed she had handed a pen drive containing 43 clips to the SIT. "I have more evidence and will produce it directly before the court when the hearing starts on September 23," she told the reporters she met on Sunday.
"I also have a recorded statement from another woman student, still living in the hostel of a college run by Swami Chinmayanand and suffering in his hands."
The woman was a master's student at a law college — one of four colleges run by Chinmayanand from his ashram complex in Shahjahanpur. She says the former minister had secretly filmed her and some other women students of the colleges while they bathed in their hostels, and then forced them to submit to rape by threatening to upload the videos on social media.
"While I'm going to prove that Swami Chinmayanand is a sexual pervert and a blackmailer, I want the SIT to probe which person from Lucknow has been in touch with him on his mobile phone and has been protecting him," she said.
Contacted by The Telegraph, Om Singh, Chinmayanand's lawyer, said: "Wait for the SIT report and everything would be clear."
The lawyer denied the girl's charges, accused her of trying to blackmail her client and said her latest allegations were aimed at avoiding arrest on the blackmail charge.
The SIT, which questioned Chinmayanand on Thursday night and took the complainant to his bedroom for an inspection on Friday, has seized two mobile phones from the room, sources said.
Told about the blackmail charge, the woman said: "First, I want to ask why he did things that would allow someone to blackmail him. Indeed, I recorded his activities with hidden cameras but I did it to end the blackmailing by him."
A police department source, requesting anonymity, confirmed that the complainant had told the SIT that Chinmayanand was a sexual pervert.
"The SIT has recovered a tube of toothpaste and a towel from Swami Chinmayanand's room and sent them for forensic examination," he said without elaborating.
"She told the SIT during Friday's inspection that Chinmayanand's bedroom used to be untidy but its walls had now been freshly painted and the curtains and bed sheets changed."
The officer added: "There is someone who knows what's going to happen in the next few days (how the investigation would proceed) and is helping the former minister." The woman has alleged she had stored more evidence in her hostel room but it had been removed or destroyed when she fled Uttar Pradesh last month, allegedly after Chinmayanand threatened to kill her when she tried to end the exploitation.
Chinmayanand had earlier given a clerical job to the woman at her college. She alleges he did so thinking it would be easier to get her to submit to exploitation if he indebted her in some way.