Ganga bridge bids junked amid 'China link' chatter
Financial bids for 4-lane project will be called after fresh technical ones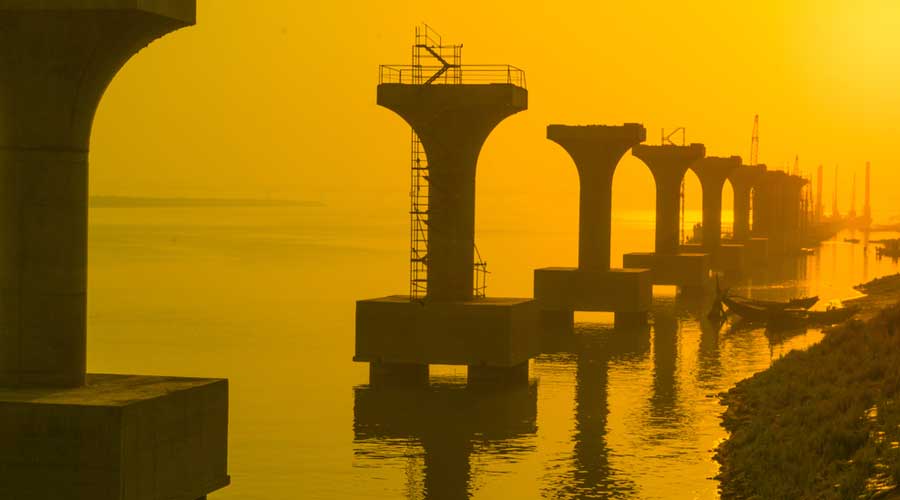 ---
|
Patna
|
Published 30.06.20, 04:46 AM
---
The Centre has cancelled technical bids for a Rs 2,411-crore, four-lane bridge over the Ganga at Patna, purportedly over the partnership of Chinese firms with the bidders.
The action came in the aftermath of the current India-China face-off and the death of 20 Indian soldiers in a violent clash with Chinese troops in the Galwan valley on June 15.
"The Union ministry of road transport and highways cancelled the technical bids for the important bridge over the Ganga, which is to be constructed parallel to the Gandhi Setu to connect the state capital to north Bihar, on June 27. Fresh bids were called on the same day and they will be opened on July 30," Bihar road construction minister Nand Kishore Yadav told The Telegraph.
"The bids were cancelled over technical reasons pertaining to differences in the experience sought in the tender documents. However, people are saying that they were cancelled because some of the bidders had joint ventures with Chinese firms for the project. Three or four companies out of the total seven who had bid for the project had partnerships with a few Chinese companies," Yadav added.
The minister said the issue came to the fore during technical evaluation.
Financial bids for the mega project will be called after the fresh technical bids are done with.
The companies who had bid for the bridge project were Tata Projects, Gammon India, Larsen and Toubro, Dilip Buildcon, Ashok Buildcon, Afcons Infrastructure and SP Singla.
The proposed bridge with a total length of 14.5km, including 5.63km over the Ganga and 8.87km of approach roads, is supposed to be part of National Highway–19.
It was included in the Rs 1.6 lakh crore "special package" announced by Prime Minister Narendra Modi in the run-up to the 2015 Bihar Assembly elections.
The cabinet committee on economic affairs, chaired by Modi, approved the project in December last year.
Yadav said the total cost of the bridge was expected to be a little more than Rs 2,900 crore, of which Rs 2,411 crore was meant for infrastructure work.
The remaining amount has already been spent on land acquisition.
The bridge along with the approach roads is supposed to be completed by January 2023 and will also include a railway overbridge, four underpasses, a flyover, viaducts, road junctions, four small culverts, and a few bus stops.
On whether scrapping the technical bids would delay the project, Yadav said, "The entire process will take just a month more."