Forgot 2016? 'Poetic justice'
On February 15, 2016, economics teacher Rohit was dragged out of the court by his hair and beaten by lawyers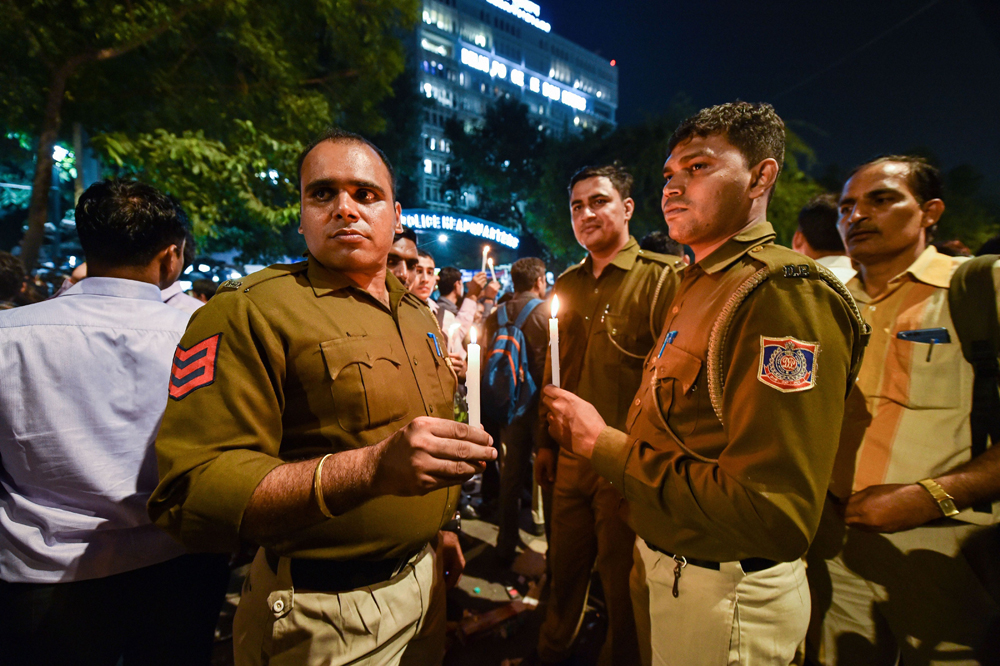 ---
---
Jawaharlal Nehru University teachers are struck by the irony of the protest by Delhi police personnel on Tuesday.
Three years ago, some of the teachers were among those who were beaten and heckled at the Patiala House Courts by lawyers before student leader Kanhaiya Kumar was produced before a magistrate on a complaint of sedition.
On February 15, 2016, economics teacher Rohit was dragged out of the court by his hair and beaten by lawyers chanting "Bharat Mata ki jai!"
Rohit told The Telegraph on Tuesday: "What we realised then was the BJP had taken over the lower rungs of lawyers. At the court, there was no security and the police allowed them to hit me and the others too…. These groups of lawyers know that the BJP has their back….
"When a journalist... was hit outside the court, I saw the police seemingly enjoying the scene. The police in the courtroom itself hugely outnumbered the five or six lawyers who beat us up."
He added: "The reaction of the police today is against the BJP government that they report to, and not just the lawyers. The Tis Hazari incident and what followed have given an outlet to their anger. The police cannot be beaten if the police themselves aren't involved — that is if their seniors have chosen to turn a blind eye to the assault on them in the same way that they turned a blind eye when we were beaten."
History professor Janaki Nair, who was heckled and shoved in court, called Tuesday's protests "poetic justice".
She said: "Because of their tolerance for vigilantism… not taking action when it was necessary, it is ironic when they are asking for justice today. None of those lawyers were punished for what they did to us."
Two days after the teachers were roughed up in 2016, Kanhaiya was thrashed by 10 lawyers on the same court premises in the presence of the police for several minutes before they whisked him away.
Political science professor Nivedita Menon, who faced much online trolling and was unable to speak in several universities because of her public support for Kanhaiya and others, was also heckled by lawyers in the court on February 15, 2016.
Menon told this paper on Tuesday: "We were so confident in Old India that we had the courage to stand up in court because what the lawyers were doing was wrong. We felt it was our duty to be in court when one of our students was being produced. When the police escorted us out and we saw the large mob we realised this is New India…. What is happening now is part of the larger unravelling of the State and its institutions by mob rule over Dalits, Muslims and women that this government has presided over."
Excerpts from an account filed by Basant Kumar Mohanty of The Telegraph on February 15, 2016, follow:
At 2.05pm, a group of lawyers entered and one told the teachers: "Bahar jao, yeh chairs lawyers ke liye hai, bahar jao (Go out, these chairs are meant for lawyers, go out)."
Most of the teachers protested. Four other lawyers heckled them. "Pakistan zindabad slogan dete ho aap log (You chant 'Pakistan zindabad)," one of them said.
A lawyer pulled Rohit, an assistant professor, by his hair. He was dragged outside despite protests by other teachers. In the argument that ensued, a few other lawyers started chanting "Bharat Mata ki jai".
The police constables in the room did not move till Subhash Chandran (of the All-India Lawyers' Union, the CPM lawyers' wing) requested them to intervene. A few more women constables came from outside. None of the police officers uttered a word against the lawyers but requested the teachers to vacate the room.
The teachers went out. By now, the number of lawyers had grown.
A group of 10 lawyers attacked a student in the court corridor. The youth was subjected to slaps, blows and kicks for three to four minutes before he was taken inside a room by a few policemen.
A few students, who were taking pictures or videos, had stopped and were looking for an escape route. But some lawyers had identified them and chased them.
The whole court campus was reverberating with one line: "Saale, Pakistan zindabad bol rahe ho. Maro saale ko (they are saying 'Pakistan zindabad'. Beat them up)."
Kanhaiya was yet to be brought in. Some journalists were taking pictures or reporting over the phone.
Manu Shankar, a reporter with the Malayalam channel Kairali TV, was the next target. Slapped and kicked, telltale welts and scratch marks were seen on his face. He said they wanted to check his phone if he had taken any picture. When he said he was a journalist, he was attacked.
They asked a reporter from another Malayalam channel whether she had recorded any image and abused her. At least 20 people and policemen were mute spectators as she ran from the spot for cover.
By then, journalists were being hunted down.
Amit Pandey, a reporter with IBN-7, was asked to show his phone. When he argued with a group of lawyers, they encircled him. He ran. Another journalist was pleading: "Maf kar do, bhai (forgive us, brother)."
Excerpts from a report filed by Imran Ahmed Siddiqui of The Telegraph on February 17, 2016, follow:
Around 10 lawyers pounced on Kanhaiya on the court premises while he was being led to the courtroom. The attackers had a free run for several minutes before a few policemen tried to shield him with their riot gear.
The police had ample warning in advance. As soon as 10 policemen escorted Kanhaiya from the gate to the court complex, a group of lawyers started shouting "Desh ke gaddaron ko/Goli maro saalon ko (Shoot the traitors)".
The police did nothing. The lawyers went berserk.
They punched and kicked Kanhaiya all over his body. A large crowd of lawyers egged them on, mouthing expletive after expletive.
Kanhaiya tried to shield himself from the blows, sitting on the ground and repeatedly saying: "Main deshdrohi nahin hoon (I am not an anti-national)."
But there was no let-up and soon stain appeared on his trousers. It was then that the policemen threw a security ring around him.