Five die in NCR after suicide pact
Vasudeva ran a company that supplied food grain to Calcutta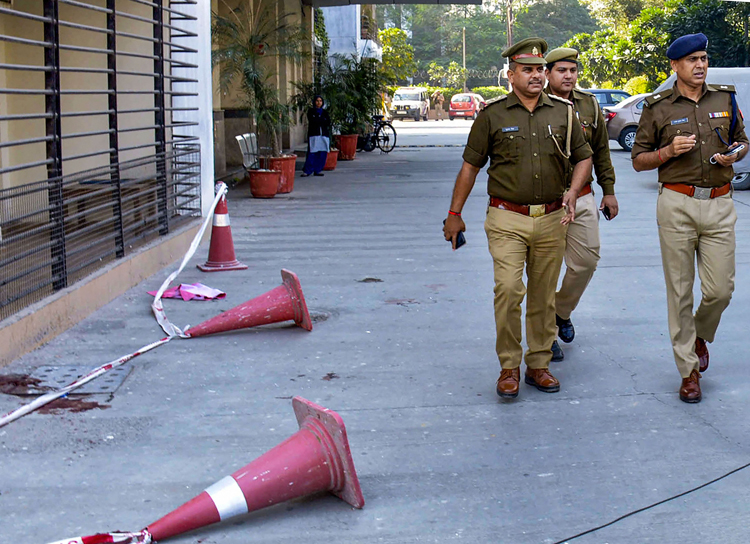 ---
|
Lucknow
|
Published 03.12.19, 07:46 PM
---
Five persons, including four members of a family, are suspected to have committed suicide at an upscale, gated apartment complex in the National Capital Region with police saying they might have been pushed into a pact to end their lives because of financial distress.
According to the police, Gulshan Vasudeva, his wife Praveen and domestic help Anjana Devi first slit the throats of the couple's children — 18-year-old daughter Kritika and 13-year-old son Hritik — before jumping off the balcony of their eighth-floor apartment.
The family killed their pet rabbit by breaking its neck.
The tragedy unfolded at Krishna Apra-Sapphire Apartment in Vaibhav Khand Colony of Indirapuram in Ghaziabad around 5am on Tuesday.
Vasudeva, who ran a company that supplied food grain to Calcutta, had not been given his share of around Rs 2 crore by his brother-in-law and business partner Rakesh Verma, according to a purported suicide note scribbled on a wall of the flat.
Besides the note that claimed a suicide pact, Vasudeva had also stuck to the wall several bounced cheques that Verma had purportedly given him in the past few months.
The police, who had been alerted by a complex guard, rushed the five persons to a local hospital, where the couple were declared dead on arrival and Anjana, also an employee of Vasudeva's company, died after a few hours.
The police have detained Verma, whose wife and Praveen are sisters.
Vasudeva also left some cash on the bed where the throats of the two children were slit with a knife and wished that the money would be used to cremate all five together.
"Rakesh Verma is responsible for our death," the purported suicide note said, and gave details of how Vasudeva and Verma had started the business three years ago and how Verma had ditched his partner.
Sudhir Kumar Singh, senior superintendent of police of Ghaziabad, said: "It is an unfortunate incident. We have taken the accused and his family members into custody and are interrogating them."
A relative of Vasudeva told reporters that Anjana had been living with the family for long.
"They shifted to Ghaziabad from an apartment in Delhi's Jhilmil area one-and-a-half-months ago. They appeared to be a happy family," Harish Kumar, the relative said.
"Vasudeva and Verma started a business of wholesale supply of food grain to Calcutta three year ago. Verma cheated him and usurped all the capital as well as the income, which was more than Rs 2 crore. Vasudeva had been demanding his money back, but Verma had threatened him with consequences," Harish said.